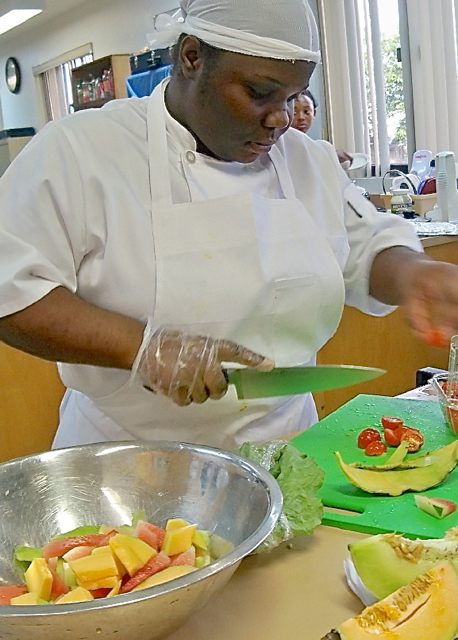 Sustainability and gardening were on the minds of the people lined up to get free seedlings Sunday at the World Food Day observance at the University of the Virgin Islands St. Croix campus.
In his opening remarks, Agriculture Commissioner Louis Petersen Jr. urged the community to be practical about food production.
"Many of us can do more around our own homes and produce food," Petersen said.
People attending the celebration got free basil, radish, pepper, tomato and squash seedlings from the UVI Extension office.
Admission was a non-perishable food item that went to local soup kitchens.
World Food Day brings attention to the plight of hungry and undernourished people in the territory and the world. It also provides an opportunity for a deeper understanding of the complex solutions required to reduce hunger, organizers said. World Food Day is observed around the globe each year on Oct. 16.
Robert Godfrey, director of the UVI Agricultural Experiment Station, said UVI is researching how to grow large quantities of quality food locally with limited resources.
A shuttle took people to see UVI's Agricultural Experiment Station field facilities where fish, produce and livestock are grown and harvested.
Local food was plentiful at the food court and at the produce and plant stands.
Percival Edwards, from Farmers in Action, cut coconuts and Grizelle "Isoke" Davila sold wine made at her Tropical Ay Ay nursery. Sylvia Dorcas Griffin sold plants and one of her associates sold local fruit smoothies from "Sylvia's" van.
Among other foods for sale at the event: Tarts, candies and cakes from La-Verne Bates, colorful layer cakes from Renita Johannes, vegan food from the Faith Moravian Education fundraisng team, and meat or veggie roti, fish, rice and beans and macaroni and cheese at Diane's Roti Master tent.
Local resident Melissa Sylvester said she has a lot of avocados so she was interested in what the presenters had to say about ways to use them.
"This event has been very informative," Sylvester said. "I believe food is really important and with what is going on economically we have to find ways to sustain ourselves on small plots."
Caryl Johnson, UVI Extension program supervisor from St. Thomas, offered a workshop on the nutritional benefits of avocados. Errol Chichester, V.I. Department of Agriculture deputy commissioner, gave a workshop focusing on avocado production. Dilip Nandwani, research associate professor, held a workshop on the production of cucurbits – a member of the melon family. And research specialist Don Bailey talked about aquaculture systems for the U.S. Virgin Islands.
Local students competed in the sixth annual 4-H Youth Super Chef Competition.
The student chefs had about a week to come up with a menu for a five-course meal using, talapia, pumpkin, zucchini, avocado and melon. They prepared and served the meal to judges in two and a half hours.
Sarah Smith, extension agent for 4H Youth Development, said the students aren't judged solely on culinary skills and taste.
"This is a positive youth development activity where students learn the nutritional merits of the products they use in the competition," Smith said. "They are also learning life skills, such as time management, planning and teamwork. And sustainability in production."
Tanisha Bailey-Roka, a local food blogger and foodie, attorney and judge for the competition, said the students really impressed her with their creativity.
"The students were very creative and worked out of the box," Bailey-Roka, said. "It's wonderful seeing the kids doing so well and working together."
She added she loved the scalloped zucchini and the salty and sweet combination of melons and feta cheese.
The competitors were junior high and senior high school teams from St. Patrick's and Good Hope Country Day, a junior high team from St. Joseph's, a team from St. Croix Career and Technical Education Center, and the Clover Cafe 4H Club.
St. Croix Career and Technical Education Center won first place in the senior high division and Good Hope Country Day took first in the junior high division. The teams got trophies, ribbons and prizes.
Entertainment was provided by the Rising Stars Youth Steel Orchestra, the UVI Albert Sheen Campus Band and DJ Porter, with performances by the Guardians of Culture mocko jumbies and St. Croix Martial Arts.
World Food Day is sponsored by UVI's Cooperative Extension Service, the UVI Agricultural Experiment Station and the V.I. Department of Agriculture, with help from Plaza Extra and Home Depot.