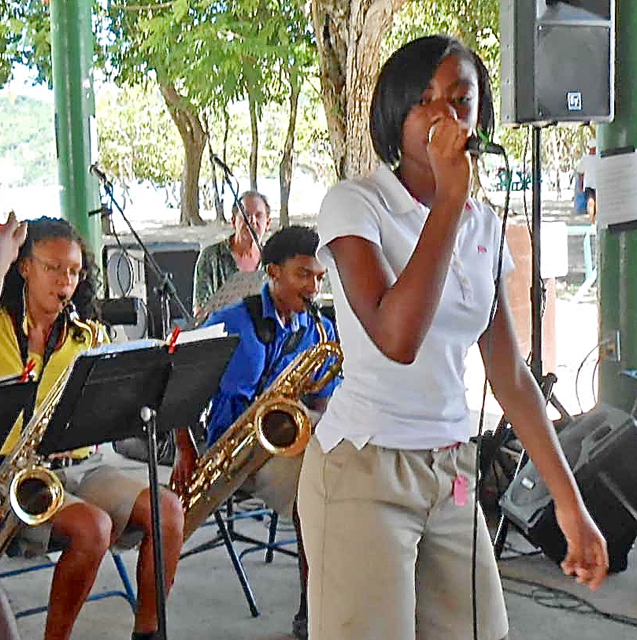 How about strolling down Magens Bay Sunday morning and hearing – well, bless my soul if it isn't "Every Day I Have the Blues," belted out by a fifteen-year-old Ivanna Eudora Kean student.
Wonders never cease at October Sunday, the oldest music fest on the island.
Opening the October Sunday's show, Kandysee Leonard handled the Joe Williams/Count Basie jazz classic with all the style and presence of someone twice her age. And, of course, she'd never heard of Joe Williams. He would likely say she done him proud.
She was backed by the IEK Jazz Band, directed by Dionne Donadelle, who has guided the school's music for the last nine years.
"Last night our jazz combo played at the Reef," Donadelle said. "We are very much in demand."
Donadelle said the youngsters play evening and weekends. "It's great experience for them, and they even get to make a little money," she said.
October Sunday itself provides great exposure for young musicians, as well, of course, as the old guard.
A show of hands on Sunday revealed at least 15 or so stalwart souls who attended the very first of these celebrations, in 1977, at the Sibs Bar parking lot. There Polly and Fred Watts, with some help from their friends, held the very first celebration.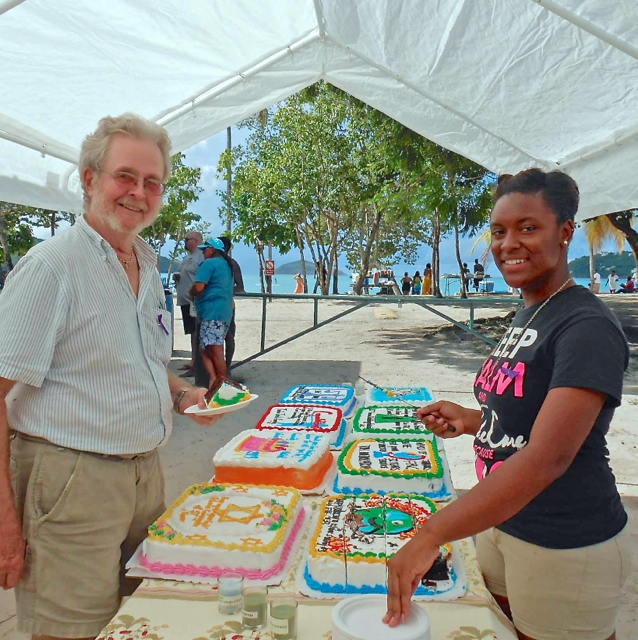 Nothing has stopped the fun– not even Hurricane Marilyn in 1995. That year they held a scaled-down version of the music fest in Emancipation Garden, raising almost $4,000 for the American Red Cross and offering a lift to the spirits of the community, many of whom were living under the blue FEMA tarps.
In 2000, founders Fred and Polly Watts decided to scale down the festival, which since its inception had grown to attract thousands, crowding venues from Crown Bay to Joseph Aubain Ballpark in Frenchtown.
After 2000, they moved the event to Magens Bay, where it became the October Sunday Beach Jam, a smaller, though no less fun affair. The organizing group, Friends of October Sunday, partners with the Family Resource Center. All the proceeds from Sunday's event support FRC to continue its much needed outreach, counseling and sheltering services for victims of domestic violence on St. Thomas. A banner bearing the names of all the domestic violence victims who have died in the territory hung to the side of the festivities as a solemn reminder.
Taking a minute out of her organizational duties, Polly Watts spoke of a new Student Performance Initiative that she and fellow Arts Alive board members Larry Benjamin and Janine Ballard conceived.
"It's with an eye toward helping the students get started in musical careers," Watts said. "We've formed a student combo who will have their first performance at Arts Alive in Tillett Garden this season. We hope it's the beginning of a long-lasting effort."
Listening to the non-stop music, folks took time between the beats to chat, giving new life to old friendships, comparing notes with other years, and enjoying the annual feast of ribs and burgers, along with endless variety of side dishes. Perhaps this year's tastiest was grilled star fruit in a cinnamon glaze prepared by Jane Higgins, who has more energy than any normal five or six people. She seemed to be everywhere.
On Sunday she manned the Flea Market, while organizing a flash mob to protest Domestic Violence. Some say you don't "organize" a flash mob. Don't' tell Higgins. And it worked.
The traditional bands played, folks kept the beat, singing along upon occasion.
New this year was My Sisters and Me – Lori Abbotts, Wendy Ramos and Andrea Lee – who rendered an a capella "In the Mood," along with several old goodies.
Women of Note, headed by Polly Watts with friends, is always a big favorite as the women just seem to be having so much fun that it simply spreads. And no wonder. Watts has said of the group, "We meet once a month, and we drink some wine. We call it a sing and sip."
Janet Reiter, who abounds in spirit and energy, was everywhere Sunday, introducing the musicians, lending encouragement to the youngsters and occasionally picking up the guitar – being a noted island musician, herself.
And it wouldn't be October Sunday without Pure and Simple and Family and Friends featuring the Watts along with virtual family members Paul Dirks and Carl Butler.
It's simply a family affair, an extended family reunion with music.