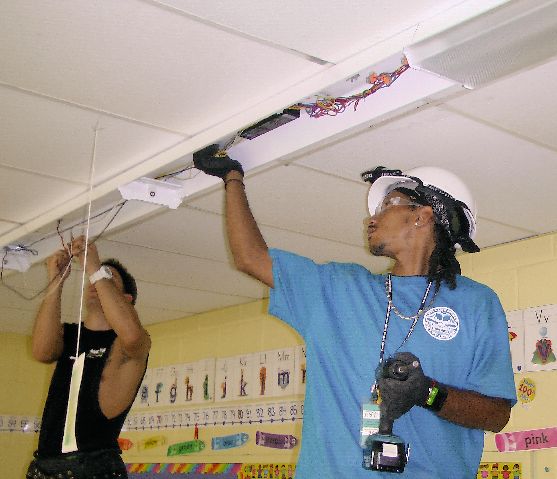 Virgin Islands Energy Office (VIEO) Director Karl Knight monitored meetings between representatives of the FPL Energy Services Inc. of Miami, Fla., and facility managers of the two local hospitals last week. The topic was energy retrofits that will cut the hospitals power consumption and ultimately their Water and Power Authority bills. The projects should be in full swing early next year.
"We look forward to a fruitful relationship with FPL Energy Services and benefitting from their knowledge and expertise," said Director Knight.
The V.I. Senate, earlier this year, authorized the Public Finance Authority to issue $35 million in bonds to fund these projects, and others, through energy-savings, performance contracts.
The contract for these projects is similar to the contract with Energy Systems Group, Indianapolis, Ind., for energy retrofits in 34 public schools signed earlier this year by the V.I. Department of Education.
VIEO engineered a pilot project, partnering with Education, to do 11 public schools in 2011. The project was funded by $6.7 million in American Reinvestment and Recovery Act grant funds. The conservation measures included water and lighting retrofits — the installation of LED lighting and high efficiency fluorescent lighting fixtures — multi-functional occupancy sensors, low-flow toilets, low-flow urinals, and push-button faucets. The project was completed in October of 2011 on time and within its budget. Savings for the first year were $1.3 million. The contractor, Energy Systems Group, had guaranteed $1.2 million.
Plans in the latest project include the Gov. Juan F. Luis Hospital and Medical Center, Schneider Regional Medical Center, Myrah Keating Smith Community Health Center, Charlotte Kimelman Cancer Institute and the Virgin Islands Cardiac Center.
Knight said, "The projects present an opportunity to replace large capital equipment – boilers, chillers, freezers, coolers, laundry equipment, etc. In many instances the useful life expectancy of that equipment is nearing its end and the ability to replace them through energy savings is quite beneficial. We are excited to assist these critical facilities in applying tried and proven energy conservation measures."
The hospital projects, besides the above mentioned energy-efficient measures, could include the installation of combined heat and power systems, and solar photovoltaic systems.
FPL Energy Services Inc. is a subsidiary of NextEra Energy Inc., and an affiliate of Florida Power & Light Company. The company, which has worked for the federal government, has received awards from the U.S. Department of Energy and U.S. Army Corps of Engineers.