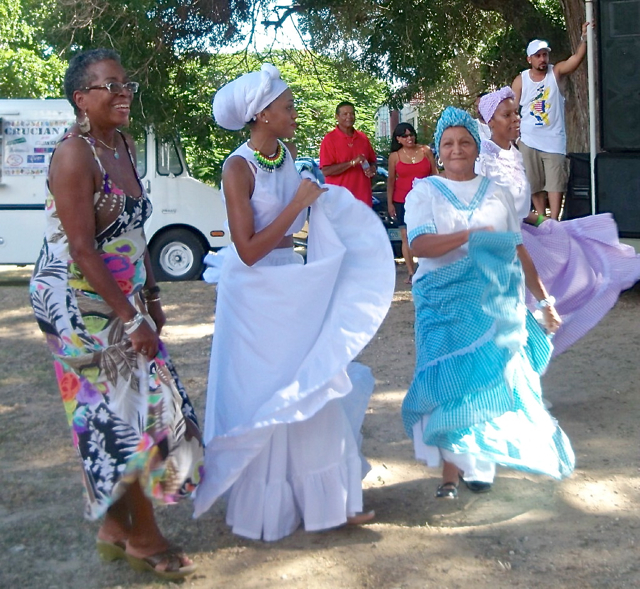 A Fiesta en el Batey, or a party in the front yard, celebrated Virgin Islands-Puerto Rico Friendship, Sunday afternoon at the Whim Plantation Museum.
The beautiful grounds of the colonial era sugar plantation were the perfect venue for an afternoon filled with music, dancing, food, and fun for about 300 people of all ages.
Local dance groups performed despite afternoon temperatures that hovered around 90 degrees in the shade. Women and girls in colorful gingham, white or green full length skirts twirled and sashayed around for the audience seated in the shade of a large open tent.
The dancers got the crowd involved and encouraged people from the audience to join them. Delegate to Congress Donna M. Christiansen got up and danced the bomba.
Entertainment included the Groupo Africano de Loiza dance group from Puerto Rico and We De Ya Quadrille dancers from St. Croix. The Nuestros Raices Bomba adult and youth dancers and the Pearl B. Larsen Fireworks Expression dance group also performed.
Larsen Elementary School students gave a poetry reading and Miss VIPR Keshaund Quinn presented a dramatic reading. There was a table filled with a collection of free, used Spanish books.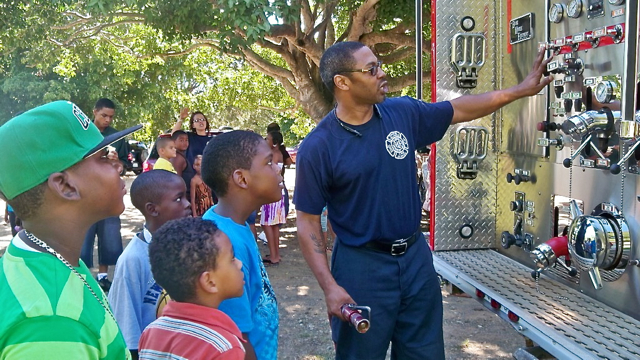 Crafts and games were available for the children. Home Depot employees set up tables and turned over buckets for seats for youngsters to sit and build a tool carrier and airplane. V.I. Fire Service firefighters let kids spray water hoses, encouraging them to feel the water pressure and the kick the hose has.
Karole Ovesen McGregor, president of the Friendship Committee, said the free event was the perfect opportunity for the entire family to come out and have fun. There was a jar for donations to help defray costs. She said organizers were pleased with the turnout.
Anna Martinez, vice president of the Friendship Committee, said the group was selling homemade goodies – flan, arroz condulce and cakes – to raise funds for next years 50th celebration. The flan was fabulous with a perfect creamy texture and a delicately sweet caramel topping.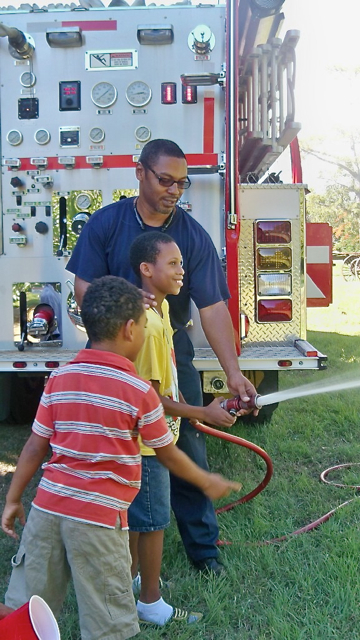 There was a short cock fighting demonstration, the rooster's spurs and claws were taped so they could not cause any harm.
There was a demonstration in the cookhouse on how to prepare tostones, fried plantain. Plenty of vendors were on hand, selling pates, rice, fish, vegetarian dishes, sweets and local fruit drinks.
St. Croix's "Bush Lady," Veronica Gordon, sold hand made calabash items, and Sylvia Smith sold her hand-crafted jewelry.
Teresa Lacen, a local Puerto Rican, said everything about the party was great.
"The music was nice and the dancers were very good," Lacen said with a thick accent. "I loved all of it."
Puerto Ricans have been a significant part of U.S. Virgin Islands, and especially St. Croix, society for well over a century. Some celebrations and pageants occurred at least as early as 1960. Information from the committee said that was the year Nereida Santos was named the first VI-PR Friendship Queen. The celebration became official in 1964.
This year's VI-PR Friendship celebration will wrap up from noon to 8 p.m. Monday with a "VI-PR Friendship Cultural Exchange" at St. Croix's Agriculture Department and fairgrounds.