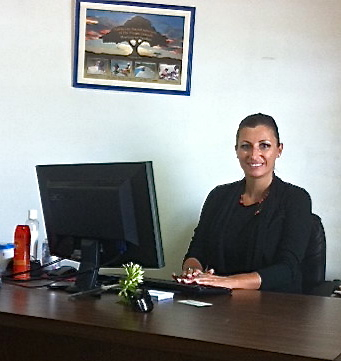 With doors and windows open to the late afternoon breeze, the home perched up the hill behind the Lutheran Church of the Reformation in Tutu fairly begs visitors to step inside. The building appears equally welcoming to its residents.
Six men and six women, all with developmental disabilities and some with additional challenges, live here. On this particular day, two men are watching television in a common area; one young woman is listening to music in her room; one young man is carrying out the kitchen trash, another is getting one-on-one instructions on the computer, learning about Facebook so he can keep in touch with family in Dominica. Some residents are out at jobs or social activities.
This is Yellow Cedar, a group home that is one of a network of programs sponsored by Lutheran Social Services of the Virgin Islands. Established on St. Croix a little over 100 years ago, LSS is perhaps best known for running the Queen Louise Home for Children. But it also serves seniors and the disabled, administering independent living communities on St. Thomas (Ebenezer Gardens in Hospital Ground) and St. Croix (Flamboyant Gardens in Barron Spot.) All together, it serves almost 100 clients, most of them 24 hours a day, seven days a week. It also runs some outreach programs, such as the early Head Start program aimed at fostering parenting skills in families with young children.
At Yellow Cedar, director Rezarta Fausett explained, the goal is to help residents develop the skills that will allow them to live as independently as possible. For some, that means making decisions about menus, decorating a bedroom, or taking the responsibility for certain household chores. For some, it means learning how to manage folding money, or to maneuver on the island transportation system. For still others, it means job counseling.
Each individual is different, she stressed, so their challenges and their successes are measured differently.
What they share is a nurturing atmosphere, a sense of friendship and belonging.
"I can feel the love," Fausett said.
When she arrives early in the morning, one man invariably greets her: 'Good morning. Did you miss me?' When she leaves in the evening, she said she allows an extra half hour just to say good bye to each resident.
"It's like a big family," she said. "They're very close to each other and they watch out for each other."
One woman, who works as a cashier at Kentucky Fried Chicken and obviously is good with numbers, has become protective of another resident who has trouble with counting money; she makes sure he gets proper change when they ride the safari together.
Besides the cashier, three other residents hold jobs on St. Thomas, and through Yellow Cedar they get support and extra training in job skills, including counseling on how to dress and how to budget, and in some cases tutoring in reading and writing. Additionally, several residents have taken computer literacy classes.
Meals are group affairs in the common dining area just off the fully equipped kitchen. Staff and residents together work up the menus, which are then reviewed by a nutritionist before being implemented, Fausett said.
Other group activities include arts and crafts, small birthday parties and trips to places such as Coral World, the beach, and the Butterfly Farm.
"They really benefit from socializing," Fausett said. A case in point is a senior resident who used to sleep in every day until she began to go to the Senior Citizens Center regularly. "Now she gets up to go, she gets dressed, she takes pride in her appearance."
Recognition and encouragement are the bywords at Yellow Cedar.
"Nothing goes unnoticed here," Fausett said. "Everything gets noticed" – and applauded – sometimes literally.
In that vein, Fausett said residents also benefit greatly from family support, although only a few have family members who visit or keep in contact regularly.
Besides Fausett, there is a full-time supervisor and three full-time staff at Yellow Cedar as well as an AmeriCorps volunteer who works full-time at the home.
Lutheran Social Services is the only AmeriCorps grantee in the Virgin Islands according to Susan Kraeger, the director of development and public relations for LSS. Currently it has 18 volunteers, 16 deployed on St. Croix and two on St. Thomas.
"Most get to choose where they serve for their year of service," Kraeger said, although LSS sometimes transfers a volunteer temporarily from one assignment to another to cover a need.
LSS has between 140 and 150 paid employees to staff all its facilities and programs territorywide, Kraeger said. That might seem like a healthy ratio if most of the 98 people served didn't require around the clock care. More staff and more facilities are "absolutely" needed, she said.
"The need is so much greater" than existing programs can meet, Fausett said.
Yellow Cedar is funded primarily through federal Housing and Urban Development grants, but it also relies on private donations and does some limited fundraising. It has its own board: Felicia Brownlow, president, Andromeada Childs, Rosemarie Parsons, and Deborah Gomez, in addition to the LSS board and officers who oversee the combined operations of Lutheran Social Services.