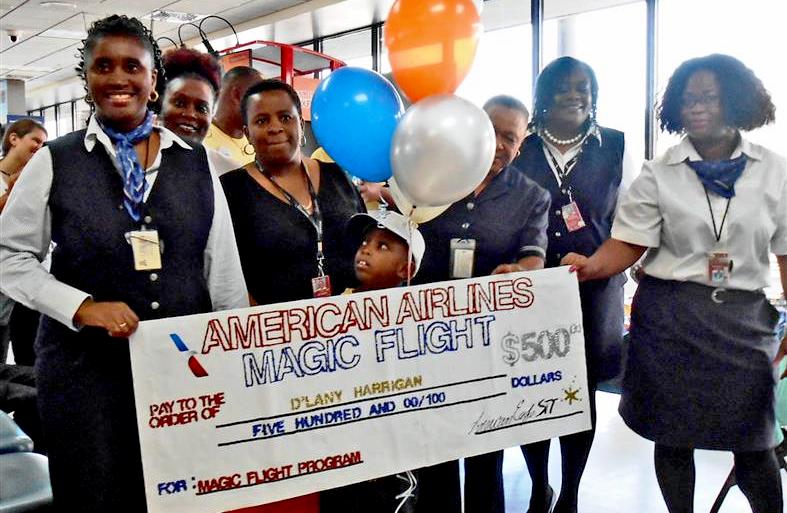 As passengers trucked into Cyril E. King Airport on Friday morning, dragging bags, saying hasty goodbyes, many of them simply stopped in their tracks; their confusion turned to big smiles as they caught onto the action.
A 6-year-old was at the helm. Wearing an enormous smile, an oversized New York Yankees baseball cap and a bright yellow Make-A-Wish T-shirt, the airport belonged to pint-sized D'Lany Harrigan. Friday was his day.
The other passengers didn't have their own personal princess for the morning; nor did they receive not one, but two $500 checks, just for openers.
Sen. Clifford Graham was on hand to meet the young man and present him with the check, which D'Lany seemed to take in stride, along with all the other attention.
The other check – about a five-foot long one which D'Lany could barely see over – was presented at the boarding gate ceremony from American Airlines.
Surrounded by mom, dad and two brothers, D'Lany was a bit overwhelmed. He vacillated from blushes to taking command of the situation. At one point he borrowed a photographer's camera and decided he would take matters into his own hands, asking his family to line up.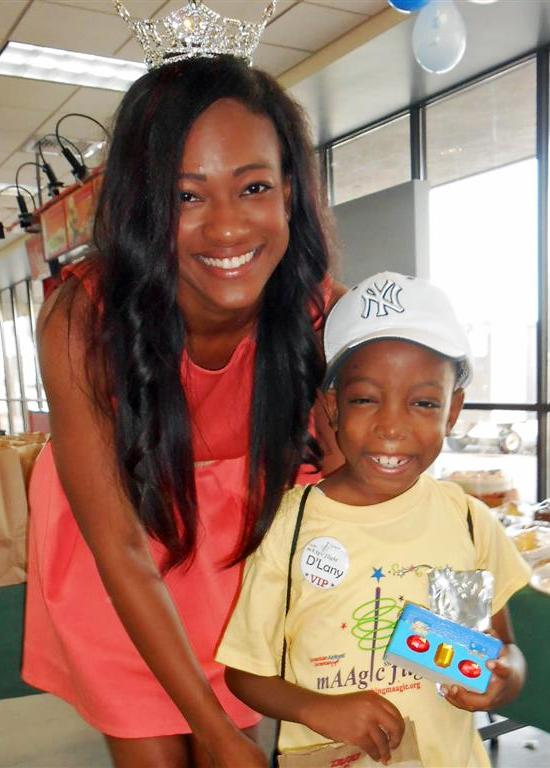 D'Lany is the recipient of a Make-A-Wish Foundation's children's program that makes wishes come true. Over the last four years, Make-A-Wish U.S. Virgin Islands has made wishes come true for 15 children from St. Thomas, St. Croix and St. John. The foundation's mission is to grant a wish to any child between the ages of 2 1/2 and 18 who's been diagnosed with a verified life-threatening medical condition.
From the moment the foundation receives a wish request, it works to make it happen right away.
Local wish grantors Cheryl Rink and Michelle Baker first visited the Harrigan family in June and, from then on, the organization's Florida staff put things in motion. They don't waste time. Make-A-Wish foundation's organizational skills are legend. The organization has arranged everything from being a Los Angeles Dodger or an Atlanta Falcon for a day to supplying a Ferrari, a baby grand piano, a flight to Paris to design a dress, or a private interview and swim with a sea turtle.
D'Lany's wish was easy – Disney World in Orlando.
As for the St. Thomas send-off, everyone chipped in. Aniska Tonge, Miss Virgin Islands 2012, was D'Lany's princess for the morning. Tonge said she had been in the states when she got the news. She said, "I made it my business to be here this morning."
The celebration gained steam as it moved into the boarding area where a big banner announced the "D'Lany Harrigan Flight." Balloons sailed about and delicious treats awaited. D'Lany wasted no time spearing a piece of chocolate cake.
As the festivities continued, the young man finally appeared to be a little tired after posing for the umpteenth photo, but he took it all with a big smile. He gazed up at his mom, Janna, who kept a firm hold on her brood.
Sen. Graham was just about as excited as the 6-year-old, beaming ear to ear as he presented the check from the Legislature. "I love kids. This is wonderful," said the senator and father of two young sons.
One thing that brought the youngster to a pause was a small bejeweled box presented by his princess Aniska. "Now, you can't open this until you are on board the plane," she instructed.
Later, when asked what he thought might be in the box, D'Lany said, "A car."
Well, why not? The way things were going Friday morning, anything seemed possible. A Source reporter did get a little inside information. The box contains a key. However, further inquiries were thwarted.
Make-A-Wish partnered with American Airlines Something mAAgic Foundation to send D'Lany and his family to Orlando for a one-week vacation. They will stay, along with 35 other youngsters from the U. S. and other countries, at the Give Kids the World Village, which caters directly to children with special needs and features a wheelchair-accessible carousel, an ice cream parlor, a movie theater, beauty spa, mini golf course and a boundless playground.
Cheryl Rink said she was brought to more tears than were already flowing when, during the inside celebration, D'Lany's 12-year-old brother Michael took her aside and said, "I'd really like to thank you for granting this wish for my brother."
Before boarding the plane for the "Special D'Lany Harrigan Flight," the three boys were treated to a ride in the airport fire truck which gave them a "water salute," as they flew off to Florida.
The organization's annual fundraiser, "Walk for Wishes," is scheduled for Sept. 28 at Yacht Haven Grande. Registration will begin at 7 a.m., with the walk commencing at 8 a.m.
To register or for more information, visit usvi.wish.org or call 513-8213.