Successful Virgin Islanders stepped up to the microphone on the first day of the VIDOL 2013 Motivational Empowerment and Employment Connection, the Labor Department's employment symposium on St. Croix.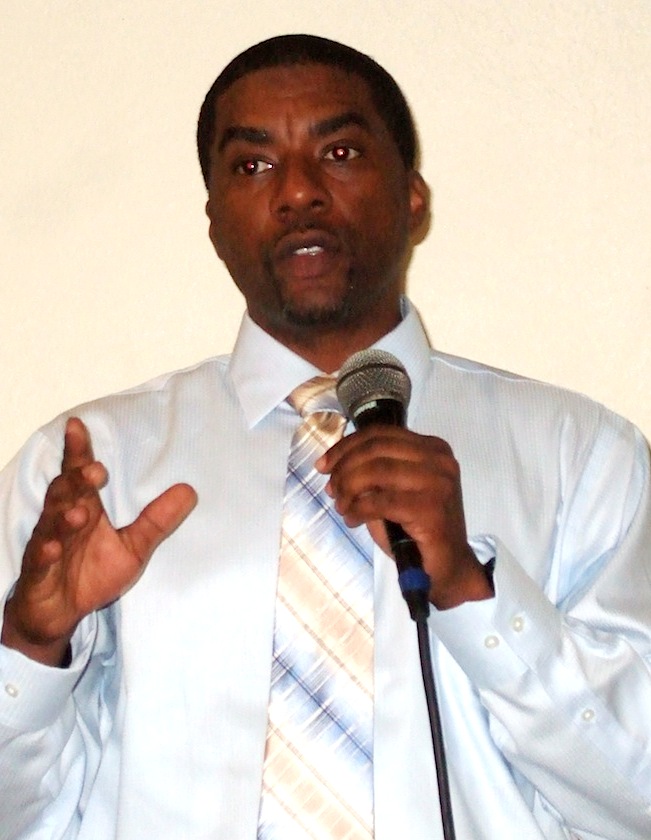 Keynote speaker Devin Robinson spoke just before lunch to an attentive and entertained audience. Raised on St. Thomas, Robinson admitted he was a troublemaker in high school and faced several felony charges before a judge, at 17, ordered him to join the U.S. Army. After his service, Robinson said he realized "gangsters don't retire. It's rest in peace or rest in prison." Since then he has transformed himself into an author, a Pulitzer prize-winning newspaper columnist and the successful owner of a chain of beauty supply stores.
He is also a motivational speaker. Robinson has appeared on national television and radio and lectures around the world on a variety of subjects. On Wednesday, he spoke at the University of the Virgin Islands about achieving personal success to an audience of more than 200, many of them unemployed.
During his empowering and often humorous presentation, Robinson talked plainly about accepting responsibility and blame. People can change at any age and should learn to take control of their life mission, he said. They should not depend on others to do it for them.
"A defeated man is a danger to a woman. A defeated woman is a danger to children and defeated children are a danger to the community," was the first thing Robinson said.
Robinson's presentation was inspiring and he offered practical guidelines for people looking for employment and those want to be entrepreneurs. He advised them all to "be loyal to where you want to Steps to success included first embracing humility, responsibility and being truthful, Robinson advised. He talked about personally practicing endurance, letting go of past accomplishments, delivering what he promised and not making excuses. Success is never guaranteed but is available to anyone, but success "looks for no one," Robinson cautioned
"If you're afraid of failure, you don't deserve success," Robinson said.
Hospitality expert Samuel Rey also spoke to the audience Wednesday. He said a positive attitude is one of the primary assets to get a good job.
Rey graduated from Ivanna Eudora Kean High School, Webber International University and is an adjunct professor at UVI. He started Host-U Services and Training Consultants for the hospitality and business industries and specializes in customer service, leadership and management development.
The V.I. Department of Labor's symposium was targeted to the long-term unemployed who have exhausted benefits, laid off Hovensa workers and a group from Project Link, a Labor program for at-risk youth, according to Arah Lockhart, assistant Labor commissioner. More than 220 attended the workshop, sponsored by the federal dislocated workers program.
"The symposium is actually designed as a pick-me-upper to motivate and sustain hope," Lockhart said.
She estimated 40 or 50 of the attendees were former Hovensa employees. Shauna Bass, Labor's program director, said the department has provided services to 650 individuals, including resume assistance, workshops and career counseling. And 450 unemployed workers have received training from local businesses and agencies such as Bohlke Airlines, Pinnacle Services, the V.I. Small Business Development Center and the St. Croix Career and Technical Complex, Lockhart said.
Symposium participants were given folders with lists of job websites, occupations and tips for job applications.
Also speaking at the symposium were Sana Joseph Smith, owner of IHOP St. Croix; Jennifer Nugent Hill, chief operating officer and assistant chief executive officer at the V.I. Economic Development Authority; Stennett Dariah of V.I. Next Generation Network; and national business trainer Glenn McDuffy.
The Labor Department's MEE Connect will continue from 9 a.m. to noon Thursday when businesses and government agencies explain job opportunities and their services. The symposium moves to UVI on St. Thomas on Friday.
Editor's Note: This story has been modified to correct the title of Stennett Dariah, who works with V.I. Next Generation Network.