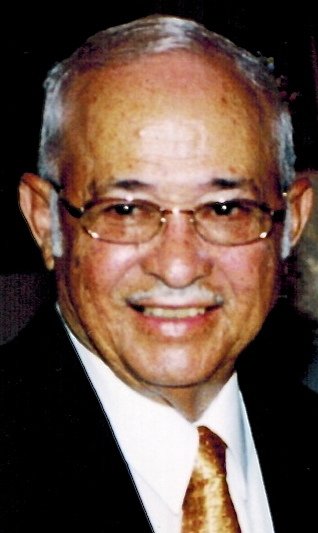 Leo Richard Sibilly, Sr. died Sept. 12, 2013, at the age of 87, after living a very happy and rewarding life.
He was born and raised on St. Thomas, U.S. Virgin Islands. In 1944, he graduated from Charlotte Amalie High School. After graduation, Leo was immediately drafted into the U.S. Army, where he proudly served overseas. Upon his discharge in 1946 he joined his father in the construction industry. The following year, he enrolled at Howard University, in Washington, D.C., and received a bachelor's degree in civil engineering in 1952.
Returning home that same year, he was selected to be the field engineer in charge of construction of the new Charlotte Amalie High School. Similarly, he was tasked with the structural design for the Sts. Peter and Paul Catholic High School. These were two projects that he was extremely proud of and spoke of often.
In 1952, Leo was selected as the first King of Carnival along with Carmen Nicholson, the first Queen of Carnival, who later became his wife. On February 28, 2014, they would have been married 60 years. Their marriage was blessed with six children and six grandchildren. His home always served as the center of family activity for his immediate and extended family and was always open to friends as well.
Leo often spoke of his tenure at the V. I. Housing Authority as the construction and maintenance engineer from 1957 through 1969. He reflected with a great sense of pride on his role in establishing public housing communities in the Virgin Islands.
Leo was born to the late Zulma Querrard and Joseph Sibilly on March 11, 1926. He is survived by his wife of 59 years, Carmen, his children and their families, Lorette Sibilly, Denise Sibilly, Monique Sibilly Hodge, Zulma Sibilly Dixon and Chester Dixon, Leo R. Sibilly, Jr. and Jennifer, Joseph Sibilly and Loretta, and his grandchildren, Brittanie, Leo, III, Lauren, Bianca, Joseph, Jr. and Caroline. He is also survived by his sister, Clely Berry, and her husband, Paul "Speed" Berry, his dear friend, and many other relatives and friends.
Services will be held at 10 a.m. Monday, September 23, 2013, at Our Lady of Perpetual Help Catholic Church in Mafolie. The first viewing will be from 6:30 to 8:30 p.m. Sunday, Sept. 22, at Davis Funeral Home. The second viewing will be held at 9 a.m. Monday, September 23, at Our Lady of Perpetual Help Catholic Church.
In lieu of flowers, donations in his memory can be made to Our Lady of Perpetual Help Catholic Church, P.O. Box 304983, St. Thomas, V.I., 00803.