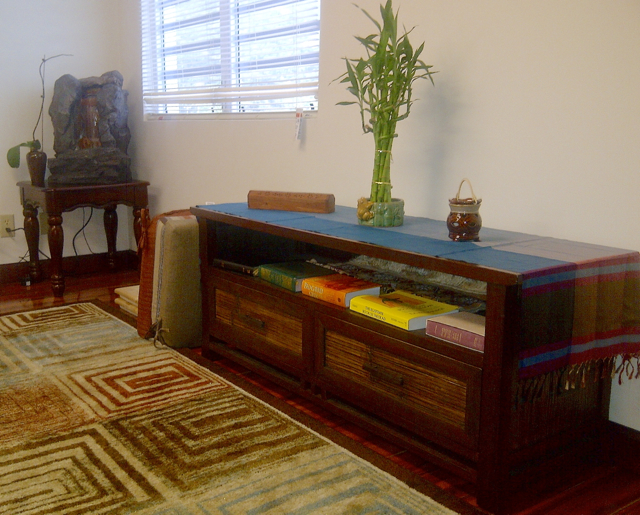 If you think quantum mechanics is a difficult concept, try defining spirituality.
At the University of the Virgin Islands, students learning about science, math, history and languages can also get help understanding spirituality, ethics and values through the Center for the Study of Spirituality and Professionalism.
Launched in the spring of 2011 with a daylong symposium, CSAP now offers monthly "gatherings" with guest speakers, daily "Ethics at Noon" seminars with center director Wendy Coram, weekly meditation sessions, and periodic workshops featuring guest lecturers. Activities are held on both university campuses, St. Croix and St. Thomas. All of the activities are enrichment studies, not courses for college credit.
This spring, CSAP opened its sacred space, located in Penha House on the St. Thomas campus. Here students, teachers and staff are welcome to spend quiet time in reflection, prayer or meditation – or they can use it as a tranquil place for study, Coram said. It has comfortable chairs, minimal decoration, and a few books on spirituality and various religions.
The Center was initiated by UVI President David Hall, who Coram said is highly supportive of efforts to encourage students to explore ethics and values. In fact, he can be heard on the school's radio station, WUVI-1090 AM at 3 p.m. on Sundays hosting the half-hour program "Spiritual Insights."
"He saw the importance of promoting spirituality in the workplace," Coram said. People who are centered spiritually "become more productive and work better with other people."
Coram follows Sen. Tregenza Roach as director of CSAP; she said when he left to run for office, Hall recruited her. She had been a guest presenter.
Community activists, educators and some clergy members have been guest speakers at forums on one campus or the other, addressing a range of topics, including: Claudette Young Hinds on "Ethics and Spirituality," Lois Hassell-Habtes and Chenzira Kahina on "Culture and Spirituality," the Rev. Jennie Alverez on "Transforming Relationships with Compassionate Communication" and Rudy O'Reilly, botanist, on "Nature and Spirituality."
Coram's most recent talk was "Spirituality Defined." In it she described spirituality as "the state of being dedicated to an immaterial reality. It is a belief in a Creator operating in the universe." It is not necessarily tied to a recognized, organized religion. "Spiritual practices to develop one's inner being include prayer, worship, meditation, yoga, tai chi, rituals and martial arts."
Her own background is in naturopathic medicine, so Coram stresses the connection between physical health and spiritual well being.
"Everybody has the ability to heal themselves," she said.
The center is meant to be a catalyst and a support for research in spirituality as it applies to the professions, especially law, business, health, education and counseling psychology, according to a UVI announcement issued when CSAP first opened.
Word of the center is spreading slowly. Coram said typical sessions attract 15 to 20 participants, but she believes those numbers will grow as more of the university community becomes aware of the offerings.
"It's not just for students. It is for faculty, staff, everyone – the whole UVI community," she said. It's also open to the public.
In November CSPA will hold daylong workshops on both campuses on the topic "Building a Culture of Ethics – Dimensions and Strategies." The St. Croix event will be Nov. 20, and the St. Thomas, Nov. 21. Everyone is welcome.