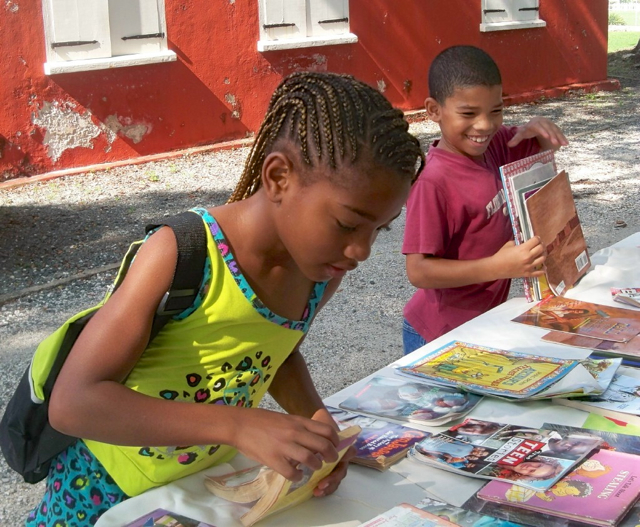 St. Croix Rotarians collected hundreds of gently-used books and gave them away Saturday at Buddhoe Park in Frederiksted to celebrate literacy. The youngsters who just happened to come by and picked up the free books were thrilled.
"It's amazing to get these books, " said 8-year-old Karibel Manon, her hands full of books. "Reading is the best thing to do. I'm glad I have these now."
She closely perused the covers of the books on the tables. She even ran and got her cousins and friends to pick out free books.
"Knowledge is power and we get power from reading," Kevin Manon, 9, said with a big toothy grin as he rummaged through a large plastic bin.
Roosdert Manon, 12-years-old, said he plays teacher and school with his sister and brother. "We read while we're playing school," Manon said.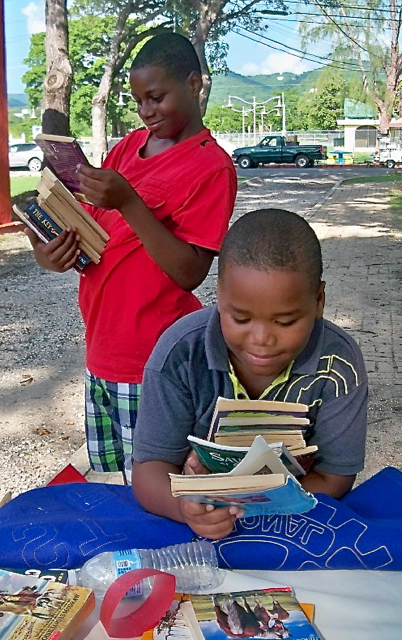 Sandra Phaire, past president of St. Croix Rotary Club, said September is National Literacy Month and literacy is a focus of Rotary. She said children learn so many things if they read. Phaire said this is the third year Rotary has hosted the give-away. She said they will partner with the Department of Education to give books away again before Christmas break.
There wasn't a very big turnout at the literacy celebration. There wasn't a lot of action or foot traffic in the park. Across the street a few people were playing dominoes. And there was a wedding photo shoot at the clock tower.
Rotarians manning the tables had hoped more parents along with their children would have taken advantage of getting free books.
"There weren't a lot of people here," Lloyd Daniel, president of Rotary West said. "But there certainly was a lot of enthusiasm and excitement here. You could see it in the kid's faces."
The event had been scheduled for the previous Sunday, Literacy Day, but had to be canceled because the weather was not too stable.
The library book mobile was on site for people to sign up for library cards and to lend books. Ricki Marshall, systems and programs librarian, demonstrated Tumble Books, free online eBooks. The books in the program were also in Gov. John P. deJongh's annual summer reading challenge.
Rotary Mid Isle, Rotary West, Rotary Harborside, Rotary St. Croix and the Department of Planing and Natural Resources teamed up in the park right next to Fort Frederik.