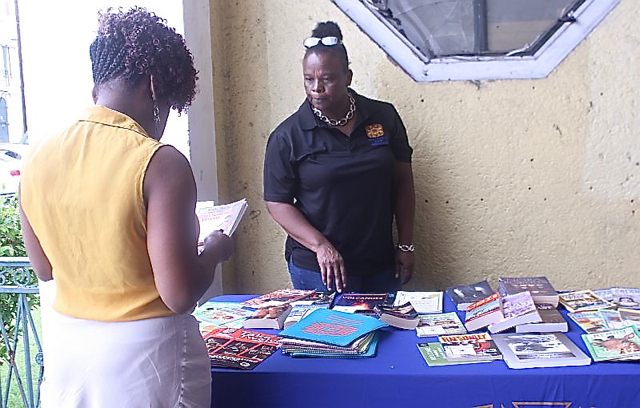 Boxes and bins of books donated by community members over the past week were distributed Monday at International Literacy Day events on all three islands.
The event was organized through a collaborative effort by the Department of Education, WTJX Channel 12, the University of the Virgin Islands and Seaborne Airlines, among others.
Started by the International Reading Association, International Literacy Day is observed each year on Sept. 8 and is meant to "focus attention on worldwide literacy needs," according to the IRA's website.
In the territory, the day was officially celebrated on Sept. 9, capping off a massive three-island book drive that brought in hundreds of books for readers of all ages.
The books, magazines and other reading materials were dropped off last week at the seaplane terminals and WTJX offices on St. Thomas and St. Croix, then distributed Monday at strategic sites, including Kmart locations and local post offices.
"On St. Croix, the event was an overwhelming success," Yvette McMahon-Arnold said in a statement issued Monday. McMahan-Arnold, who works with the Education Department's Division of Curriculum and Instruction, added, "At one of the K-Mart locations, we ran out of books twice and had to replenish. Overall, we had seven boxes at the site, and were able to distribute over 600 books — we really had nothing left by 3 p.m."
On St. Thomas, WTJX representatives manned the table at Tutu Park, which drew in shoppers. Along with community donations, the table was also filled with books donated by CFVI's The Family Connection, which continues to collect "giveaway" books throughout the year that can be picked up by children at the organization's offices in the mall.
Downtown in Post Office Square, WTJX and Education representatives also spoke to crowds that came in from Main Street businesses to look over everything from children's books to adult spy novels.
"There has been good participation so far," said Cheryl Liburd, a senior accountant with WTJX. By noon, the children's books were halfway gone and several adults said they were combing the tables for gifts for themselves or friends.
Along with the book distributions, activities at UVI and throughout the local public schools also worked to spread the International Literacy Day message, emphasizing the importance of reading. Creative displays, skits, poetry and storytelling all drove home the message, according to the Department of Education.
This year's International Literacy Day efforts were the first for the V.I. Literacy Council, which was developed through a federal grant awarded to the Department of Education. The council is made up of government and community representatives working on improving literacy throughout the territory, according to Education's Assistant Commissioner Sarah Mahurt.