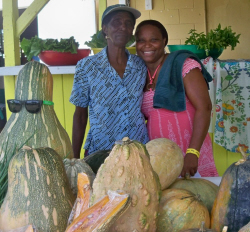 Dogs, food and vintage cars were the main attractions Monday at the first Mini Harvest Festival at the
Rudolph Schulterbrandt Agriculture Complex in Estate Lower Love.
Hundreds of folks came out Labor Day for one last summer fling and to buy produce from the summer harvest.
At the east end of the fairgrounds, vendors were selling food, fruit and vegetables in small booths and vegetable stands.
Dale and Yvette Browne, owners of Sejah Farm, had a stand loaded with lovely vegetables they just harvested. Dorcas Griffin had her table overflowing with fresh produce and plants. Veronica Gordon was selling plants and items she makes from calabash.
Vendor Maude Cornelius, whose stand was refreshed by the scent of passion fruit, said the mini festival was a good idea, especially for farmers.
"They should do this more often," she said. "This is a good way for farmers to showcase fresh local food." She added that sales were going well.
The food pavilion housed arts, crafts, books, jewelry, clothing, toys, trinkets and baked goods.
Carol Spanner was selling his hand-crafted mahogany art and functional pieces. Carol Frank had lovely scented natural soaps for sale. The "Cake Queen" Renita Johannes had beautiful six layer cakes of all flavors for sale and LaVerne Bates was selling pies and tarts.
And there were around two dozen vendors selling traditional local foods and beverages.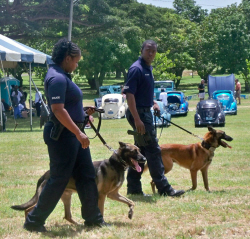 The dogs in the V.I. Police Department K-9 Unit were a big hit with the attendees. A large group of people gathered in the shade of a huge mahogany tree where Officer Heraldo Charles talked about duties of the dogs and a history of the unit.
Three fierce-looking shepherds and shepherd mixes showed what they are made of. They got a command in Czech and apprehended a decoy suspect, taking her to the ground.
About a dozen dogs of all sizes and breeds took to the ring in a dog show with Victor Petersen acting as the master of ceremonies.
People had comfortable ringside seats for the dog show with bleachers set up under a huge tent. There were two large well-behaved pit bulls owned by Anthony Cruz that were attracting a lot of attention, especially when they barked at each other. Winners in small, medium and large classes were selected by a show of hands from the audience.
"I really liked the dog show best of all," said Traey Francis, 11. "And I liked the police dogs too." He added with a wide grin he also liked the food. Iris Richrads, his grandmother from Antigua, said the festival was the perfect place to bring the family.
Bikers showed off their motorcycles and Volkswagen lovers showcased mint condition VW beetles. There were Camaros and Corvettes in beautiful shape with hoods up so car buffs could see how much horsepower was under the hood.
D J Swain and Cool Sessions Brass entertained the crowd.
Sandy Carter, local resident, said the organizers should hold the festival more often.
"This festival was good for the community and the local farmers," Carter said. "It was very nice and something different to do today."
The festival was sponsored by the Department of Agriculture, the University of the Virgin Islands Cooperative Extension Service, the V.I. Department of Tourism, Innovative and Seaborne Airlines.