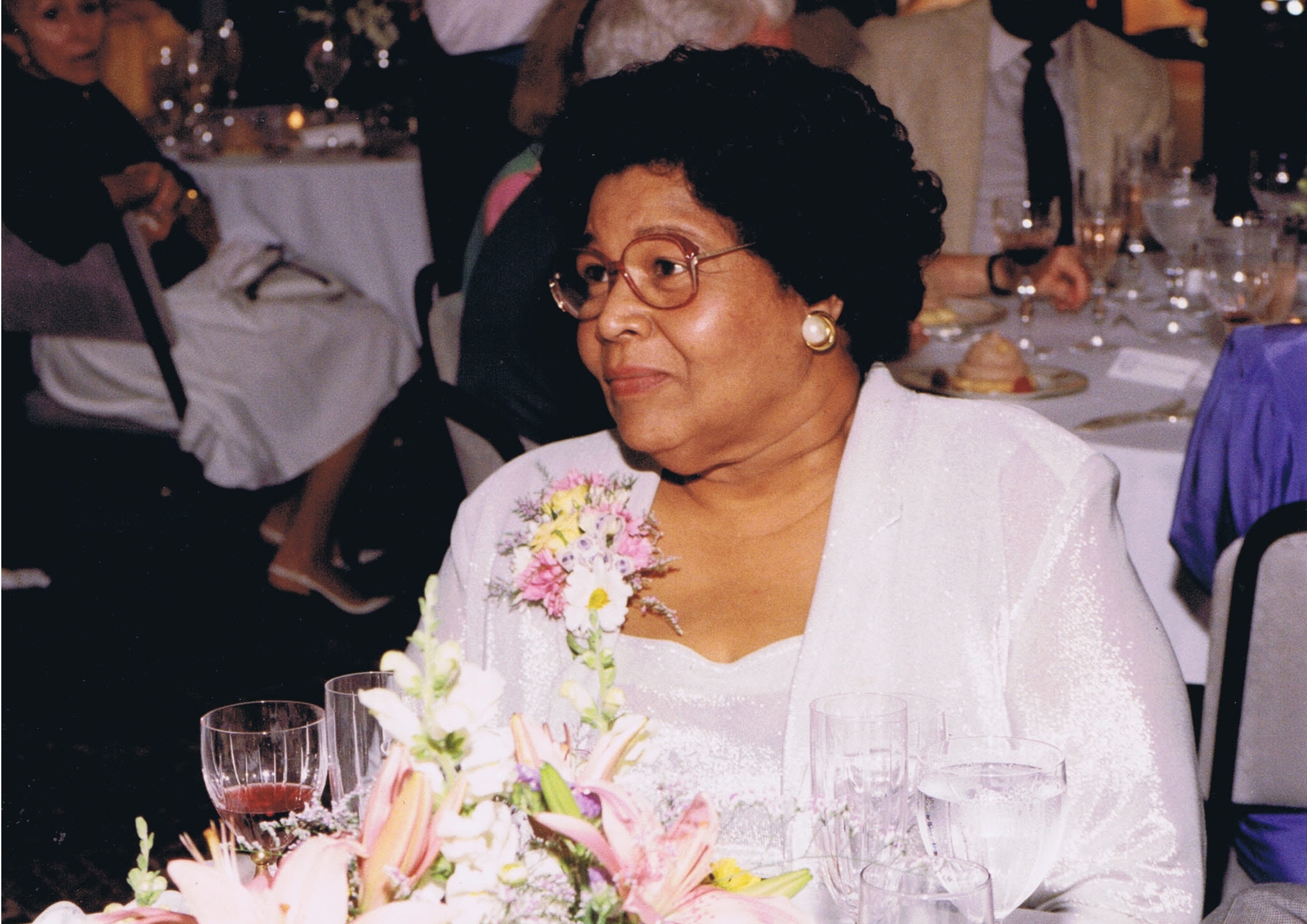 Born on April 27, 1924, the daughter of James Dykes and Lila Wells Dykes, George Unger grew up in New Mexico and Texas. She always said her father named her George and her sister Jimmie because he wanted boys.
George grew up in an African-American home that emphasized the importance of education. Her parents were teachers and graduated from college in the 1910s, a time when many Americans did not attend high school. After graduating from college, George went to work for the Dallas School system. While there, she received a master's degree in 1956 from Prairie Valley Community College. Her sister, Jimmie Fields, earned a doctorate in education.
George once said she had wanted to be an astronaut. While she did not make it into space, she did go far. After nearly 20 years in the Texas school system, George began an eight-year affiliation with San Francisco State College and the U.S. Agency for International Development (USAID) in 1963 as an education advisor for Liberia. She worked with the Zorzor Rural Teachers Training Institute. At a time when her own home state was in the grips of segregation – the Texas Legislature passing laws a few years earlier instructing the state's school districts to resist integration – George was representing the United States in Africa and helping to develop a school system for the Liberian capital, Monrovia. She developed many lifelong friendships with the people she met and worked with in Liberia and met her future husband, a teacher with the Peace Corps, Marvin Unger.
In 1972, George moved to Buffalo to marry Marvin. She returned to academic life the following year at a time when American colleges and universities were beginning in earnest to move from what Dr. Martin Luther King Jr. had described 10 years earlier as "de jure segregation in the South and de facto segregation in the North."
George became the founding director of the Equal Opportunity Center and began to put into place affirmative action policies at the largest university in the State University of New York system. In her 21-year career at the State University of New York at Buffalo (UB), she worked to provide equal opportunity and equal access to women and minorities. She became the university's chief affirmative action officer in 1990.
George was very involved in the fabric of life in Western New York, was active with the Buffalo Urban League, and served on the boards of the YWCA and the Buffalo Foundation, which she led as chairperson. At UB, she coordinated the university's observance of the International Year of the Woman, chaired the campus Employee Assistance Program Committee, and served on several committees, including the Professional Staff Senate, the Anti-Rape Task Force, the University Committee on Student Retention, and the Distinguished Service Professor Selection Committee. She lectured extensively and was also an advisor to the U.B. chapter of her sorority, Alpha Kappa Alpha.
As the reporter for the campus newsletter of UB put it, "Reflecting on the past 21 years, Unger sees UB's progress in expanding its programs for women and minorities as 'very exciting and fulfilling.'" Her final thoughts for the newspaper and the university:
"I'd like for this country to reach a point where there'd be
no need for any institution to have an office of equal opportunity and
affirmative action…That may sound idealistic, but we have
to have ideals. An ideal society would be one in which it's a 'given'
that every member of that society would have equal access and equal
opportunity to everything that that society stands for. That's
idealistic, but ideals are attainable."
After Marvin passed away in 1993, George decided to go into "semi-retirement" in 1994 and spend a few otherwise-cold Buffalo winter months of 1995 "on a beach." She chose to spend those months playing bridge and reading and relaxing on St. Thomas. The following winter she was back and the next year she made the island her year-round home.
George's life on St. Thomas was a tropical idyll, and she developed many wonderful friendships. She became involved in her sorority, the island's bridge club, the Community Foundation of the Virgin Islands and the Navy League. She served on the board of the Pinnacle Homeowners Association, and loved to sit on her veranda and enjoy the spectacular view overlooking Charlotte Amalie harbor.
She is survived by her nieces and nephew: Deborah, Suzanne and David Chodrow, who are most grateful to her closest friend, Julio Rhymer, his sister, Joanna, and the entire Rhymer family for all the assistance, care and love they provided to George in her twilight years.
Mrs. Unger's family and friends will gather on Saturday, Aug. 31, at her residence.
Donations in her memory can be made to the Community Foundation of the Virgin Islands, PO Box 11790, St. Thomas, USVI 00801-4790.