V.I. Police Commissioner Rodney F. Querrard Sr. addressed a large gathering of Rotary Club of St. Thomas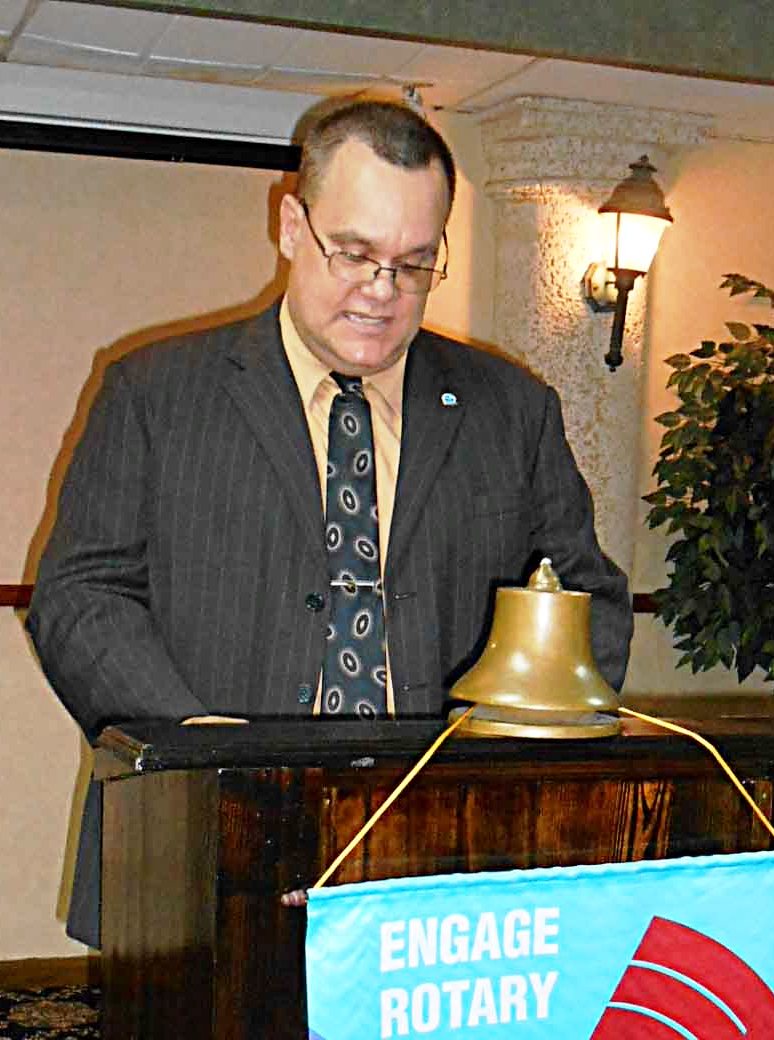 Sunrise on Tuesday morning, speaking on the department's challenges in efforts to make the territory a more peaceful community.
Querrard is one of a series of speakers the club has invited to speak in its Practice Peace initiative. Peace and conflict resolution is one of Rotary International's six areas of focus and will be the core focus for Rotary Sunrise during its 2013-14 Rotary year.
The absence of community peace is the most critical issue for the territory, according to a recent poll done by the Source. It is the goal of the Practice Peace initiative spawned by Rotary Sunrise to reduce violence by 75 percent over the next 10 years.
"Engage Rotary, Change Lives" is the current Rotary International theme and call to action. Rotary Sunrise President Shaun A. Pennington sees the local Rotary community as the group to best bring Rotary's influence and resources to turn the tide from the serious violence that is tearing the community apart.
Querrard got right to the heart of the matter. "I know crime is on everybody's mind, as it should rightfully be," he said, "We are literally losing generations of our young males to murder."
The commissioner related an incident at Carnival. "I was watching the parade," he said, "when a young girl came up and asked if I would buy her a hot dog. She was accompanied by a little boy, so I said I'd get them both a hot dog. The little girl then looked up at me and said she wished this were a school day. I asked why, what with the excitement of Carnival parade. 'Because if it was a school day, I'd be sure of getting lunch.' she said."
"I've never forgotten that," Querrard said. "There are many factors that can lead to criminal behavior. One is poverty, single family homes with no father or father figure in sight, no one to spend time with children growing up. These are just some of the problems we are facing as a community."
Querrard said these factors contribute to the community's rate of violence, as well as children receiving no guidance at home – or "getting it from individuals hanging out on corners"
"That's the beginning of the demise of that person," he said.
To counter some of these issues, Querrard said the VIPD has a number of programs – The Law and You, the VIPD Cadet program, and Weed and Seed – established to help youngsters before it is too late.
He said, "I had the opportunity to take part in some of the program ceremonies, and the sadness in the participants' eyes was encouraging. It's an indication that our efforts have had an impact. Some of the youths actually broke down and cried. I heard some say that their classmates and instructors were the only family who cared and were concerned about their future."
Querrard was Thomas-St. John Police chief from 2007 until he retired in April 2012. He left retirement at Gov. John deJongh Jr.'s request to become acting police commissioner when former Commissioner Henry White resigned earlier this year.
Querrard joined the VIPD in 1987. While on the force, he served nearly nine years as a member of the High Intensity Drug Trafficking Area Task Force and held supervisory positions at the Muriel C. Newton and Leander Jurgen commands on St. Thomas and St. John. During his assignment in HIDTA, Querrard earned the rank of police lieutenant.
Regarding police corruption, Querrard said he is working closely with his executive staff to address internal issues. "I am one who believes we should clean our house first before telling others how to clean theirs. These internal matters are being addressed and we will have a better department."
He spoke of the manpower shortage. "We have over the past 20 years neglected to hire officers on a more frequent basis. On a daily basis, the demand for assistance from baby christenings up to funerals just grows. Bars, nightclubs, vehicles, housing communities, visitors to the territory need us and our numbers aren't sufficient."
"We are experiencing a lack of supervisors territorially. We have scheduled promotional testing in both districts in October. This will address some of the consent decree issues which mandate proper structure of the department," he said.
After his presentation, Pennington asked Querrard to name three things he would wish for toward a more peaceful community if money weren't an issue.
The commissioner said that he would like to see more males aspiring to a police career. "More women than men are applying now," he said. "Manpower is always a problem."
Querrard said the department hired 14 officers from Atlanta a few years ago but "they didn't work out."
"I think they thought this would be an easy assignment, sitting on a beach drinking piña coladas. All of them went back except two who have St. Croix ties," he said.
Secondly Querrard said he'd ask for more community assistance. "We need people to come forward to help us. I know that some people are afraid of being found out, but you can do it anonymously. You can use Crime Stoppers. We've checked and there is no way a call can be traced to a person. Please," he said, "call if you know something. We would love to be bombarded with information."
Thirdly Querrard said, "I would like to be able to offer competitive salaries. We start off the officers at $30,000, as opposed to $40,000 in the states."
Rotary's 107th birthday is Feb 21, also known as World Understanding and Peace Day, is being targeted as the kick-off date for a major peace summit.
These talks by local community leaders whose work is focused within those areas affected by violence, as well as individuals who hold the keys to solutions, pave the island's road toward that summit, Pennington said.
For more information on these speakers or how you can support this community effort, contact Shaun A. Pennington at 340-777-8144.