Contractor Island Roads will get a notice to proceed with much-needed repair work on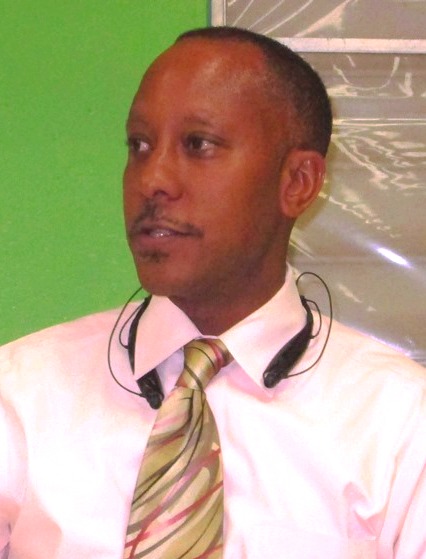 Centerline Road within 30 days, with the repairs to all three eroded sections done by March 2014, Public Works Department officials said Tuesday at a Coral Bay Community Council meeting held at Guy Benjamin School.
It can't come too soon for Pam Gaffin, one of about 35 people who attended the meeting. She lives downhill of the worst section of the road, which is now reduced to one lane with an asphalt swale installed to divert water around the orange barriers.
Gaffin said it looks like another chunk of the road is about to fall off. "It's moving drastically on a weekly basis," she said.
In response to numerous questions as to why Public Works doesn't tap into some "emergency fund" to make immediate repairs, Public Works Commissioner Darryl Smalls repeatedly had the same response.
"There is no local funding. I don't have funds to be used for emergencies," he said.
The $1 million plus price tag for the repairs, needed since Hurricane Otto hit in 2010, will be paid for from federal funds. Smalls said the department had to go through a lot of red tape to get that funding, necessary because the local government doesn't have to money to make the repairs.
Smalls said Centerline Road will not be closed during the repairs. However, he said, there may be some points where the contractor has to stop traffic so construction vehicles can move.
Later in the meeting, Community Council President Sharon Coldren said that work on the uphill slope of Centerline Road would help with erosion problems along the road.
"One of these days, we're going to have a boulder go through a car and kill somebody," Coldren said.
Smalls told her that his department knows what the problems are and how to fix them, but it all comes down to money.
The erosion problems on Centerline Road are also tied to housing construction in an area called Upper Carolina. Smalls said people had contractors block swales and drains because they ran through their property. He called on residents to remind their neighbors about these issues when they are building.
"Say to your neighbor, you need to double check what you are doing," Smalls said.
He said that while people get a permit to build in a certain way, they often don't adhere to the approved plans and build something totally different.
The only possible alternative route to Centerline Road runs through Bordeaux. While that road is mostly paved, it currently has a short unpaved section. Small said a contract with Better Road is in the works to complete the paving.
King Hill Road could be another alternative route out of Coral Bay, but Smalls said there is no money available to turn it from a rough dirt road to a paved thoroughfare. He said because it's part of the federal highway system, improvements have to meet standards, and that costs a lot of money.
"It's not a major priority based on the level of funding," he said.
Coral Bay resident Hugo Roller, who has plans for an eco-resort and campground in the works near King Hill Road, said he was worried that in a major rain, his guests would be stranded because the road causes flooding.
"A couple of days of steady rain and the road is raging like a river," Roller said.
In response to a question about the new ferry boats ordered by Public Works for use on the Red Hook, St. Thomas, to Cruz Bay runs, Smalls said they should arrive in October.
He said they'll fly the VITRAN flag but be run by the two ferry companies that hold the franchises for that route, Transportation Services and Varlack Ventures.
As for the VITRAN bus service on St. John, he said that while it's currently not operating, he expects to have two buses on St. John roads by the time school starts. He said new buses are on order but because the government is ordering only 10 for the entire territory, the job is not a priority for the manufacturers.
Smalls said the buses run only five days a week because it's not cost effective to run them on the weekends. This prompted Alvis Christian, who helps organize the Coral Bay Labor Day festivities, to implore Smalls to operate them on Labor Day. Last year there was no Labor Day service.
Christian said without the buses, people coming from St. Thomas and the Cruz Bay area have to hire a taxi at $15 a head.
"This has really impacted our parade," Christian said.
Smalls said he'd consider it.