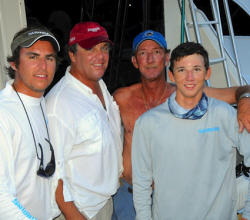 The marlin slept in late Monday morning, but when they finally stirred they were hungry, treating anglers to a hot afternoon on the second day of fishing in the USVI Open Atlantic Blue Marlin Tournament, according to tournament organizers.
The 28-boat fleet spread across a 45-mile stretch of sea from the North Drop to off Anegada and collectively released 26 blue marlin. This combines for a total of 62 released marlin in the first two days of tournament fishing.
The team aboard, Wave Paver, a 61-foot Garlington, moved into first place with the release of one blue marlin today and five total for the tournament.
"We stayed on the Drop today," said Jr. Davis, the Kissimmee, Fla. based owner/angler of Wave Paver. "We had one fish fire up for a tug on the teaser around noon, but it didn't bite. Then it was around 4 p.m. when we finally released our one fish for the day."
This one fish was just enough to power Wave Paver past the team on Casca Dura, an 80-foot Brazilian-based Merritt. Casca Dura anglers went fishless for the day and dropped to second place with four blue marlin releases for the tournament.
The team on the St. Thomas-based charter boat, Free Spool, a 58-foot Buddy Davis, added a blue marlin release today to tally up to four total, enough to secure a third place in the boat standings.
Marlin Prince, a 45-foot Viking and longtime member of the St. Thomas-based charter fleet, was one of six tournament boats to release their first blue marlin today.
"We stayed on the North Drop today because most of the fleet headed up to Anegada and we thought it would be really crowded up there," said Fred Kopko, Marlin Prince's owner/angler. "We ended up seeing three marlin, hooking up two and I released one."
It's a real family affair aboard Marlin Prince this year. Kopko was angling with his son, Thomas, while Capt. Eddie Morrison employed his 15-year-old son, Travis, as mate.
Blank Check also took its place on the scoreboard today and did so in a big way – with three blue marlin releases.