Last year, St. John photographer Steve Simonsen's video of hundreds of thousands of migrating hermit crabs at Nanny Point on St. John went viral on the Internet, attracting the attention of a cadre of New England scientists who study hermit crabs.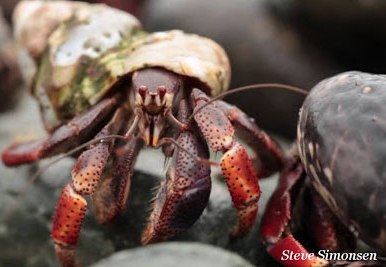 "This has only been reported a few times," said Randi Rotjan, a research scientist at the New England Aquarium in Boston.
This year, in hopes of learning more about the life and reproductive habits of hermit crabs, those scientists asked St. John residents to keep their eyes peeled for another such event. They've set up a website to facilitate reporting or spotters can email St. John resident Pam Gaffin with their reports.
Hermit crab migrations usually happen in August when the hermit crabs head to the sea on their reproductive journey, but Rotjan said September and October are also possibilities. She said there's some thought that it's tied to the waxing moon, which is coming up this weekend.
"We expect action in the next couple of days," she said.
To get to the ocean, the hermit crabs will have to cross streets and traverse neighborhoods, making them a bit easier to locate.
Only about 34 of St. John's beaches are easily accessible, Gaffin said, but the migration could happen at any of the others seldom frequented by people.
The migrations only last for a short time. Last year's spanned about six hours.
Rotjan is working on a project to gather information about how hermit crabs switch shells. She said a Tufts University team is studying hermit crab reproduction so they're working together to gather more information on St. John's hermit crabs.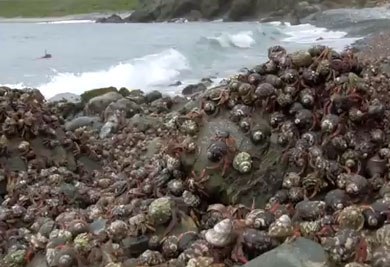 "If we figure out where and when, then we can move to phase two and figure out why," Rotjan said.
The migration doesn't seem to happen in every location or every year. Scientists think that egg-carrying female crabs head to the sea in a given watershed. Rafe Boulon, who retired last year as the chief of resource management at V.I. National Park, said it seems like the hermit crabs in a certain watershed decide it's their year to migrate while the others in other watersheds stay home.
"In 30 years at Windswept, I've seen it three or four times," Boulon said of the Trunk Bay location where he lives.
According to Rotjan, the crabs spend four to seven days migrating down from the watershed hillsides to spend a few hours in the ocean. Boulon said during that time in the sea, they flush water in and out of their shells to release their eggs.
"The sex all happens up on the mountain," Gaffin said.
The eggs float in the water until they hatch into larvae. Boulon said once on the shoreline, they find a little shell and become a terrestrial hermit crab.
They then spend the next four to seven days heading back up the hills, Rotjan said.
Gaffin was the first to spot last year's migration. She was snorkeling during the late afternoon the day before when she spotted the first of the crabs just hanging out in the area. She went back every two hours to see what would happen.
"By dawn they were moving," she said.
Gaffin immediately called Simonsen, who packed up five cameras and a tripod before heading out the door 15 minutes after her call. Simonsen said when he got there some hermit crabs were already leaving but others were still arriving in an area about 50 yards across that ran from the vegetation to the shoreline. Gaffin said the depth was up to her elbow.
In an effort to get the best shot, Simonsen said he lay down on some rocks.
"Soon they were crawling over my feet, right into the lens of my camera," he said.
Simonsen said that while hermit crabs usually bite, these migrating hermit crabs were not the least bit interested in doing so.
See the best quality version of Simonsen's video of last year's hermit crab migration at https://vimeo.com/48466065 . If your internet service is too slow, try the YouTube version at http://www.youtube.com/watch?v=a3aRZ2lt6W4.
To report hermit crab sightings, visit https://docs.google.com/forms/d/13UO5BF9qDo8fKqGug5Qm30kQsQd8Sz68PGBnz0Bx7ao/viewform or email Gaffin at pam@viaccess.net.