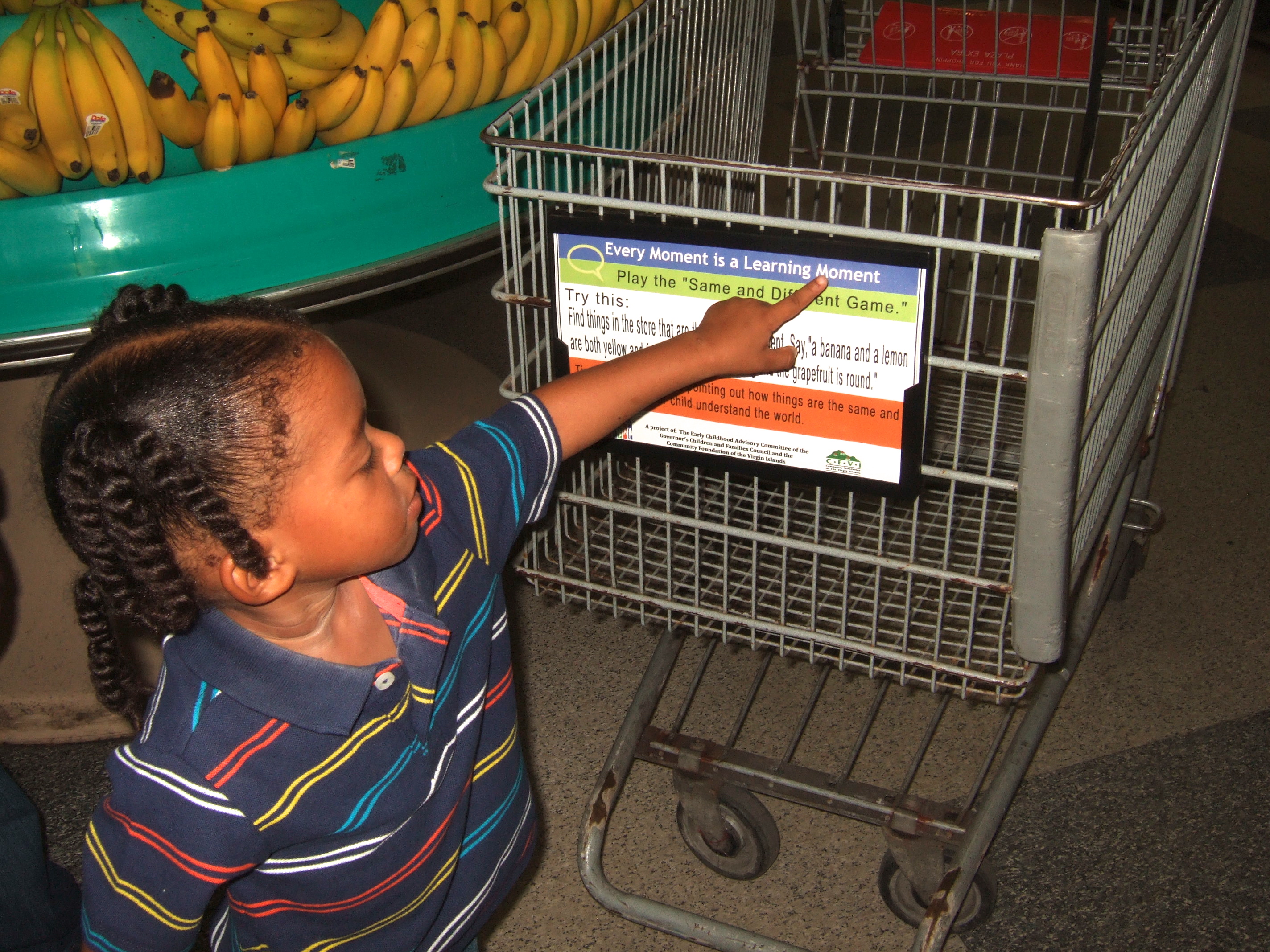 Virgin Islanders are beginning to notice the colorful placards on the front of grocery carts that offer educational games for parents and children to play and learn while shopping at the supermarket.
The "Everyday Moments are Learning Moments," project helps eliminate boredom and frustration at the supermarket by engaging parents and children in simple games that use counting and identification skills.
While shopping, children can learn the names and colors of produce and other food items, and have fun helping search the shelves for items described by the parent. For instance, one placard introduces "I Spy" by asking the child to look for something, red, small and sweet to eat in the store.
The shopping carts can be found at the Plaza Extra stores on St. Thomas and St. Croix, Stop and Shop on St. Croix, and at Dolphin Market, Starfish Market and St. John Market on St. John.
The project is based on the national Born Learning Campaign and is sponsored by the Community Foundation of the Virgin Islands (CFVI) and the Early Childhood Advisory Committee of the Governor's Children and Families Council.
"The idea is to find easy ways for parents to interact with their children, to stimulate development and thinking and build relationships with their children. These messages will help busy parents make shopping fun for their children and less stressful at the same time," said CFVI's Director of The Family Connection Ellie Hirsh.
The games developed for "Everyday Moments are Learning Moments" are based on research from Born Learning that found that children need to play and stimulate their senses. They need to have physical contact with other people and learn from their interactions as well as the environment. They learn best in a stress-free environment. The Bornlearning.org Web site has more information about how children learn.
Parents may already be familiar with the CFVI's Born Learning Trails at the Altoona Lagoon playground, Magens Bay, the Winston Raymo Recreation Center, Al McBean Playground, Lindberg Bay Park and Water Playground, and the Little League National Park. Signs are scattered around these locations to engage children and parents in play. The programj was created in 2007, and is used by hundreds of organizations to engage communities and encourage early childhood learning and parental participation. Born Learning is a partnership of local, state and national organizations, including United Way of America, Civitas, Families and Work Institute and The Advertising Council. CFVI has been endorsed by the local United Ways to carry this project forward in the Virgin Islands.