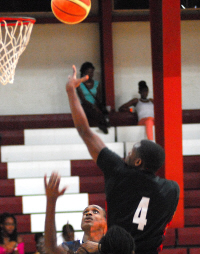 The Kings swept Legacy out of their best of three playoff series, two games to none after, a 102-84, victory and the defending champions, Boys Dem, blew away five-time champions Hoyas, 112-60, in their series opener on Saturday at the Ronald Charles Gymnasium on the Central High campus.
Kings 102, Legacy 84
The Kings marched into the 2013 NBBA finals on Saturday with an easy 102-84 victory over Legacy to complete a two-game sweep in their best of three series and will now await the winner on the other playoff series between the defending champions Boys Dem and the Hoyas. The Kings were just too big and powerful for a game but overmatched Legacy squad. They dominated the paint offensively and defensively and out rebound the much smaller Legacy, 52-38, in a contest that was not as close as the final score.
Leading the charge for the Kings was power forward, Cuthbert Victor, who torched the nets for 30 points in three quarters before taking the night off. Victor finished with 30 points and 19 rebounds. Three other Kings scored in double figures with Craig Williams netting 21 points with 13 rebounds, and Devante Pryce finished with 21 points and nine rebounds. Kings point guard Jermaine Mulley also had a good night with 13 assists, 10 rebounds and seven points. For Legacy Bobby Evans led the way with 22 points, 11 assists and eight rebounds, Chris Floys hit seven 3-pointers in his 23 points, and Sean Tutein finished with 15 points and eight rebounds.
Boys Dem 112, Hoyas 60
The NBBA defending champions came out on fire scorching the nets with six 3-point baskets on their way to 33-points first quarter while holding the Hoyas to just 14. It was a 19 points hole that the Hoyas would only see get deeper as the night wore on. Brothers Rasheed and Zomari Swanston combined for five of the champs six 3-pointers in the period.
The lead was 20 at the half at 48-28, and 38 at the end of three quarters at 79-41. The youthful Boys Dem Squad then poured it on some more in the fourth, finishing things up with a 33 points final period for a final score of 112-60.
Wilson Ferrance led six Boys Dem players in double figures with a game-high 25 points. Z. Swanston finished with 23 points and 10 rebounds, R. Swanston 12 points and 12 rebounds, Saleem Ross 17 points, Kadeem Jones 12 points, eight rebounds and seven assists, and Keita jones finished with 11 points. For the Hoyas Warren Christian netted 17 points, Edie Castillo, 13, and Omari Applewaite finished with 12.