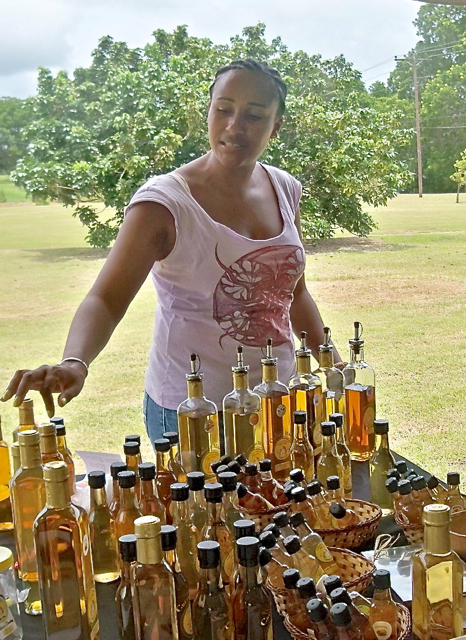 Nothing went to waste Saturday at the V.I. Department of Agriculture's first Value Added Market Day at the St. Croix fairgrounds.
More than a dozen vendors filled their tables with beautiful golden honey mead and fruit wines, bright orange and yellow hot pepper sauces and jellies, natural body products and everything under the sun that can be made from mango.
Fresh produce wasn't available, only bottled and packaged items were for sale.
Ray Hamilton, of Feel Great Wellness Center, said the value is added when the local farmer is not letting anything go to waste, making money from the byproducts of the local produce.
"We have so much local fruit and vegetables and a lot can go to waste," Hamilton said. "They can turn around and make and sell other products. They make use of everything. It's very beneficial for everyone."
He was selling coconut oil.
Vendors were giving out samples using tiny little spoons and shot-glass size plastic cups. They also gave out contact information so people can get in touch with them when they want to purchase a product.
Wanda Wright and her daughter Dara Hamilton, from The W-Right Apiary, set people up with samples of honey mustard dressing, fruit, crackers and mead. Wright produces and sells bottles of mead , wine and honey made from every fruit tree she grows in her orchard in Southgate.
I B Jammin had a very yummy mango, pineapple, coconut, and rum jam.
Violet Drew, of Ras Sonrise & Daughter Stand Farm, said she sold out of her plantain chips right away. She also had mango and plantain fruit leather. She didn't waste a thing in her melon peel pickles, and her candied lime peels looked tempting.
Of course Veronica Gordon, local farmer, bush lady, artisan and storyteller was there, selling such goods as mango chutney, packaged bush tea and her hot pepper jelly that clears the sinuses.
Toni Downs had handmade Queen Caribee soaps and honey for sale. And Errol Chichester, deputy commissioner of agriculture, was selling his honey in combs and bottled. V.I. Pure wildflower honey was also available.
Miamor Young and Bambu McIntosh, of Sunlight Food, were giving samples of their vegan eggnog made with the creamy and sweet egg fruit. The fruit can be a bit strong but the eggnog was a perfect mix of egg fruit, coconut milk, vanilla, nutmeg, brown cane sugar and spices.
Laurie Samuel, of G.L.G. Plants and Produce, sold mango cake, mango nut bread and pickled mango.
"Value added is using all of the fruit," Samuel said. "We don't waste anything."
Sonia Liburd, of LT MA Enterprises, had turmeric seasoning, lately being touted as a great health food item, honey and bagged local tea.
Retired local tour operator Sweeny Toussaint is producing pickled mango chow, chutney and kuchilla and pickled mango.
"I can't just sit around," Toussaint said with a big smile. "Life is for the living, I had to do something and we have a lot of mangoes."
Yoki Hanley had a lovely display and samples of her itiba all-natural bath and body items made with local products.
Yvette Browne, owner of Sejah Farm, said she thought the market was well attended. She just wished the Agriculture Department would hold the market more often.
Janine Schuster, who was out shopping, said the market was a wonderful way to showcase local products and a step to possibly begin exporting.
"These are local products created with a lot of love," Schuster said.
Kimme R. Bryce, area specialist for the U.S. Department of Agriculture, was at the market giving out information packets on grants available to the farmers and producers. A representative from the Economic Development Authority was also providing information.