Junior University, a joint program of the University of the Virgin Islands and the V.I. Department of Education, donated free netbook computers to its graduating students Friday at a ceremony at the Great Hall on UVI's St. Croix campus.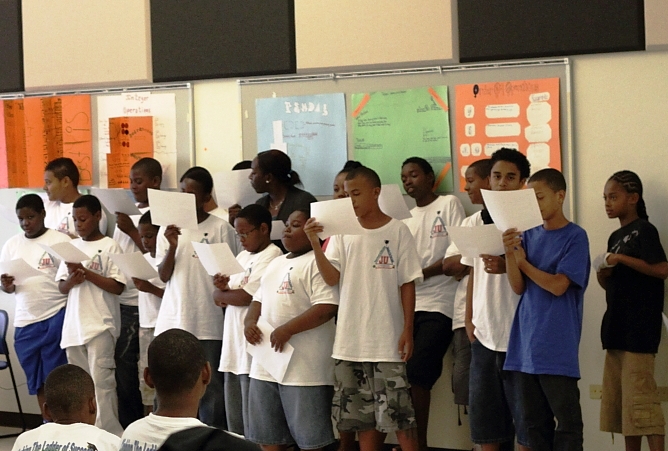 Approximately 50 students participated in the five-week program, which is open to male students who are entering either the seventh or eighth grades.
Basil Williams Sr., the program's onsite coordinator, said the Junior University targets middle-school age boys because research shows that it can be a turning point in their education and that some extra attention could be the difference between creating a future drop out or a future college graduate.
"At that age group, in general, we see male students starting to dropout more than female," Williams said. "They tend to go astray more quickly at this age."
He said the program was meant to boost the students' math and reading skills but also to "let them see that college could be an option for them."
The program is in its second year on St. Croix and third on St. Thomas. Williams said this year they changed their focus from students who were failing in school to those who were passing but needed extra attention.
Students in the program attended class daily from 8 a.m. to 3 p.m. and studied reading and writing, math, professional development skills, physical education and the arts, which this year ended up being a carpentry class.
At the completion ceremony, students took turns in front of the microphone – their heads barely rising above the lectern – making presentations in front of their parents and teachers. Some students read book reviews they prepared in class while others described what they learned during a field trip to a farm.
By far the highlight of the ceremony was a performance of Bruno Mars' "When I Was Your Man" with the lyrics tweaked to make it into an ode to PEMDAS, the mathematical order of operations.
"Oh, I know I'm probably not too late/ to try and apologize for my mistakes/ but I just want you to know/ I should do parenthesis before exponents/ multiply or divide and then addition/ Take the problem to the end cause all is left is subtraction/ Now my math is dancing, and she's dancing with another pen," a large group of students sang.
The song was arranged by Andre Francis, a math teacher for the program who normally teaches at Central High School.
Francis said he regularly incorporated music into his lessons because it's a good way to get kids motivated to do work they may otherwise not be interested in.
"There's nothing more motivating than music," he said. "It's fun and the kids come away with a renewed interest in the subject because they associate it with something they like all the time."
After the ceremony, students eagerly lined up to sign for their free computers.
Renee Hansen, the program manager for safe school at the Department of Education, explained that both the program and the computers were made available by money received through a federal grant and that both were meant to provide students with greater opportunities.
"A lot of our students don't have access to computers. In this technological age we want to make sure they have access to whatever research, whatever they need for school," she said.