Tropical Storm Dorian was Tropical Depression 4 at Wednesday's 5 a.m. update from the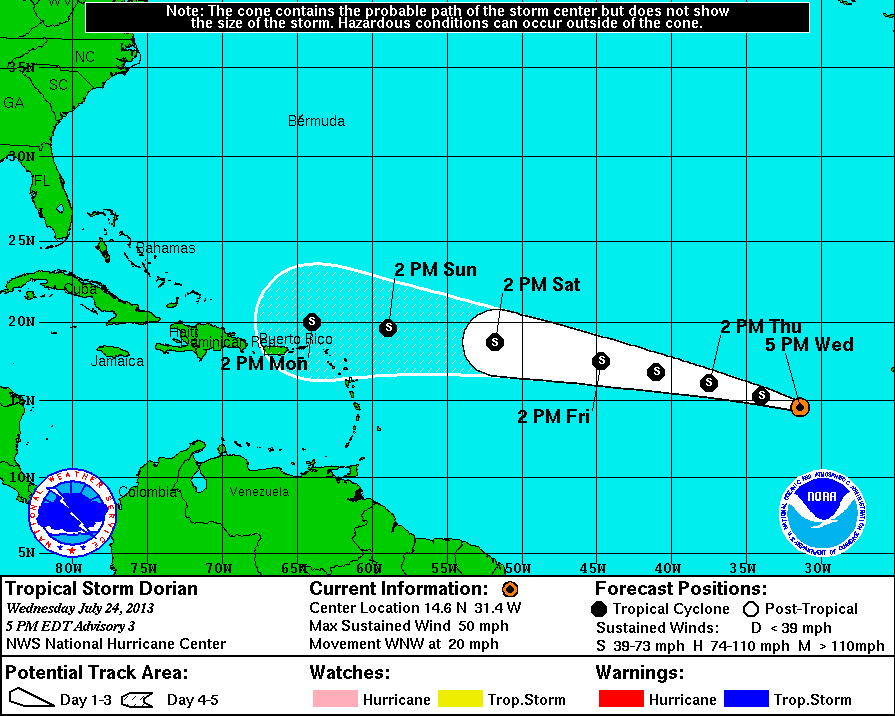 National Hurricane Center, but by the time the 11 a.m. update came out, it had a name and 50 mph winds. However, it's still too soon to know exactly how the storm will impact the Virgin Islands.
"It depends on how far north or south it goes," said Walter Snell, a meteorologist at the National Weather Service in San Juan.
On its current track, Snell said that Dorian should pass somewhere from 60 to 120 miles north to northeast of St. John as a tropical storm on Tuesday night. Snell cautioned that both distance and timing could change so residents need to watch the weather.
He said even if Dorian's center stays to the north, the territory will likely see rain and gusty winds.
As for its development into something stronger, Snell said conditions to the north are hostile but are more favorable if Dorian takes a more southerly track.
At the 5 p.m. update, Dorian's winds were still 50 mph with higher gusts. Tropical storm force winds extend outward 45 miles from the center.
Dorian was moving west-northwest at 20 mph. The barometric pressure stands at 1002 millibars.
The storm was centered at 14.5 degrees north latitude and 31.4 degrees west longitude. This puts it about 2,300 miles from the Virgin Islands.