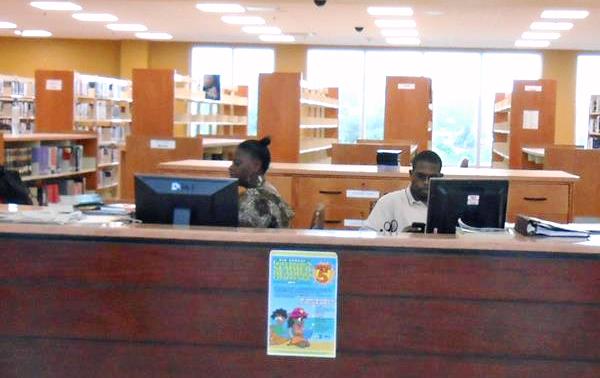 The Charles Wesley Turnbull Regional Library sits on a Tutu hillside, an opulent lady in waiting.
Library service in the Virgin Islands began in 1920 with the opening of the St. Thomas Public Library in rented quarters, using packing crates for shelves, wooden boxes and other odd pieces for furniture, according to library archives.
Today's magnificent state-of-the-art structure poised to the north of the Tutu Mall parking lot is light years away from its humble beginnings, but the 1920 library had one essential element the Turnbull Library lacks: adequate staffing.
Many of the Turnbull Library's shelves are also bereft of books.
However, the situation is in hand, according to Ingrid Bough, Territorial Director of Libraries, Archives and Museums, who said Wednesday, "We want to grow into the library."
"Hiring is ongoing," Bough said. "We have more books being cataloged and put on the shelves. We have hired some staff, and more staffing is being put in place. It's just a matter of getting the full staff on board."
In a press conference earlier this year, Department of Planning and Natural Resources Commissioner Alicia Barnes and Public Works Commissioner Daryl Smalls said they anticipated a grand opening in October. The library, which had a "soft opening" in June, is now open 9 a.m. to 5 p.m. Monday through Friday.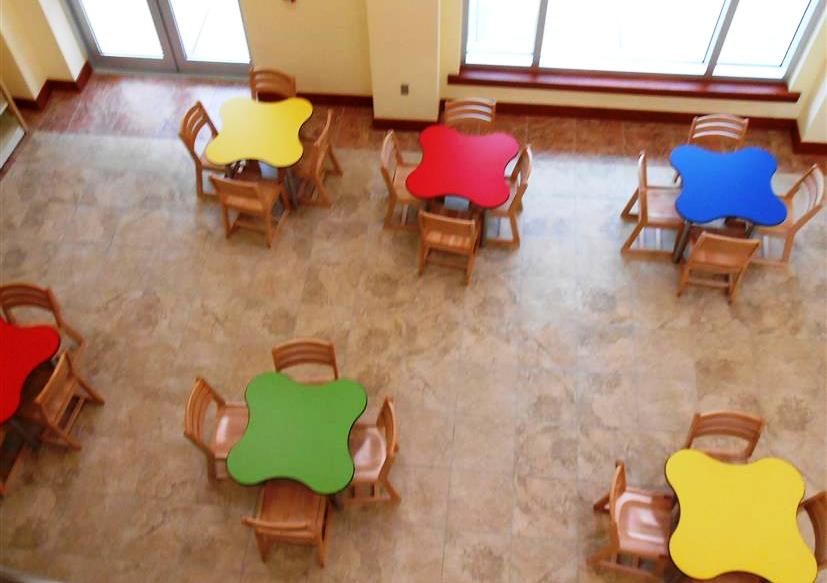 The new structure is indeed opulent, gorgeously appointed, with no detail overlooked, or nothing that has escaped the experienced eye of Susan Lugo, DPNR's assistant director/territorial archivist, who conducted a tour for the Source last week.
The main entrance of Turnbull Library is actually on the second floor. The lobby reading room is spectacular, filled with light, both natural and artificial, with floor to ceiling windows facing east and west. It feels like a library should – welcoming.
This is to say nothing of the Children's Reading Room off to the right of the main lobby. It is 3,500 square feet of everything a child could possibly imagine – a space for fancy, for imagination, for adventures to other lands only found in books.
Everything in the room contributes to what could be a child's idea of a lot of fun. Off to one side sit handsomely upholstered wicker hassocks, which are distributed in the other reading areas as well, but even better, there are big soft pillows to curl up on with a book to read or a game to play. On the other side are tiny reading tables painted in cheerful red, blue, yellow and green.
The library is staffed by two personable library technicians – Stephanie Anderson-Roberts and Iman Powe-Maynard – who are anxious to see the day when their young charges will arrive.
Powe-Maynard did note one other immediate problem, however. "The counter was built for adults so it has to be lowered by about one foot" for young library patrons.
The third floor houses the Young Adults section with more hassocks and comfortable couches for reading.
Across is the mezzanine well-lit reading area, Lugo points out the light, however, can be a two-edged sword. "We have to protect the books with light protection screens," she says.
Lugo points out a collection of glass showcases bundled into an alcove. "These will house the Taino Indian artifacts collection which were found during the initial construction of the Tutu Park Mall," Lugo says."They are now housed in the State Historic Preservation Office."
The third floor also contains several conference rooms, one with a 20-seat table available for video-conferencing.
Downstairs the Von Scholten Collection on the second floor will contain more than 28,000 books and other historical data: back issues of Virgin Islands newspapers on microfilm; church records including birth and death certificates and other archival materials.
Lugo explains, "Everything has to be inspected for pollution before being admitted to the collection. Right now, the collection is still awaiting about 2,000 books from storage."
She says the regular library tech Beverly Smith is on leave, but the collection needs a librarian, "someone with a master's degree in library science and experience in special collections."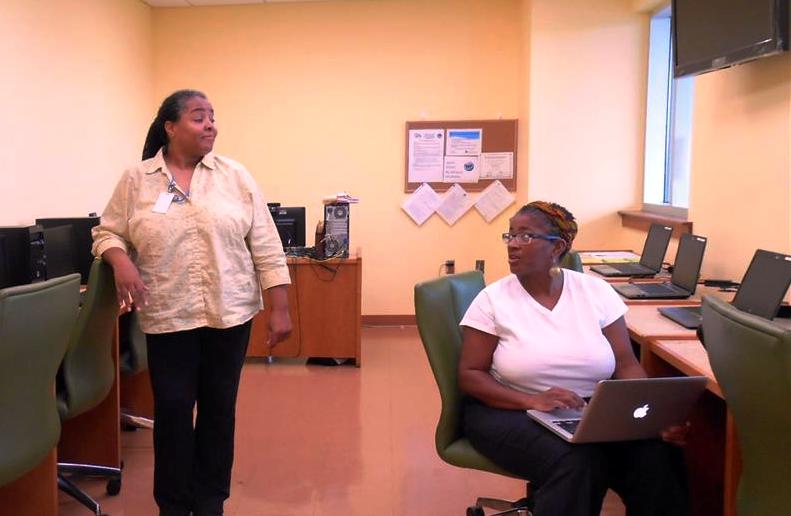 A tour of the first floor laboratories is like entering a new world, high tech and spotless. It houses four preservation and conservation labs strictly for the use of library technicians – a cartographic conservation lab and preservation room, a paper and book conservation lab, a digital media lab, and a microfilm and film processing, duplication and digitization lab.
The 120-seat auditorium is the only venue for the public on this level. It has retractable digital projection and sound equipment. It is handicap accessible, with a door to the parking lot and an area above the seating for wheel chairs.
As we walk through the building, Lugo is quick to notice small details. She reaches up to tighten an overhead screw in a doorway without skipping a beat. It's quite literally her domain, the physical as well as intellectual, and she tends it like a concerned parent.
As we walk around the main lobby, there are folks here and there bent over their laptops, happily using the free internet. Lugo says they see about 50 patrons a day right now.
The last venue to inspect is the V.I. Next Generation Network computer lab. DPNR has a memorandum of understanding with viNGN to create public computer centers to provide free public access in libraries.
It is run by site manager Anita Davis, whose knowledge and enthusiasm seem tailored for the job. "This is my dream job," says Davis, a former radio personality and well-known in the local communications community.
"We are getting people all day long," she says. "Like they say, if you build it, they will come." Davis teaches two computer literacy courses daily, at 10 a.m. and 3 p.m. The free digital literacy course is available to U.S. Virgin Islands residents. Those who pass the course will then be able to choose from among more than 5,000 free IT and business courses, all accessible online.
"The key is to register for that digital literacy course," Davis says, urging the public to visit www.vingn.com to sign up. "If you don't have a computer, you can always visit a public computer center near you. These are also listed on the web site," she concludes.
Davis welcomes everyone. "I teach everyone from kids to seniors," she says. "It doesn't matter how little you know, I'll hold your hand and get you through."
"If you want to live in today's world, you really should know computers – to apply for a job, for instance, or to get social security information."
Bough referred questions about the library's current funding status to Commissioner Barnes, who had not returned a call by the end of Wednesday.
For the time being, the Bookmobile is stationed outside the main entrance, stocked with a portion of the library's children and young adult collection.