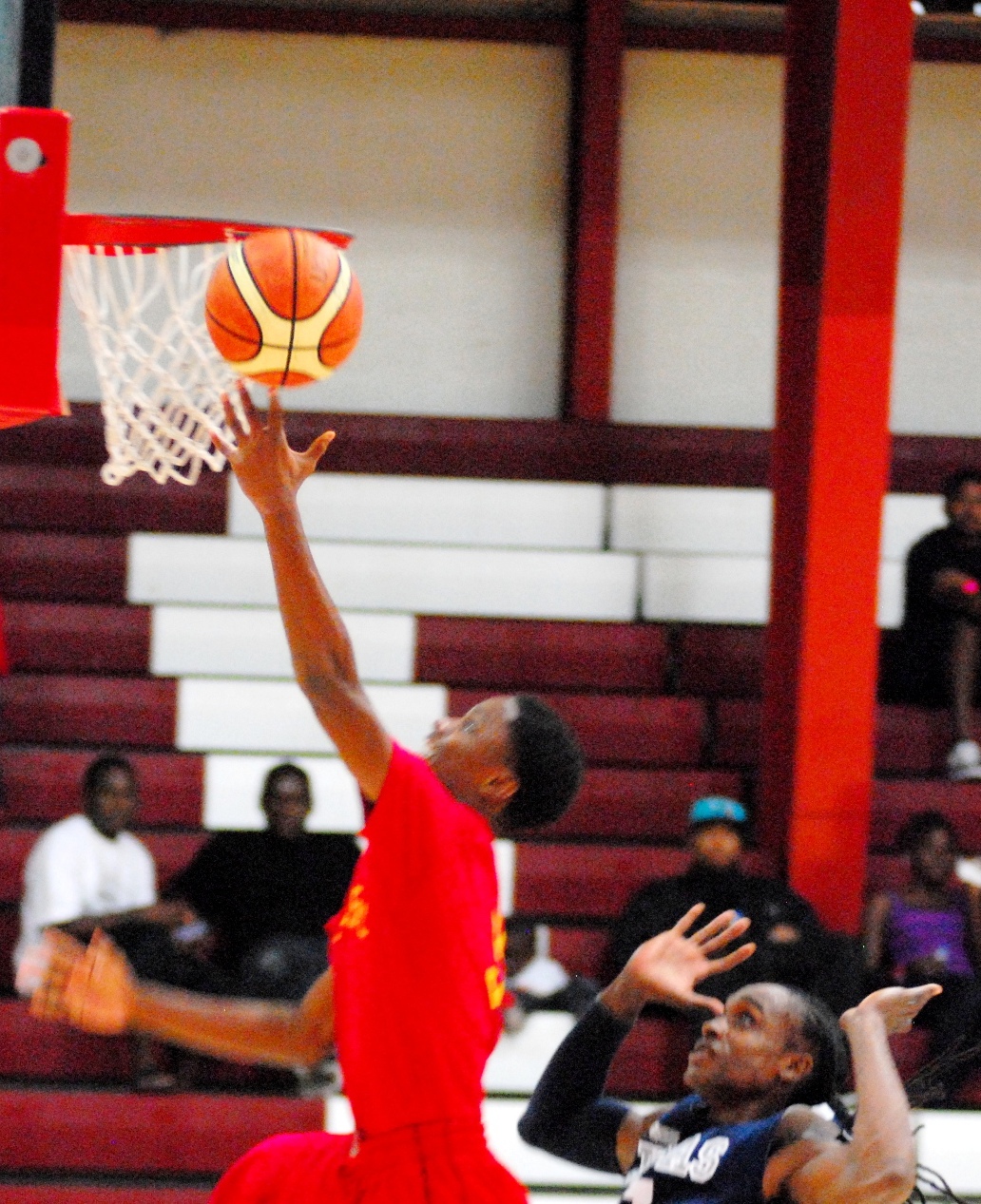 The Rockers, the New Breed Basketball Association's new kids on the block, pulled off a stunning victory in the opening game of the 2013 summer league playoff when they the beat perennial powerhouse, the Hoyas, 66-62, Monday night at the Ronald Charles gymnasium on the Central High Campus.
Easily the youngest team in the league, the Rockers showed a lot of poise in erasing a 10-point halftime deficit to pull out the upset victory.
In the late game Legacy dominated the Lakers from the opening on their way to an easy 80-67 victory.
Rockers 66, Hoyas 62
The five-time champions Hoyas got off to a good start in the opening period and led by seven points from Omari Applewaite.
A balanced attack and a stingy defense allowed the Hoyas to win the second quarter as well and they went into the locker room at the half with a 10 point advantage at 38-28.
Things would change quickly in the second half, however, as the youthful Rockers opened the third quarter on fire. Riding the hot hand of Ray Canton who netted 10 points in the period, they outscored the Hoyas 21-10 and ended the quarter ahead by one at 49-48.
The Rockers' momentum would continue in the fourth quarter and, despite a valiant effort by the former champs, the youngsters would not be denied on Monday. They turned back every Hoyas charge and held on for the 66-62 upset.
Canton led the Rockers with a game-high 18 points and Amari Krigger finished with 17. One Rocker finished with eight points and three others netted seven points apiece in a balanced attack. Warren Christian led four Hoyas in double figures with 15 points, Eddie Castillo netted 12, Applewaite had 10 and Karl John finished with 10 points and 13 rebounds.
Legacy 80, Lakers 67
In game two, Legacy dominated from start to finish, taking the opening game of their best-of-three series against the Laker, 80-67. The victory avenged a loss to the Lakers in the teams' final regular season matchup.
Legacy was led offensively by Sean Tutein who finished with a game-high 28 points while grabbing 11 rebounds. He got good support from sharp shooter Chris Floyd who scorched the nets with five 3-pointers to finish with 18, and Kaief Newton finished with 13. For the Lakers, Charles Moorehead netted 12 points and grabbed 14 rebounds and Rashawn Williams had 12 points and 11 assists.