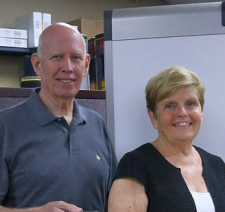 On the heels of a recent news report that Havensight Mall mainstay the Draughting Shaft is closing, store owners Terry and Suzanne Robinson made it clear their business "isn't going anywhere" anytime soon.
The news came out of a recent Government Employees Retirement System board meeting, which involved discussion on the upcoming closing of Dockside Bookshop and steps that could be taken to help the mall's other vendors get some financial relief.
GERS owns the mall, which is managed by the West Indian Company Limited.
GERS issued a short statement Monday, echoing what the Robinsons have said: Draughting Shaft is still open and will "not be closing" as was reported last week by another media outlet covering the meeting.
"The GERS would like to extend an apology to Draughting Shaft and its customers for any inconvenience caused," the statement said.
The Draughting Shaft opened on St. Thomas 45 years ago, and since then has weathered the economic storm with a balanced business plan that caters mostly to locals while carrying some items – such as locally inspired gifts – for tourists as well.
In an interview with the Source, Terry Robinson explained that the store has a number of different specialties, including a retail store with picture frames and art materials and an office furniture component, which has been tapped by a variety of private businesses along with the government.
"Of course we have had some of the challenges that many other businesses have had over the years, with budget cuts, an increase in Internet sales, road construction, etc.," Terry Robinson said. "But working with everyone, we have been able to work through these situations."
Draughting Shaft is one of the few businesses in the mall that is able to stay open during the weekends — even when there are no ships in port.
"We have a mixture, we have a balance that is heavily weighted in local businesses and private firms," said Suzanne Robinson, who also explained that the store has recently been working with the University of the Virgin Islands to retrofit many of the classrooms, transforming them into more modern settings.
In return for the community's support, the Robinsons said they make it a priority to give back where they can, getting involved with organizations including Rotary International, My Brother's Workshop, the Nana Baby Home and local school boards.
"We really appreciate the business we've gotten from the residents of this island, from the government, and private enterprise – everyone that's made it possible for us to grow for the past 45 years," Terry Robinson added. "And we hope to be here for another 45 years."