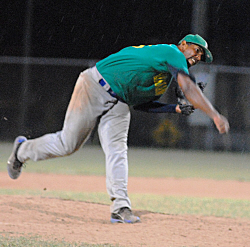 The 40 Plus Hurricanes shocked the Yankees on Sunday by taking the rubber match of their three-game Raphael Jackson AA baseball playoff series at the D.C. Canegata Ball Park, behind a great pitching effort from Aneuris Mercedes.
Mercedes scattered six hits and struck out 12 batters on his way to a season-best performance.
The Hurricanes, sometimes referred to as the Geritol Posse because of the advanced age of most of the players, were heavy underdogs coming into the series but showed that they have a lot of fight left in them by beating a balanced Yankees squad.
The Hurricanes got the scoring going in the top of the third inning on Tony Peguerro's two-run RBI double to take the early lead. Mackeel Rogers' RBI single in the bottom of the inning cut the lead in half at 2-1 at the end of three.
The 'Canes were back on the attack in the top of the fourth, erupting for five runs on RBI singles by Cruz, Kenny Milligan, and Carlos Morales, a sac fly by Peguerro and a Yankees error to extend their lead to 7-1.
It would be one more run than Mercedes would need.
Deshawn Brown's RBI single in the bottom of the fourth made the score 7-2 after four completed innings.
The Hurricanes came up with an unearned run in the top of the fifth to finish their scoring for the game, then watched Mercedes go to work.
The Yankees got an unearned run in the bottom of the fifth to draw one run closer at 8-3. They then took advantage of Mercedes' least dominating inning in the bottom of the sixth to plate their final two runs for the game on a bases-loaded walk drawn by Lakish Plante and another RBI single by Rogers. This prompted a visit to the mound by the manager – Mercedes responded by getting out of the inning with an 8-5 lead.
The Hurricanes pitcher then came out in the seventh inning with renewed energy and promptly struck out the side. He had another easy 1-2-3 inning in the bottom of the eighth, then struck out the first batter he faced in the ninth. After a walk to Rogers, Mercedes coerced a double-play ball from Leroy Simmonds, Jr. to end the game in grand style for a trip to the finals.
Jose Ventura got the loss for the Yankees.
Top batters for the Hurricanes were Morales (2 for 4 with an RBI), Cruz (2 for 2 with an RBI), Peguerro ( 1 for 3 with three RBIs) and Milligan (1 for 3 with one RBI). For the Yankees, Rogers was 2 for 4 with three RBIs and Brown was 1 for 4 with one RBI.
The Hurricanes will face the Vikings in the 2013 finals beginning Wednesday night at the D.C. Canegata ball park.