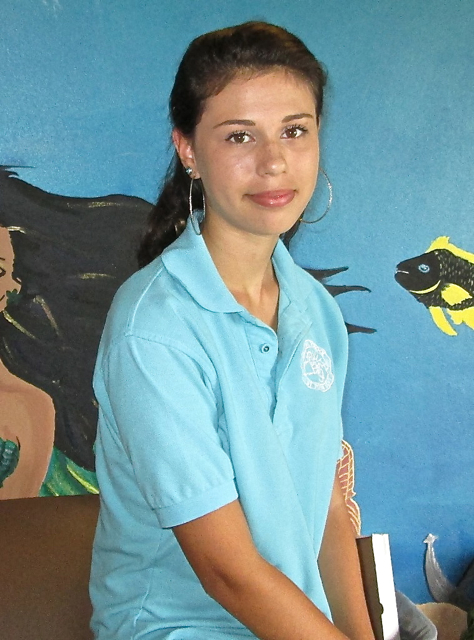 Maia Ginther, 14, put her considerable artistic ability to work to take top honors for the Virgin Islands in the senior division of the Florida Caribbean Cruise Association Foundation's Children's Environmental Poster Contest for students ages 13 to 16.
"I portrayed three different things. I used just Sharpies," said Ginther, a ninth grader at Gifft Hill School.
She said she tried to tackle topics that probably weren't on the minds of the other entrants. She depicted the lionfish problem, issues surrounding coastal development and how sunscreen is hurting coral reefs.
Her winning entry now goes to the Cruise Association for inclusion with others from the Caribbean.
Tourism Department spokesman Allegra Kean-Moorehead said all of the students who entered the contest did an excellent job.
Maia is already an accomplished artist. One of her paintings sold at the Gifft Hill School auction, and she often participated at Maho Bay Camps clay studio open session. She plans a career that will be related to art after she graduates from art-related studies at college.
"I love doing arts and crafts," she said.
Born in Charlotte, N.C., Maia moved to St. John when she was five. She began attending Gifft Hill School when she was in the first grade, and except for home schooling in grades four and five, she's been there ever since.
The school suits her, she said, because its small size means it's easy to have one-on-one sessions with the teachers.
"You get to know the teachers," she said.
In addition to art, she likes marine biology, an interest that helped when she designed her Cruise Association poster.
"It's so interesting to learn about all the marine species," she said.
Like many St. John artists, she said she's inspired by the island's blue sky and sea life and said just walking out the school door provides inspiration.
"It's easy to express your feelings, it just flows," she said.
In addition to art and marine studies, she likes to travel. A summer cruise to Alaska with her mother, Tina Petitto, and her partner, Joe Noguiera, is planned.
"My biggest hope is we'll see whales," she said.
She has brother, Brandon, 27, who lives in North Carolina. Her father was the late James Ginther.
Her mother is very proud of her daughter.
"She is a very special person. It is a privilege to have a daughter who sees the beauty in the world. She really does. Smart, kind, independent. A spitfire!" Petitto said, speaking about many of her daughter's artistic endeavors.
Gifft Hill School is equally pleased with her success.
"Maia Ginther grew up on St. John and is an extraordinary, young talent. Who better to capture the essence of our tourism industry and the future of our economy?" head of school Judy Chamberlain said.