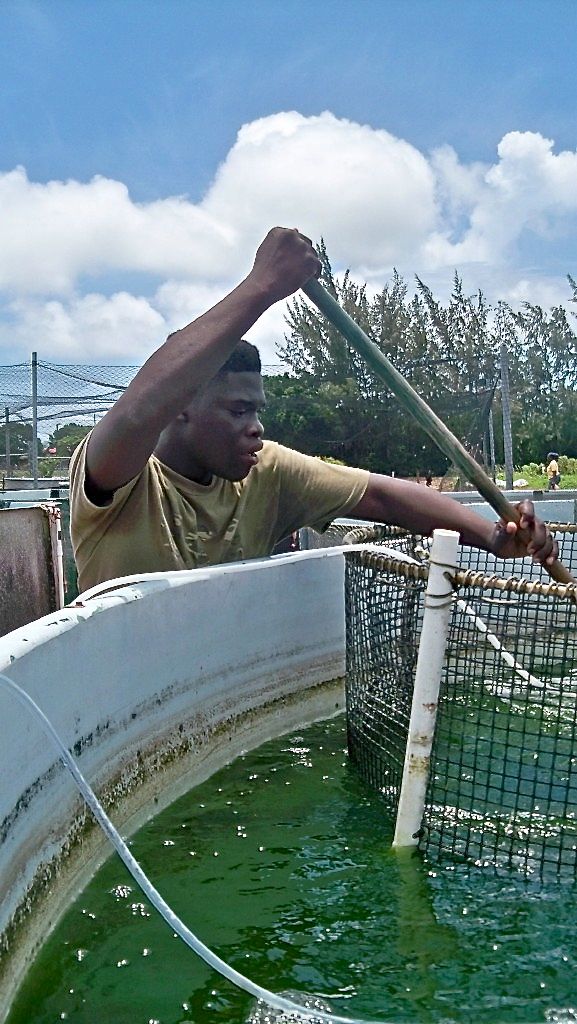 Clemrick Bryan, a sophomore at the University of the Virgin Islands, said he has had a pretty exciting life so far and has had a lot of opportunities to do what he loves.
The Source caught up with him at the UVI Agricultural Experiment Station Field Research Facility where he is a student employee. Bryan has been monitoring water quality in the UVI aquaponic system.
"I love this job," Bryan said with excitement and a huge smile. "I'm so happy I got it. I love agriculture and fish. Working here is a great experience."
Don Bailey, research specialist in the aquaculture program, said Bryan has been a student worker for nine months, long enough for Bailey to see he is really on the ball. He said Bryan's main project has been monitoring water quality in the aquaponic system using a data sonde.
"A sonde is a complex and expensive device for continuous data collection and needs careful calibration in order to obtain accurate results," Bailey said. "He independently learned the computer software to operate the sonde, troubleshot some problems and deployed the device in the system. He has been collecting data for a few months and I look forward to him interpreting the result soon and creating a report."
Bailey added Bryan is a very confident student and makes a strong presentation to an audience. For example, the aquaculture program hosted more than 70 participants, who come from other Caribbean islands, the U.S.A. and around the world, in its workshops last winter. Clemrick led the hands-on activity of tilapia egg collection and transfer to the hatching jars and conversed with the participants.
He has had the opportunity to work in the field and doing data entry with William Coles at the Department of Planning and Natural Resources. When he was a junior at St. Croix Educational Complex he finished all his required classes allowing him to intern at DPNR, he said.
"The school only lets students do this once, but I pushed to get in two years."
Bryan, 18-years-old, said he is self motivated and his parents influenced him. His father instilled in him the love of marine life and the sea and his mother the love of the land and agriculture.
Bryan moved to St. Croix from Antigua with his parents in 2005. He was an average student, he said, graduating from St. Croix Educational Complex in 2012.
He has always been involved in different organizations. He was in Path Finders club, similar to Boys Scouts, when he was younger. He was active in the Complex Coral Conservation Club and president of the Future Farmers of America Club. Bryan was also president of the Rotary Interact Club.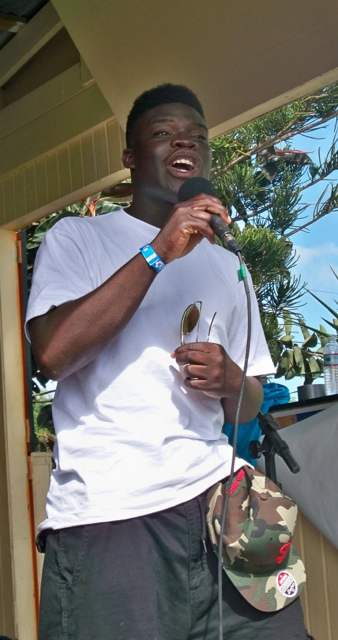 "I was able to do a lot of community service in the Interact Club," Bryan says. He added he plans eventually to become a Rotarian.
Through the Experimental Program to Stimulate Competitive Research (EPSCoR) Bryan had the opportunity to go to Sea Camp in the Florida Keys where he became a certified diver. He said he has made hundreds of dives.
At UVI he is active in the Brothers With a Cause organization.
"This group of males show the community there are still good young men out doing good things," Bryan says. The Brothers host the annual Man Up program for boys.
Bryan has also volunteered at Sandy Point National Wildlife Refuge working to protect sea turtles.
He admitted to a bit of musical talent – Bryan won the 2012 Reef Jam Rap music contest. He sings in the Bethel Seventh-day Adventist Church choir and writes songs and poems.
He will have to transfer to the St. Thomas campus next year to finish his undergrad degree in marine biology. He plans on getting his master's degree and then his doctorate at a Florida university, though he doesn't know yet what he will specialize in. His dream job would be a marine biologist using submarines to do deep ocean research, he said.
"I believe things happen for a reason," Bryan said. "I keep a good attitude, do good things and am respectful." He adds his faith is important to him and God has blessed him.
"I consider myself a pretty lucky guy," Bryan added.