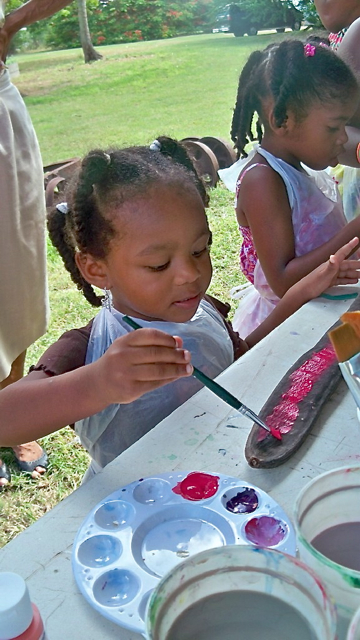 The Estate Whim grounds were transformed to days gone by Sunday afternoon in an Old-Time Family Day.
Kids and grownups were flying kites, jumping rope, playing jacks, marbles and generally having good old-fashioned fun. There was quadrille dancing, singing, story telling and craft demonstrations. Not a child was seen holding a hand held gaming device.
The event wrapped up Come Home to St. Croix, a weeklong celebration of culture, history and family presented by St. Croix Landmarks Society. Throughout the week there were lectures, forums, and music performances.
"We 're so happy to have stumbled on this event today," said Jana Huntley, who was visiting from Los Angeles. "We've really enjoyed walking around the grounds and touring the greathouse."
Zorida Jacobs, a volunteer for Whim, was teaching Huntley to play wari at a picnic table in the shade of a mahogany tree.
Members of Generation Now and Rotary West worked hand in hand demonstrating crafts and games.
The members showed participants how to make flutes, tops and mats. Folks learned to crochet and make a wooden pushcart and play with the cart. Bien Brignoni, a local mahogany woodworker, was turning wood and making bowls.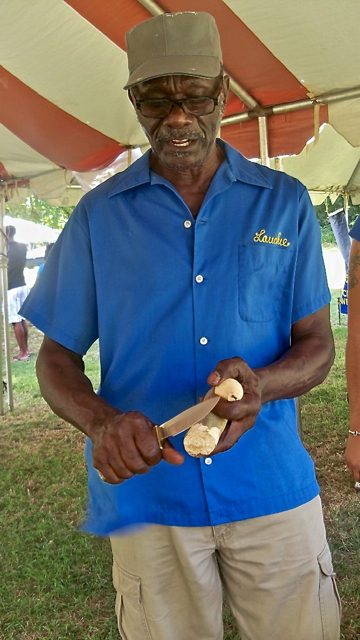 Pates and Johnny cakes were hand made and deep fried over a wood fire in the cook house. The line was moving very slowly, as it would have in olden days before modern conveniences.
There were vendors selling cakes, cookies, honey, hot sauce and books.
Marcy M. Heistand was selling her latest book, "After the Storm," and Richard Schrader had a table set up with his books.
Dimitri "Pikey" Copemann, Cedelle Petersen-Christopher and Sylvester "Blinky" McIntosh sang and told stories of social relevance. Folks were very comfortable with chairs set up under a tent with a pleasant breeze blowing. We Deh Yah Cultural Dancers performed and gave quadrille dancing lessons.
Kevin Jackson, a volunteer at the gate and local TV personality, said there was a nice steady flow of people.
Sponsors were the V.I. Department of Tourism, Community Foundation of the Virgin Islands, Budget Rent a Car,Cottages By the Sea, Seaborne Airlines and the V.I. Department of Agriculture.