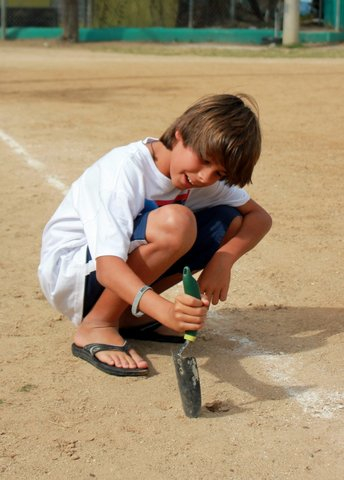 A school science project by Gifft Hill student Charlie Palminteri, age 10, broke ground for a plan to vastly improve the playing surface at Winston Wells Ballfield. Now he and others involved want to raise about $40,000 to pay for an underground irrigation system so they won't have to depend on firefighters at the adjacent fire station to water the field.
The water will still come from the fire station. Resident Steve Tilas has volunteered to mow the grass with Housing, Parks and Recreation's mower, said Dr. Laura Palminteri, Charlie's mother.
The plan calls for digging up an inch-deep top layer of dirt, mixing it with compost donated by Caneel Bay Resort and Carolina Corral and topsoil from contractor Jonathan Doran, and planting grass seeds funded by Canines, Cats and Critters veterinary services owned by Charlie's mother.
"And some sand," Charlie said.
With no events or sports games scheduled until October, the grass will have plenty of time to grow in time for fall activities.
This is one St. John project that everyone agrees is needed.
"The entire field is as hard as concrete," Palminteri, said.
She said it took Charlie more than a half hour to scrape up one bucket of dirt for his science project.
She said her other son, Michael, injured his head when he fell on the field and an adult player suffered a shoulder injury. The surface is so hard-packed, cleats on playing shoes can't get a grip on the field, she added.
Right now, the surface is hard-packed dirt with a few chunks of concrete thrown around. It's so dangerous to play on that the island's soccer and tackle football teams can't use the field at all.
St. John Administrator Leona Smith said having grass on the field would be a big improvement.
"That dirt is really hard," she said.
Charlie experienced firsthand the field's dire conditions, which gave him the idea to come up with an improvement for his science project.
"Parks and Recreation said it was a great idea," he said.
Department of Sports, Parks and Recreation Commissioner St. Clair N. Williams agreed the field is in bad shape, and said the department welcomes and encourages help from the public.
"Resources are tight, and any help counts," he said.
Charlie also has fans at Gifft Hill School. Judy Chamberlain, who is the head of school, said the Winston Wells Ballfield project is the essence of who Charlie is. His efforts are so appreciated that he won the school's Spirit of Gifft Hill School scholarship.
"This student is everyone's friend, is always willing to help, actively engages in the learning process, is looked up to by his peers, digs deep for creativity even when it's not his strong suit, encourages his classmates to do their best, and is just an all-around great person. This year he is also finding the leader within himself and is helping to make all of our students embody the spirit of Gifft Hill School," the citation that came with the scholarship award read.
To make donations for the field's watering system, contact the St. John Community Foundation by calling 1-340-693-9410 or sending checks to St. John Community Foundation, P.O. Box 1020, St. John, VI 0083. Indicate on the checks that the money is for the Winston Wells Ballfield project.