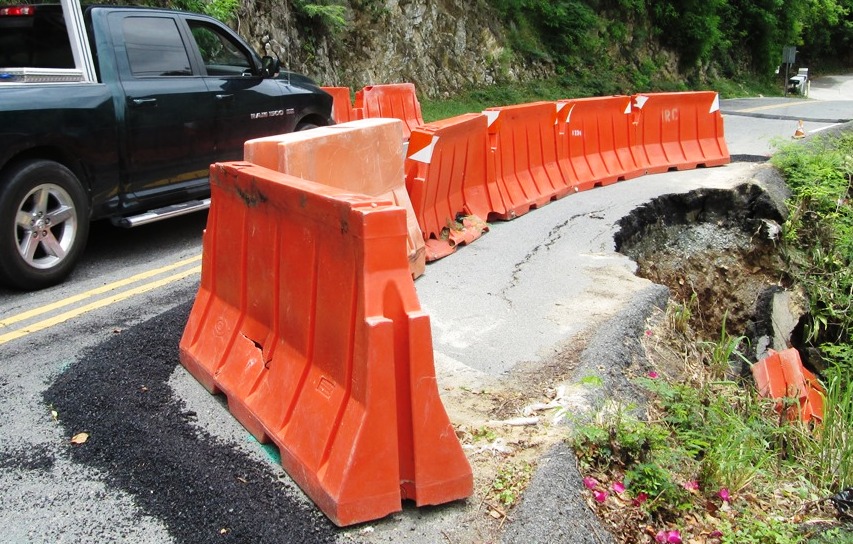 Workers installed asphalt speed bumps to slow down speeding drivers and a berm around the orange barrier cones to deflect water at the worst of the Centerline Road erosion problems on Thursday.
"Oh, we got asphalt," one motorist was overhead to say as he navigated through the area.
It's a temporary fix on a long-awaited repair to the worst of three locations along Centerline Road that have been in bad shape since Hurricane Otto hit in 2010. The worst spot got much worse in this year's May rains, with a big chunk of the road falling down the hill. The road is now one-way at that location.
"We need a concrete barrier, more signage and better nighttime signage," said Coral Bay Community Council President Sharon Coldren as she inspected the site.
Part of the orange plastic barrier cones will be replaced with concrete ones, Public Works Commissioner Darryl Smalls said Thursday. He said the plastic ones are filled with water and leak when hit by passing motorists.
Smalls said that Public Works staff is making the concrete barriers in-house – a few at a time because the department has only a few molds. Smalls said he wasn't sure when they'd be put in to replace the plastic ones.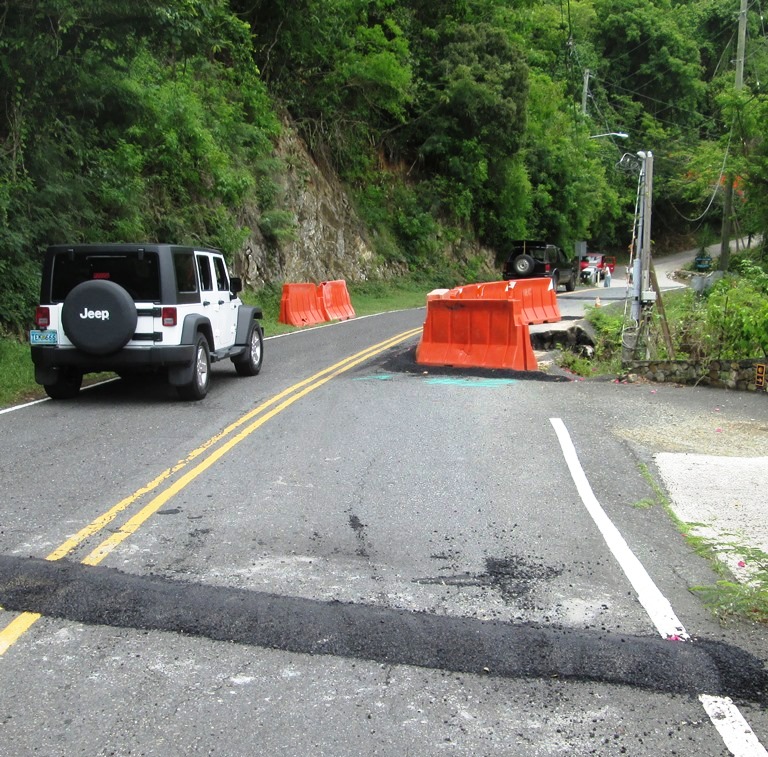 The permanent fix at the worst spot includes installation of a concrete retaining wall, backfill and new asphalt. Small said he anticipated the repairs on at all three locations would be done by March 2014 because the bid request gives the contractor 180 days to complete the work.
A Request for Proposal from the Public Works Department for emergency repairs to the road was listed Wednesday on the Source. A pre-bid conference is scheduled for July 2. RFPs must be in by July 16.
Smalls said on June 11 that the bids would go out by the week of June 17, with permanent repairs to start in September if the bids are "responsive," meaning they have all the paperwork in place.
Residents have requested that the road be fixed since Otto hit. Centerline Road is the only main road in and out of Coral Bay and, without it, trucks and other large vehicles won't be able to reach the area to bring in necessities.
Trucks can't make it uphill on the road through Bordeaux, which is paved for all but one section that gets slippery when wet and twists and turns far more than Centerline Road.