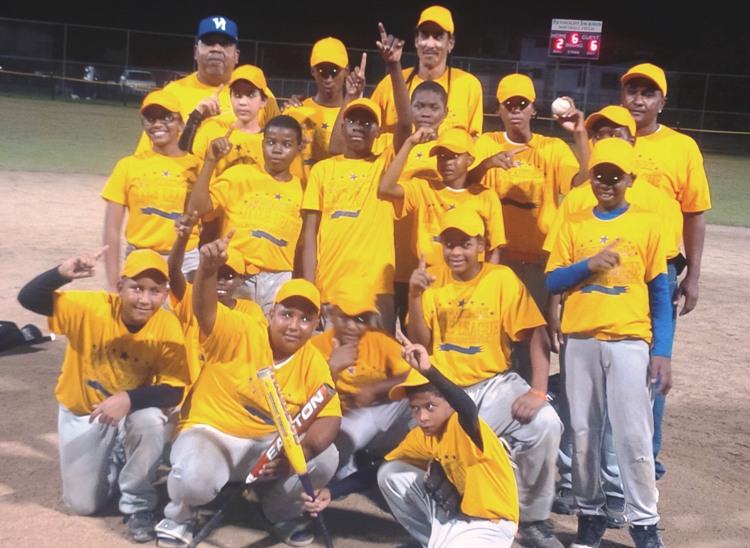 Elmo Plaskett East Little League completed a dominant performance in the East-West 11-12 Little League All Star competition by beating the West, 6-2, on Monday at the Renholt Jackson Complex to complete a three game sweep in the best of five series.
The East had made things look easy in the first two contests with both games finishing by way of the 10-run mercy rule, but in the third game the West had their ace, Charles Jacobs, on the mound. He was dominant early in the contest. The East, extremely deep this year in pitching, countered with another fire-baller in Juan Aponte.
These two pitchers would lock horns in a duel that saw the game scoreless after three completed innings. At that stage of the game neither pitcher had given up a hit with Jacobs having struck out seven batters and Aponte five.
The East would strike first in the top of the fourth inning when short stop Augustus Martin scored on a pass ball after having reached base on the first hit of the game. The West threatened in their half of the inning but came up empty against Aponte, leaving the score at 1-0 after four innings of play.
The East extended their lead to 3-0 in the top of the fifth, picking up two run on two hits; however, both runs were unearned. Meanwhile, Aponte struck out the side in the bottom of the inning to hand the West yet another goose egg on the scoreboard.
Things really fell apart for the West in the top of the sixth as they made some crucial mistakes that allowed the East to plate two more unearned runs. Julio Carmona delivered an RBI single as the East scored three runs to push their lead to 6-0 after five and a half innings.
In the bottom of the inning, having reached his Little League-allowed 85 pitch counts, Aponte was relieved by Luis Viera Jr. After striking out the first batter he saw, Viera was tagged for three consecutive base hits by the West hitters.
Jacobs doubled and scored on Charles Prevost's RBI single. Prevost reached second on a wild pitch, and then scored on an RBI single by Mark Ramos. That would be all the runs Viera would allow, however, because after a visit to the mound by his manager, the relief pitcher settled down and struck out the next two batters to end the game.
Aponte struck out 11 batters in picking up the win on the hill for the East, while Jacobs struck out nine in the loss.
The Elmo Plaskett East Little League will now head to Bonaire in the Netherlands Antilles for the Caribbean region Little League tournament next month.