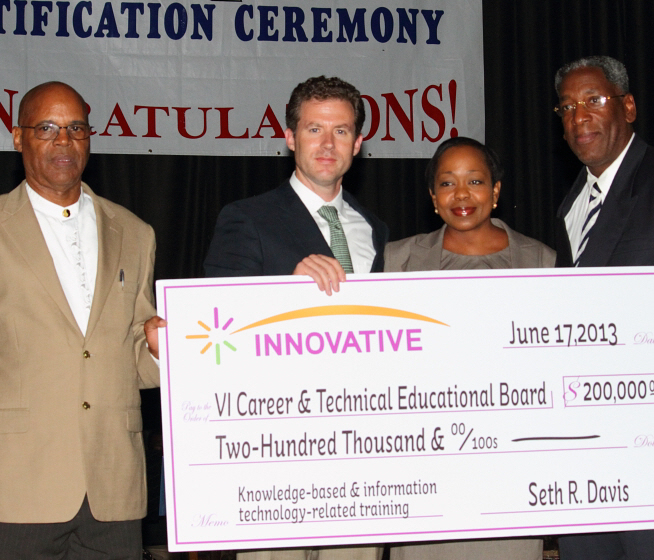 Innovative presented a check for $200,000 to the Vocational and Technical Board during the St. Croix Career and Technical Education Center's graduation ceremony Monday night.
Daniel McIntosh, a member of the board, said the donation would allow them to create new programs in the information technology field and improve upon existing ones.
He said the board was currently discussing with Innovative's leadership how to best spend the funds. He said none of the money would be used on administrative costs for the board; the entire donation will be distributed amongst the territory's technical schools.
"It's going to go directly to helping to make sure that the programs have all of the necessary training tools and aids that they need in order for the students to have a good quality experience," he said.
Jennifer Matarangas-King, Innovative's vice-president of public relations and government affairs, explained that the Economic Development Commission mandated the donation as a condition for renewing Innovative's participation in the EDC tax incentive program.
She said that previously Hovensa had been a major supporter of CTEC, where Monday's graduation took place, in the auditorium. But with the refinery closed, the EDC wanted Innovative to step in and take its place.
With the donation, Innovative is encouraging VTB to develop technical training programs that will prepare students for careers in communications technology, which could become a major part of the territory's economy as access to broadband internet expands.
She said that when Hovensa made donations, it supported programs that trained future refinery workers, such as pipefitting.
"Which is fine, but they're not here anymore," she said. "So we need to look at the future and where we're going."
Matarangas-King said that even though this donation was mandatory, Innovative is committed to supporting the education of Virgin Island students. She said the company supports the school system "from kindergarten up" and also has scholarship and internship programs.
She characterized the company's donation to VTB as one more way they are ensuring Virgin Island youth have the training they need to get jobs with Innovative after graduation.
"It would be fantastic if you could go, literally, from kindergaten all the way to working with us. That's what we want to do," she said.
The donation was the first in a two-year commitment. Innovative will make another donation of $200,000 in 2014.