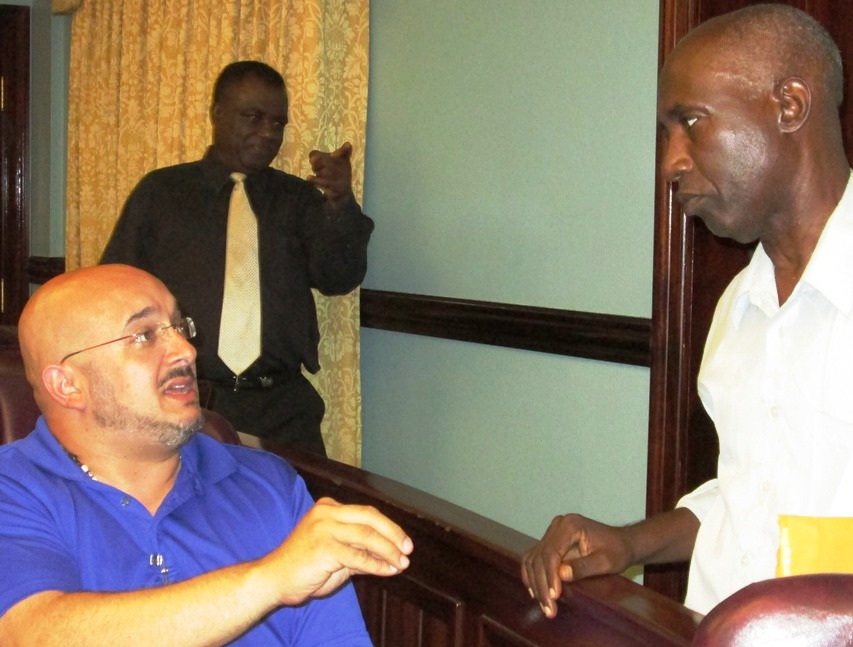 Armed with an array of statistics, several government officials painted a picture of what their departments do for St. John residents at the Legislature's Health, Human Services and Veterans Affairs Committee meeting Wednesday on St. John.
After Dr. Bernard A. Wheatley, chief executive officer of Schneider Regional Medical Center, which oversees Myrah Keating Smith Community Health Center, pointed out that it's expensive to keep two nurses, a security person and a doctor on call during the health center's off hours, Sen. Craig Barshinger asked if there were any plans to end the round-the-clock service at the health center.
"There needs to be a place on St. John where the light is on," Barshinger said.
Wheatley said that the health center would remain open 24 hours a day as usual.
Myrah Keating Smith Community Health Center provides to bulk of government-covered health services for St. John residents and visitors. While it provides mainly urgent care and basic medical care by appointment, patients usually must head to St. Thomas and beyond for more specialized treatment.
"I can't wrap my mind around jumping on a boat when you're sick," Sen. Terrence "Positive" Nelson said, referring to the fact that sick people must take the ferry or the ambulance boat to reach St. Thomas.
Bernard said that since the Health Department's Morris deCastro Clinic cut services due to funding issues, the Myrah Keating center has picked up some of the slack.
"But there is no family planning service on St. John," Wheatley said, adding that this could mean an increase in unplanned pregnancies among the young and economically disadvantaged population.
The Myrah Keating center lacks the information technology infrastructure to maintain its existing technologies and to support future growth, Wheatley said, adding the clinic depends on Schneider Hospital on St. Thomas for one line of Internet service and, when that goes down, the health center loses capability because it has no backup.
Wheatley said that while net revenues have increased over the past five years, between 2008 and 2012 Myrah Keating lost $2.6 million due to several factors. He said government funding was slashed, the cost of contract and agency staff used to fill vacancies went up, and the electric bill continued to increase.
"More significantly, as the national financial downturn is extended to the Virgin Islands and patients have fewer resources to pay for health care, bad debt expense has risen," Wheatley said.
He said bad debt increased by about 120 percent.
Wheatley said the Myrah Keating health center sees an average of 886 patients a month. Last year, 84 patients were sent to Schneider Hospital for care because they needed more than the St. John clinic could provide.
Of the specialties offered at Myrah Keating, women's health care far exceeded the others when it came to the number of patients seen. A chart provided with Wheatley's testimony showed that between October 2012 and this last April, women's health care saw 549 patients. The next highest category was rheumatology with 48 patients.
Health Commissioner Darice Plaskett said that in addition to cutting its family planning care, Morris deCastro no longer offers dental, ophthalmology and dermatology services.
The deCastro clinic still offers mental health services, and Plaskett said the clinic sees 22 mental health patients and 23 patients that have substance abuse issues.
Human Services programs cover everyone from Head Start to seniors. Human Services Commissioner Christopher Finch said Head Start serves 20 children, with two of then having special needs.
Finch said that 325 households with 676 members receive food stamp assistance under the federal Supplemental Nutrition Assistance Program. He said they receive an estimated $1.4 million dollars worth of help a year. Additionally 86 people receive federal Medical Assistance Program benefits.
He also addressed St. John's growing homeless situation. He said when the island's homeless was counted on Jan. 26, the total stood at 71.
"That's more than double the count two years previously," he said.
Later Celia Kalousek, director of the St. John Community Foundation, said that many homeless people come to St. John because it's safer to be homeless on the smaller island.
Finch noted that St. John had the highest numbers of white people homeless than the other islands. He said that of all the white homeless people counted across the territory, 29 out of 42 live on St. John.
Human Services currently serves 11 clients with its homemaker program that provides in-home help for seniors. Finch said that St. John's strong family support system led to a lower need for this service on St. John.
"Due to this attention, even the clients who live alone seem to have less feelings of isolation that we see on the other islands," Finch said.
In addition to Barshinger and Nelson, Sens. Kenneth L. Gittens, Alicia "Chucky" Hansen and Tregenza Roach attended the meeting. Sen. Clarence Payne chaired the meeting. Sen. Sammeul Sanes was absent. Noncommittee member Donald Cole also attended.