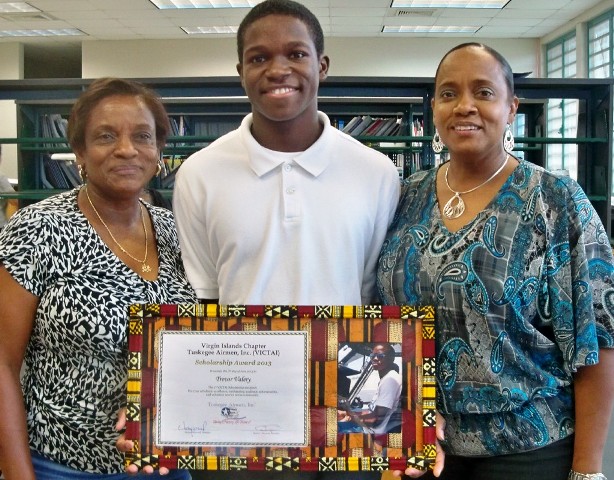 Trevor Valery, a senior at St. Croix Educational Complex, has dreamed of being a pilot since he was a little boy. He is getting closer to his dream with help from scholarships he has earned.
"I've had an interest in flying and planes ever since I was a little child," Valery said. "I always believed I was put on this earth to be a pilot."
On Friday, Cenita C. Heywood, daughter of Tuskegee Airman Herbert Hosea Heywood and secretary of the V.I. Chapter of the Tuskegee Airmen Inc., presented Valery with a check for $1,000 to put towards his goal. As a local winner, his name was forwarded to the national Tuskegee Airmen branch which awarded Valery with an additional scholarship. Heywood said they haven't heard yet how much money the national scholarship is.
"This award will be very helpful since college is so expensive," Valery said. "This gives me the opportunity to pursue my dreams."
Cenita Heywood said the group's V.I. chapter follows national guidelines for scholarship eligibility. Students must maintain a minimum 3.0 grade point average, must write essays on the Tuskegee Airmen and on themselves, and they must be pursuing a career in aviation.
Valery has a 3.6 GPA and is a member of the National Honor Society. He is vice president of the V.I. Chapter Tuskegee Airmen Youth Aviation Club.
Valery will be heading to Embry-Riddle Aeronautical University in Florida in August where he will major in aerospace engineering and aeronautical science.
Valery said he has earned about $14,000 in annual scholarships from Embry-Riddle. He added that everything will be paid for except his room and board. He also earned a scholarship for $2,500 from the St. Croix Community Foundation.
Last July, Valery went to the Legacy Flight Academy at Tuskegee University in Alabama. In the two-week program he met aviation professionals, studied the history of the Tuskegee Airmen and logged 15 hours of flight training. He also got exposure to careers in aviation and the military.
Valery's grandmother, Ana Hernandez, has been his guardian since he was a baby, and she joined in pride with his aunt, Mirtha Chooran, at the presentation of the scholarship in the library at St. Croix Career and Technical Education Center.
"Studying always came first before he did anything else," his grandmother said, tears forming in her eyes. "I'm very proud of him. I'm really going to miss him when he goes to college."
"He is quite a boy," Hernandez said. "He never gave me any trouble."
"I'm so proud of him," his aunt said. "The scholarships will help him make his dream come true. I feel he is a really good role model for others. I hope in the future he will be able to be a pilot here on St. Croix."
Valery said he will return to St. Croix if job opportunities open up here for him.
More than a year ago Heywood, an Air Force veteran and charter member of the V.I. Chapter of the Tuskegee Airmen, organized the Youth Aviation Club, where students can get a feel for flying and careers in aviation.
Heywood is the club's advisor and said the purpose of YAC is to expose students to the hundreds of career opportunities in the field of aviation. She explained that it provides opportunities for students to attend flying camps, get grant and scholarship information, and assistance in pursuing a career in aviation. It gives members the chance to attend annual Tuskegee Airmen and Organization of Black Aerospace Professionals conventions, she said.
And all the members earn community service hours doing required volunteering in the community, Heywood added. The club supports aeronautical training for young people and the motto is "Molding aviation dreams into reality."
"Trevor is a very good student and he's always there to help with community service," Heywood said. "He's going to make us proud."
Heywood said the funds for the scholarship were raised with bake sales, raffles, walk-a-thons and selling Tuskegee Airmen promotional items.