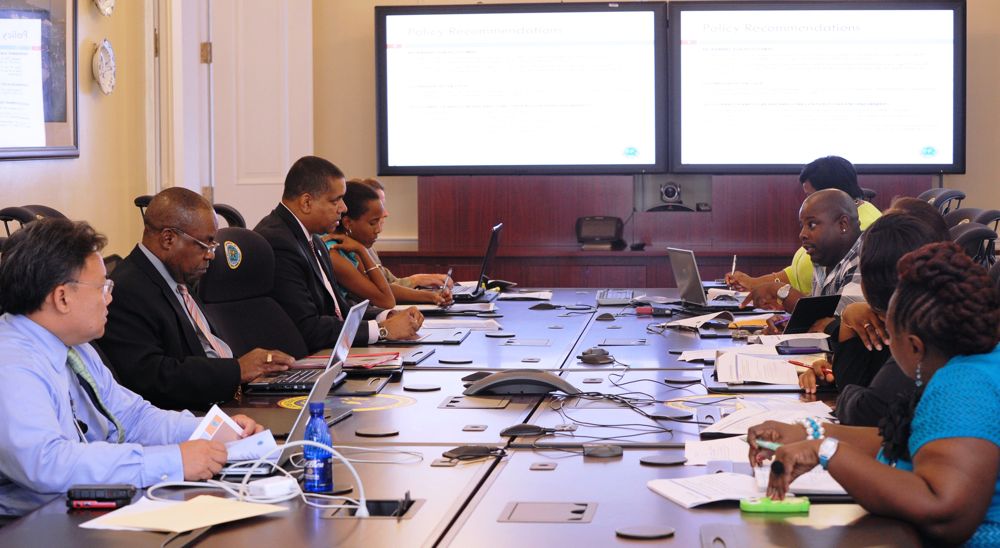 With recommendations from the Pension Reform Taskforce issued last month in hand, Gov. John deJongh Jr. began meeting this week with retirees and unions to get feedback and help develop legislation, according to Government House.
A blunt 2011 U.S. Department of the Interior's Office of the Inspector General report found the Government Employees' Retirement System had an unfunded liability of more than $1.4 billion and could default in less than two decades, absent major increases in contributions, reductions to early retirements and other changes.
Gov. John deJongh Jr.'s response to the report included newer data suggesting the system could stop being able to make payments much sooner, perhaps in little more than 10 years.
A pension reform task force report released by Government House in May laid out several policy recommendations to push GERS toward solvency. It suggests small increases to employee contributions, limits on early retirement and other tweaks to the system. Most of the report's recommendations would require new legislation to implement.
DeJongh said in a statement Friday that GERS is less than 50 percent funded, there is an unfunded liability of $1.8 billion, and an annual underfunding of employer and employee contributions of $80 million. If no corrective action is taken, the system is projected to become insolvent by September 30, 2023, deJongh said.
"The recommendations of the Pension Reform Taskforce, established in May 2012, are representative of a universal consensus of its membership," deJongh said. "Input and direction was derived from the diversity of its membership and that of its advisory committee which consisted of labor unions, the business community, nonprofit organizations, retirees, the executive and legislative branches, and GERS officials.
"The participation in this important task was intentionally broad and deep," deJongh said, "as its ramifications and solutions touch many in our community. In short, the insolvency of GERS is important to all in our community and should not just be of concern to current and former public sector employees."
According to deJongh, implementing pension reform will require holding employers, employees and retirees accountable, placing a burden on each and reducing the system's liability by imposing changes in various statutory requirements.
The meetings at Government House on St. Thomas included deJongh and representatives of the Central Labor Council; the local chapter of the AARP and Advocates for the Preservation of GERS. Later this month, the governor will meet with the leadership of both of the territory's chambers of commerce.
Organized labor was represented by CLC President Avery Lewis, union leaders Sheryl Parris, Angela Barry, Mario Henneman and Sandra Benjamin. Joining via teleconference were Ira Hobson, Sonia Maynard, Perpetua Cranston and Lisa Ryan. Lewis served as chairman of the Pension Reform Taskforce.
At a second meeting later in the week, the AARP local chapter was represented by Luther Edwards, Vera Falu, Sally Browne, Sedonie Halbert, Ginny Dargan, Dave Barber and Denyce Singleton. Representing the Advocates for the Preservation of the Retirement System included Leonard Smollett, Helene Smollett, R. Maria Brady, Mary Davis, Carmen Dennie, Clovis Emmanuel and Rubye Tisdale-Todman. Norman Levin joined the meeting by teleconference.