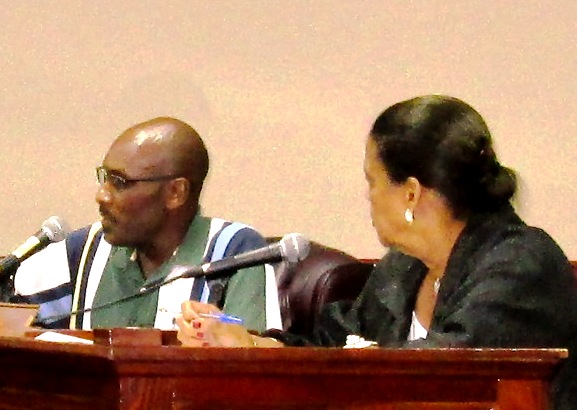 The territory's district and joint elections boards need to cease infighting, work together and start seriously preparing now for the 2014 general election, former Supervisor of Elections John Abramson told a Senate panel Thursday on St. Croix.
Abramson sent the Joint Board of Elections a letter Jan. 31 announcing he was retiring effective May 31, 2013, and would be unavailable until after that date. He has been out on medical leave since some time prior to his retirement announcement and was out for several months during 2012.
With new vote tabulators in the territory (see related links below), Abramson said he was concerned about the pace of preparations for the 2014 general election, stressing the need for changes to election law, training and education on new vote tabulators, and for sufficient funding well in advance.
"In my experience you never deploy a new system in a major election," Abramson said, pointing out that both new voting machines and new e-polling books would be used in the 2014 general election.
"If the plan put in place is to be executed, we need new administrators and education on the new machines," he said.
Abramson said he had not seen the 2014 elections budget but warned; "If it is not in the realm of $2.5 to $3 million, I guarantee you we will be in deep trouble."
Echoing the testimony of several election board members, Abramson also said the Joint Board of Elections needs to write and present the Legislature draft legislation changing the deadlines for filing candidacy and other election dates and deadlines, to bring them in line with primary dates that were changed to conform to federal law. The changes need to be made well in advance of the election, which is now 16 months out, Abramson said.
All in all "there are about 20 statutory activities that need to take place," he said.
Addressing concerns over efforts to hire a new supervisor, complaints about the 2012 election, and chaos in district and joint election board meetings, Abramson told the Government Services and Housing Committee that infighting on the boards was undermining the credibility of the election system.
"The system is in chaos because of membership infighting and because of personal agendas they want to impose on the people of this territory," Abramson said.
While asserting the boards set policy and supervisors such as himself carried them out and managed the day-to-day elections operations, Abramson minced no words about where he felt the blame lay.
"I can't sit here and listen to (St. Croix Board of Elections Chair) Bert Bryan, who has given you total misinformation. Not one thing he has said is entirely true, because he does not know," Abramson said.
Bryan had laid blame for confusion at the office at Abramson's feet for being in charge of the election system during the 2012 elections and for being out on leave since the beginning of the year.
"Don't blame John Abramson. It is not my doing. I am not here anymore," Abramson said.
On a more personal level, Abramson started his testimony with a direct appeal, telling Bryan on camera "do not call my son's name anymore."
"Don't talk about my son anymore," Abramson said to Bryan.
During a committee hearing in March, Bryan alleged Abramson's son had used the election system vehicle, along with distrust of Abramson, as justifications for Bryan taking personal possession of the government-owned vehicle assigned to the St. Croix election system office. Bryan never explained what evidence he had for his accusation, nor how this claim, if true, would justify Bryan's use of the vehicle. Bryan testified Thursday the vehicle was now parked at Public Works on St. Croix.
Abramson also laid blame at the feet of St. Thomas/St. John board member Wilma Marsh-Monsanto, who, "since her ascension to the board, has been a negative influence on policy," he said.
Monsanto, for her part, testified that the election was "illegal" and the results invalid, repeating claims of fraud she made in a lawsuit attempting to overturn the election. Two judges dismissed that lawsuit, saying her claims, even if true, were "garden variety" electoral problems that fell far short of the threshold for overturning an election. The case has been appealed.
Since Abramson announced his retirement, both deputy election supervisors resigned, creating a managerial vacuum. Abramson authorized rent and utility payments while on leave, but if a replacement is not in place by July 4, no one will be authorized to sign checks or take action on behalf of the election system.
Several senators asked Abramson about his long absence prior to his retirement and whether there was a transition plan. Abramson said he had created a transition plan a number of years ago, with administrative assistants Sharon Benjamin on St. Thomas and Tricia Johnson on St. Croix shadowing their respective deputy supervisors, training to take their place. But the St. Croix board ignored the plan and instead voted to hire someone from outside the system who had no experience. (See: "In Contested Action, St. Croix Elections Board Selects Interim Deputy Supervisor" in related links below) And the Joint Board never took action by voting to temporarily appoint the two assistants to the positions, he said.
Raymond Williams, a St. Croix board member who also chairs the Joint Board's Personnel Committee, testified that interviews for all three positions are slated for next week and the committee would give final recommendations to the Joint Board immediately afterwards.
No votes were taken at the information gathering oversight session. Present were Chairwoman Diane Capehart, Sens. Terrence "Positive" Nelson, Donald Cole, Clifford Graham and non-committee members Sens. Judie Buckley and Tregenza Roach. Sens. Craig Barshinger, Alicia "Chucky" Hansen and Clarence Payne III were absent.