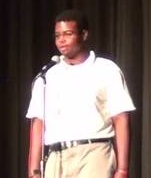 Students at the St. Croix Educational Complex (SCEC) took to the stage recently to show off their communication skills in original poetry, non-original poetry, storytelling, reader's theatre, debate, open genre and original song. The 9th to 12th grade students were competing in the school's annual Language Arts Showcase, titled "Literature Unleashed: The New Era of Language Arts." "The showcase was great," said Natasha Liburd, chairperson of SCEC English Department. "But next year's showcase will be bigger and better," she added.
Chasen Richards recited Kevin Young's "Song of Smoke" for first place in Non-Original Poetry. Kenisha Webbe performed her original poem, "Rhythmic Expressions," to roaring applause from her schoolmates and captured first place in the Original Poetry category. In her poetic verse, Webbe expressed disgust with the violence in the community.
Other first place winners in the SCEC Showcase were: Chasen Richards and Kalia Mitchell, who argued in the Debate category to repeal DOMA (Defense of Marriage Act); Amal Bryson in Original Storytelling with "Mr. Bahknowmore;" Dana Velazquez in an "Ode to Pizza" Mime; Rochelle Frederick in the Non-Original and Original Speeches category with "English is a Crazy Language;" and Dana Velazquez in his Monologue, "The Lack of a Father's Love" by Unknown.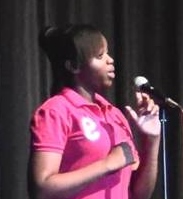 Also, Chedelle Antoine, K'Nyel Ayala, Kyanna Christian, Denisha Emmanuel, Kamisha Grouby, Cadira Phillip and Leah Sargeant in Reader's Theatre with "If I Should Have a Daughter" by Sarah Kay; Cariece Browne, Stevensa Magloire and Alana-Symone Gitten-Pigott Open Genre: "When You Step" by Flame; and Faybiene Angol, G'Niquah Armstrong, Njeri John, Jahreim Luke and Keanu Ruiz Original Song, "The Canterbury Tales Rap."
Distinguished judges from the community were Sharon Charles, Ed.D; Joan Paulus; Veronica Prescott; Dean Roberts and Kelvin Vidale Esq.