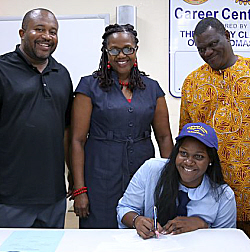 While a torn ligament in her right knee sidelined her for the entire 2012-2013 basketball season, Charlotte Amalie High School senior Edidiong "Edi" Utibe is ready to get back into the game — this time, at the University of San Diego.
Utibe was seriously injured last year in a V.I. Pride Basketball Association game, and said at a press conference Monday that that while the recovery period has been rough, what made it even more difficult was not being able to get out on the court with her CAHS teammates.
But the injury made her even more resolved to move forward. Standing before her friends, parents and members of the school's athletic department, Utibe made public Tuesday her decision to join the Toreros Division I squad while balancing the course work required of a general engineering major.
"I always had my mind set that I would go to college playing basketball, so I didn't let anything deter me," Utibe said at the press conference. "Everything that happened, it kind of motivated me and I was determined to get to this point."
Courted by several other powerhouse schools, Utibe said she felt "positive vibes" when she visited the University of San Diego campus and decided to follow her instincts.
"This is a relief, actually, finally getting through everything," explained. "I remember during my freshman year seeing the seniors going through all of this and every year, the anxiety would keep building. But I stayed focused and this year, when I visited the university's campus, I really liked what I saw.
"I did my research and found out more about what they offer, and I really like the coach – I think she's a genuine coach and I think she knows what she's doing."
Utibe made her decision official by signing a letter of intent to attend the university, which has offered her a full scholarship, according to CAHS coaches.
"This has been a long road, trying to get this lady on to the next level, but we all felt that it was important to help her get there," CAHS Athletic Director Myron Corbett said Tuesday. "Edi has been one of the best players CAHS has produced and we are extremely proud of what she has accomplished. We wish her the best as she moves on to play at the next level."
Utibe said she expects to work hard when she arrives on campus later this month, and has thought about what her coaches would want her to focus on.
"I know, between my classes and the team, that it is going to be a lot of work," Utibe said. "They told me straight up that it's not going to be easy, but if I stay focused, then there shouldn't be any problems."
Speaking during the press conference, Utibe's father also said he had no doubts about his daughter's ability to balance the load and still come out on top. Nigerian for "blessing," Edidiong has always been a good student, a promising athlete and a "joy" to everyone that knows her, he said.
"She is keeping alight the flame – it runs in our family," said Utibe Utibeabasi. "I played basketball for my state in Nigeria, volleyball as well, so it is already there in the genes, but when she plays it, she truly excels.
"We have been looking forward to this day. She has always made us proud, and we know that she will be tremendous wherever she is."