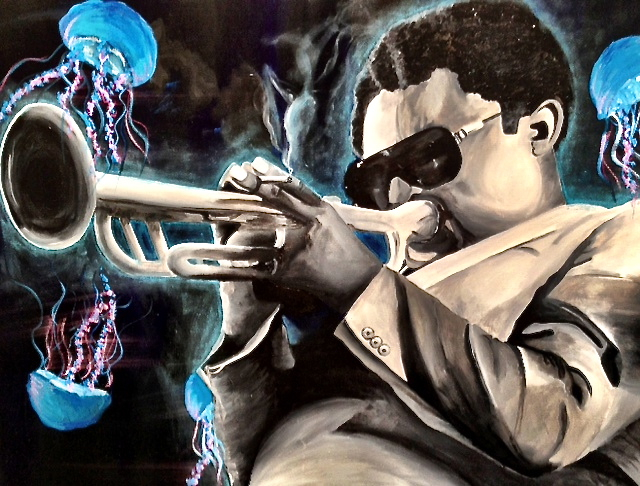 The more than 400 people who attended this year's 2013 Caribbean Colour exhibit at Yacht Haven Grande on Saturday chose Brenda Sylvia's mixed-media installation, "Too Blue," and Danielle Ebenholtz's mixed-media painting, "Blue Melody," as the "Best in Show" artists.
The 2013 Caribbean Colour, 2 Blue 4 U art exhibition was hosted by Artvi Advocates. The event celebrates the diversity, creativity, and quality of work being produced in the U.S. Virgin Islands, according to the organizers.
"Choosing a favorite artwork was no easy task, as there were many wonderful works of art submitted this year, several of which were installations or interactive pieces," said Priscilla L. Hintz Rivera, co-curator and executive director of ARTVI.
Featured in the exhibition were more than 50 works of art and fine art photography from local resident artists from all three islands, as well as more than 30 works of art by students from Charlotte Amalie High School, Ivanna Eudora Kean High School, Antilles School, the School of Visual Arts and Careers.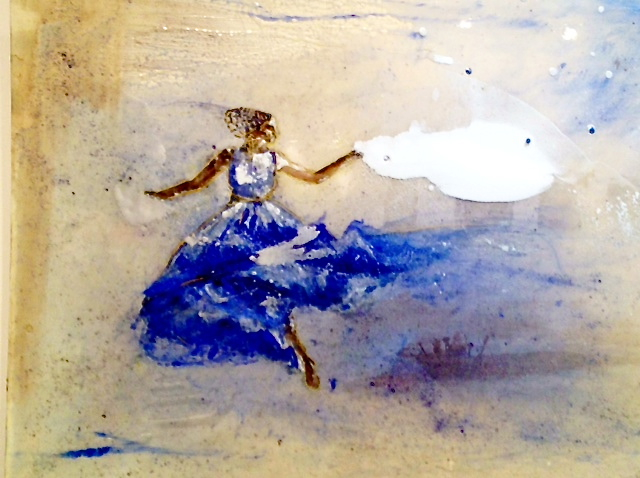 Ebenholtz is a student at Antilles School. Other exhibition winners included Crucian artist Lucian Downes, who won first place in the two-dimensional category for his mixed media painting "Starcaster," and Ivanna Eudora Kean student artist Raheem Chetram, who took second prize for his mixed media collage, "Shoreline Puzzle."
In addition, to the curated exhibit and interactive community art installation, visitors to the exhibit Saturday were able to enjoy guest jazz performer Tim Mayer and the Flambo Combo Junior High Band from Bertha C. Boschulte Middle school, led by music teacher, Calvin Jones.
The exhibit will be open to the public from noon to 5 p.m. Tuesday and Wednesday, and from June 10 through June 15. The gallery is in the former Havana Nine store in Yacht Haven Grande.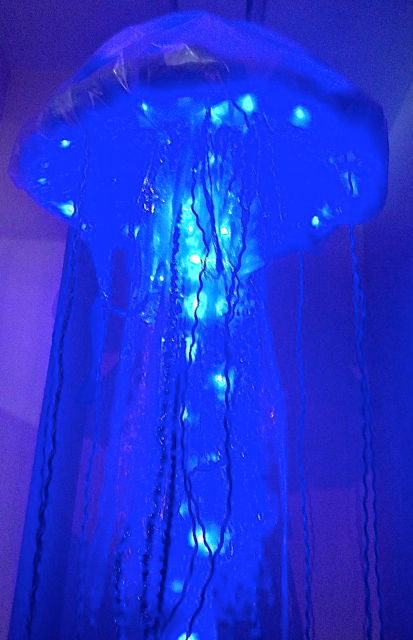 Artvi Advocates is a non-profit organization whose mission is to support and promote the arts in order to enhance the cultural, social and economic well-being of the U.S. Virgin Islands through arts education and advocacy. Caribbean Colour was sponsored by Guardian Insurance, Yacht Haven Grande and is funded in part by the Virgin Islands Council on the Arts and the National Endowment for the Arts.
The following is a complete list of winners.
Best in Show Adult: "Too Blue" by Brenda Sylvia
Best in Show Student: "Blue Melody" by Danielle Ebenholtz
Adults
Category 1: Two Dimensional: Fine Art Photography, Oil Painting, Acrylic, Watercolor, Pastels, Drawings, and Mixed Media Flat.
1st Prize: "Starcaster" by Lucien Downes
2nd: "Natti" by Dymond Nicholls
3rd: "2 Blue Trees" by Brooks Brown
Category 2 Three Dimensional: Sculpture, Clay, Found Objects, Collage, Relief and Mixed Media.
1st Prize: "Too Blue" by Brenda Sylvia
2nd: "Bioluminescence" by Lisa Parfitt
3rd: "Material Girl" by Laura Ballard
Students
Two Dimensional: Fine Art Photography, Oil Painting, Acrylic, Watercolor, Pastels, Drawings, and Mixed Media Flat.
1st Prize: "Blue Melody" by Danielle Ebenholtz
2nd : "Shoreline Puzzle" by Raheem Chetram
3rd: "La Mujer del Mar" by Adia Titus