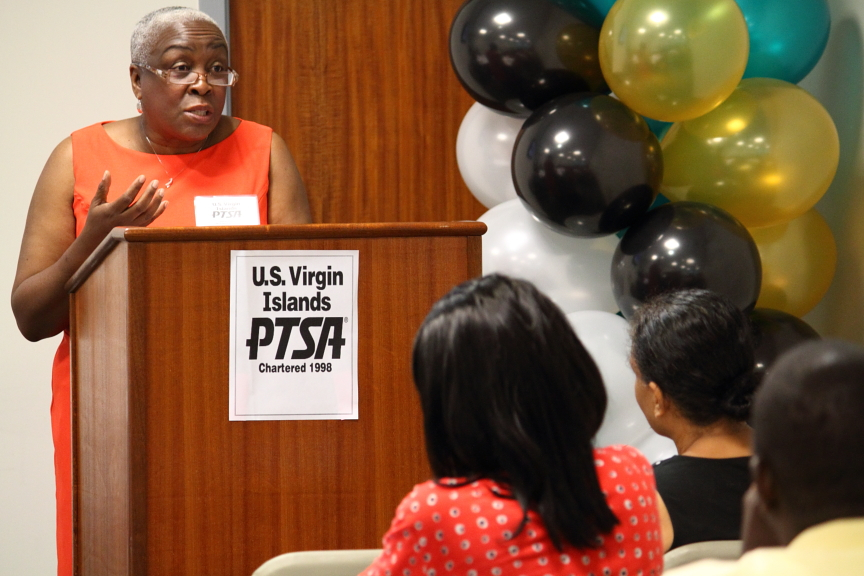 Parents were urged to be more vocal advocates at the U.S. Virgin Islands Parent Teacher Student Association conference Saturday on St. Croix.
Esther Parker, a representative of the national PTSA office in Virginia, said her organization was there to support local PTSAs with information and training, but that it was up to local parents to affect change in their own community.
"At the national level, we train on advocacy. That is our background," she said, adding that it was the role of local parents to be the foot soldiers of the organization. "If you can engage the family, then we could have a concise and excellent education system."
During the conference, Parker led an "Advocacy 101" workshop in which she trained parents on effective strategies. She said that sometimes the word "advocacy" can conjure a negative response, but it does not have to. She said advocacy should be "an information driven process" with the goal of making positive change.
Yvette McMahon-Arnold, state director of instructional development at the V.I. Department of Education, said she would welcome greater advocacy from parents.
"One of the state priorities we have at the Department of Education is school culture, bringing more parents and the community as a whole into our schools, onto our campuses and getting their involvement," she said.
She said she has encouraged schools in the territory to include parent representatives on their school improvement teams. She would like to see data on school performance shared directly with parents and let them have an equal voice with administrators on questions of how to raise performance.
"What this does is let the parents own the data and have a sense of belonging to the school," she said.
In a brief speech, she encouraged parents to speak up for their children not just at school, but before the Senate and other government agencies as well.
The conference was attended by around 20 delegates from PTSAs at schools in both the St. Croix and St. Thomas/St. John districts.
Lydia Gumbs, a representative from Charlotte Amalie High School, said she had always been involved in PTSA, but she was new to the conference.
"I'm just a parent and this is my first time. I'm just trying to explore and get all the information about what's going on," she said.
The delegates also received information about the territory's shift to the Common Core Curriculum, a nationwide initiative to set common learning benchmarks for each grade in most subjects.
McMahon-Arnold said teachers have been gradually adjusting to these standards for the last several years and the territory would institute a new standardized test based on the curriculum in the 2014-2015 school year.
Parker also used the conference to familiarize the local PTSAs with educational programs being offered by the national office, including a Kindle-based literacy program that she said had been effective in urban communities.
She said the Kindle program made reading a more "family friendly" activity, something parents and children could enjoy doing together.
Ultimately Parker's message to the delegates was to choose a direction and be firm in pursuing it, regardless of the support they receive.
"Once we've stepped up and said we want to do it and this is what we want to do, what we can not worry our heads about are the parents who aren't here," she said. "Our tagline says we're speaking for every single child who is in these Virgin Islands."