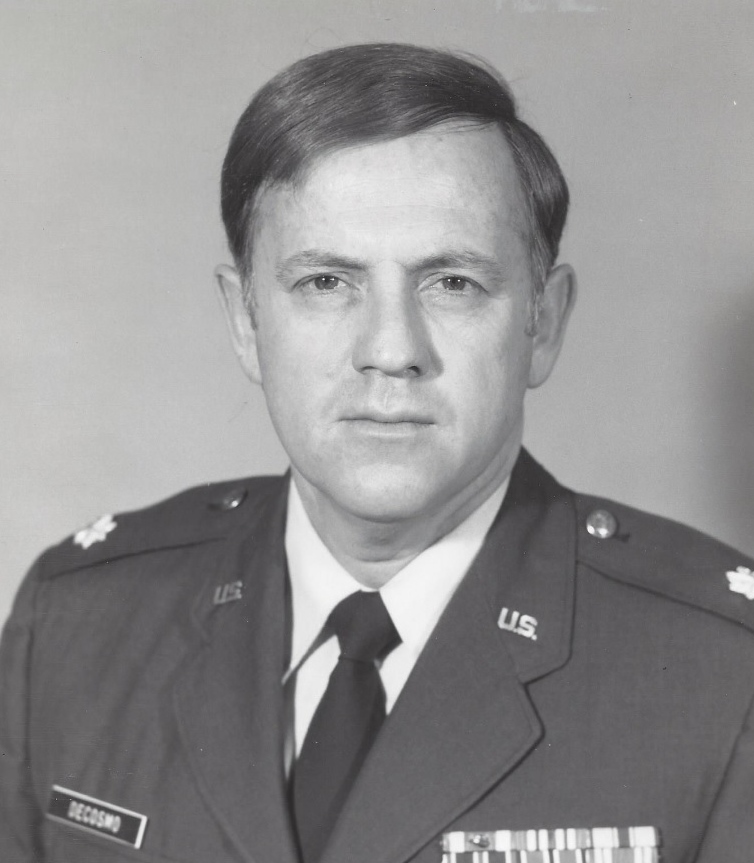 Lt. Col. (Ret.) Ronald (Ron) Lewis DeCosmo, resident of Lewes, Delaware, and St Croix, U.S.V.I., passed away on May 28 at the age of 74, surrounded by his loving family. Ron is the son of Anne and Louis DeCosmo, and the brother of Geraldine Chrisman and Kenneth DeCosmo.
Born Feb. 17, 1939, in Bronx, N.Y., Ron graduated from Malvern H.S. in 1956. He married the lovely and beautiful Suzanne Ellen McDonald in 1962. Their 50 years of marriage took them on many adventures.
Ron graduated with one of the first aerospace engineering degrees from Poly Technical Institute of Brooklyn, N.Y., in 1961. He was a distinguished graduate of the USAF Officers Training School in 1962. He received master's degrees from The Air Force Institute of Technology, Auburn University and The Industrial College of the Armed Forces.
During Ron's 20-year USAF career, he worked on space project's Mercury and Gemini at Eglin Air Force Base. He was then assigned to Patrick AFB where he worked on the early Apollo missions. Next, he went to the Manned Spaceflight Center, supporting Apollo 8 -14 missions. As part of the flight control team, he and the team were awarded The Presidential Medal of Freedom (an award bestowed by the President of the United States bestowed by an act of U.S. Congress — the highest civilian award in the United States). After working these space missions, he worked on the Airborne Warning and Control System (AWACS) program and the family moved again to California where he supported the USAF Inspection and Safety Center. His last assignment was as project manager of the Maverick Missile at Wright Patterson AFB, Ohio. After retiring from the USAF in 1982, he moved his family to Tucson, Arizona, to be program manager of Phoenix and Sparrow missile programs for Hughes Missile Systems.
In 1995, after leaving Hughes Missile Systems, Ron and Sue achieved a longtime dream of owning and operating The Vineyard B&B in Sonoita, Arizona. He volunteered as a fireman and dispatcher for Sonoita, and was also the governor's appointee to the AZ Wine Commission as well as president of the AZ Wine Growers Association. Ron was a proud Rotarian for 17 years at Sonoita/Patagonia Rotary, St. Croix Mid Isle Rotary and Rehoboth Beach Sunrise Club. Ron and Sue fully retired in 2003 to Lewes, Delaware and St. Croix.
Ron is survived by his wife Suzanne DeCosmo and their three children: Robin (James) Murphy, Michael (Tatjana) DeCosmo and Patrick (Heidi) DeCosmo; and grandchildren: Kalie, Fayth, Timothy and Peter Murphy, Alexander, Devin and Serena DeCosmo.
His Memorial Mass will be held at St. Jude the Apostle Catholic Church, Lewes, Delaware, at 11 a.m. on Saturday June 8. Visitation with the family will be from 10-11 a.m. Ron's burial will be at Arlington National Cemetery at a date to be determined. In lieu of flowers, please consider making a donation to the hospice of your choice or your favorite charity.