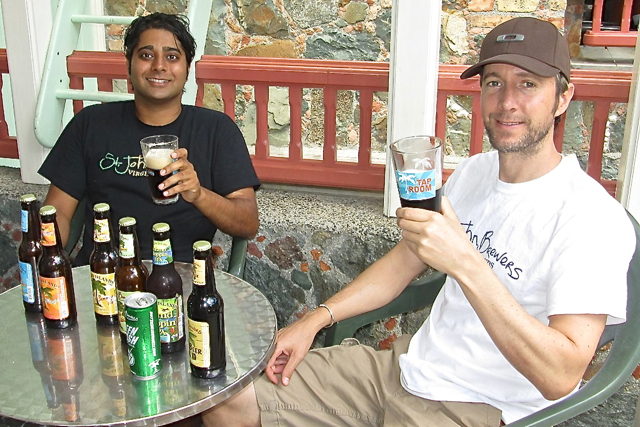 St. John Brewers owners Chirag Vyas, 35, and Kevin Chipman, 36, parlayed a college interest in craft beers into an empire that starts with St. John's only craft brewery.
"We needed to drink good beer," Vyas said, explaining that until their brewery opened, only well-known varieties such as Heineken were available.
From their start, selling beer out of the back of a pickup truck, they quickly segued into commercial production using their recipes at a contract brewery in Portland, Maine, with a distribution system in Florida, California, New Jersey, Rhode Island, Massachusetts, New Hampshire, Maine, Puerto Rico, and the British Virgin Islands.
The beer is available at bars, restaurants and anywhere you can buy liquor across the Virgin Islands. The beer and soda, manufactured at their brewery in a 20-foot shipping container at Mongoose Junction shopping center, is sold on tap at their bar and restaurant, the Tap Room on the second floor of Mongoose Junction.
And most recently, they opened the Brewtique, which sells St. John Brewers-branded merchandise from a store on the shopping center's first floor.
The two have come a long way since their days as roommates at the University of Vermont in Burlington. The Providence, R.I.-born Vyas went on to work in the space industry in California. Chipman, a native of Auburn, N.Y., worked as a physical therapist in Boston. They kept in touch, and when both decided they wanted an adventure before the continued on with a life of cubicle employment, St. John beckoned. Chipman had been on vacation to St. John about eight months before the two quit their jobs and booked their one-way plane tickets.
"We said, 'Let's take a break before we get into the rest of our lives,'" Chipman said.
They were set to go when the Sept. 11, 2001, terrorist attacks happened. They moved anyway, despite the fact St. John faced economic uncertainty, spending a rough few months renting a boat in Cruz Bay Harbor before settling into the island's bar and restaurant scene.
Vyas returned to the mainland to get a master's degree, but St. John continued to beckon.
He returned and the two decided to get into the brewing business.
"We bought a brewing kit," Vyas said.
In 2005, they started out with a mango infused pale ale called Tropical Mango. According to Chipman, part of their success was to use what was available. Mangos fit that requirement.
"It really put us on the map," Vyas said of Tropical Mango.
Other varieties as well as three kinds of soda followed, with Island Summer Ale, Liquid Sunshine and Island Hopping IPA as well as root beer, ginger beer and Green Flash energy drink the mainstay of what's available.
About six years ago they opened the Tap Room to showcase their draft beer. They started out in a small space with the brewery next door. They moved the brewery again to where the kitchen now sits, eventually moving the brewery to the trailer. It's a better location given that brewing is a wet and messy activity best suited for a location away from the bar.
Periodically, they conjure up new varieties of beer, with a coffee stout and a double light nipa beer with a higher alcohol content on tap for the future.
"It's whimsical," Chipman said.
St. John Brewer craft beers are best suited for sipping as you enjoy conversation with friends.
"And it can warm up and still taste good," Vyas said.
Chipman added that 50 degrees is the right serving temperature because the beer is more flavorful.
The two are busy guys, spending some of their time lugging 170-pound kegs up the winding staircase from their brewery to the bar, but they always take time out for the island's Festival Parade on July 4. St. John Brewers has a float with staff and friends passing out cups of beer to those that line the parade route.
"It's one of the highlights of our year," Vyas said.
There's more information about St. John Brewers online at www.stjohnbrewers.com .