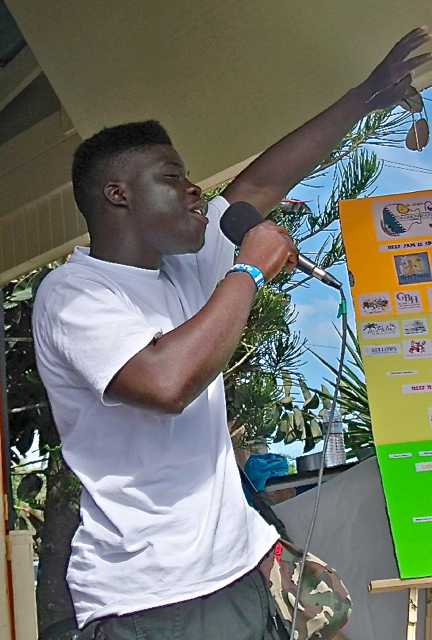 The message was clear at the sixth St. Croix Reef Jam Sunday at Rhythms at Rainbow Beach north of Frederiksted.
Whether it came from the high school students participating in the St. Croix Environmental Association's third annual Reef Rap competition or the participants in the Lion Fish Derby or environmental advocates manning tents and giving out information, the message was the same. We need to take action to preserve the ecosystem around our reefs.
The Reef Rap competition opened with a performance by last year's winner, Clemrick Bryan, now a marine biology major at the University of the Virgin Islands. His message was to pick up trash and not to forget conservation.
In preparation for the Reef Rap event, SEA representatives visited classrooms in most of St. Croix's high schools to teach students basic coral biology, the importance of coral reefs, threats to this fragile ecosystem, and how students can be proactive citizens in the preservation of our reefs. Eight teams from five schools: St. Croix Educational Complex, St. Croix Central High School, The Good Hope School, Manor School, and Seventh Day Adventist School, participated.
Judges were Kemit Lewis, Ramsey Smith and Linda Garvin. Cheers of support from the audience could be heard up and down the beach, which was dotted with colorful umbrellas.
The Lion Fish Derby not only resulted in 100 lion fish caught and brought in for the weigh in, but also samples of lion fish grilled with onions for those willing to try.
Sara Brown, from Annapolis, Md., said the lion fish actually tasted very good.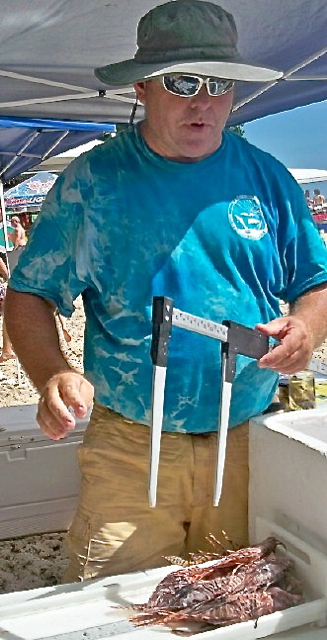 "It was very interesting to learn about the lion fish problem here and how they are trying to eradicate it," Brown said.
Prizes were donated by St. Croix Ultimate Bluewater Adventures (SCUBA), N2 the Blue, Anchor Dive Center, St. Croix West End Water Sports, Pirate's Tavern, Napoleon's Pizza, and Reef Jam.
There was a free snorkel clinic and a beach cleanup sponsored by Tan Tan Tours.
Tan Tan Tours loaded its Jeeps with volunteers flash mobbing the island with a litter protest/fun island clean-up – promoting island pride. There were kayak races and Stand Up Paddle Boarding. To beat the heat attendees took dips in the sea.
"It's nice to see so many people come out to support a good cause," said Sandy Pierpont, a local resident. "This has become a great event and I hope it's making a difference."
Reef Jam brought more than 1,000 people together to learn about the coral reef and increase awareness. The festival provided music featuring co-founder Kurt Schindler and D.J. Cypher. There were information booths, educational games and activities, educational displays, local environmental speakers, food and raffles.
Brandy Norris, the chief of police from College Station, Texas, on a group-study exchange hosted by the Rotary Club of St. Croix Mid Isle, said she was very impressed with the community getting together to support a common goal.
All proceeds go to coral reef education and outreach. Major sponsors of Reef Jam were HH Tire and Battery, J. Benton Construction, Seaborne Airlines, Kurt and Janelle Schindler, Buccaneer, Melanie Feltmate and others.