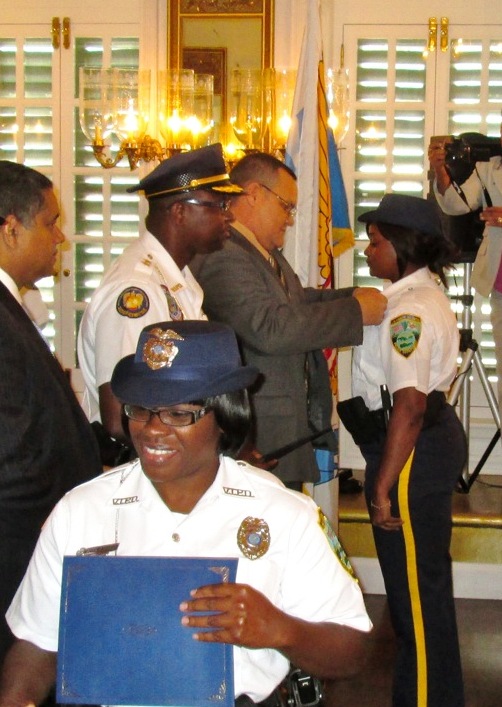 Ten new Virgin Islands law enforcement cadets have just finished with training and were sworn in before a full house of family, friends and V.I. officials Friday in St. Croix's Government House Ball Room, bolstering the Police Department's numbers on the big island.
Marching smartly between the rows of chairs, then standing at attention at the front of the ballroom, the group of crisply uniformed officers was led in their oath of office by V. I. Superior Court Judge Darryl Donohue.
Nine cadets became V.I. Police Officers and one became a V.I. Port Authority enforcement officer.
Police and elected dignitaries took to the podium, commending the young men and women for taking up the task of law enforcement and also reminding them of the dangers they face, both to their person and to their character.
"Always remember the power of the office should never be used to abuse others or discredit the department you represent," said Deputy Chief of Police Arthur Hector. "The 36 weeks of training you have received can create and foster a better environment within the community by devoting your effort to build a better relationship with residents and visitors alike," he said.
"Remember you are there to serve the public, not yourself," said VIPD Director of Training Barrington Thomas Sr.
Acting Police Commissioner Rodney Querrard and Thomas Hannah, master of ceremonies and retired former St. Croix Police chief, both spoke of the opportunities and rewards of police life.
"Police officers on a daily basis take risks and suffer consequences to protect lives and property, many times on behalf of complete strangers," Querrard said. "Being a police officer brings an opportunity to make a difference in people's lives, something that few professions offer," he said.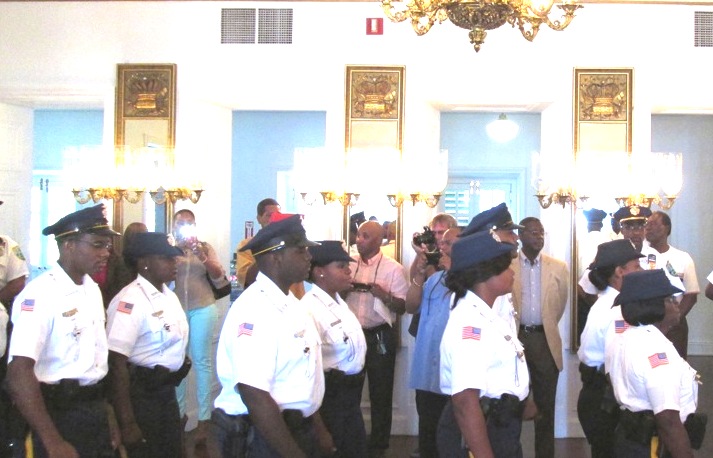 Hannah pointed to several top current and former police officers in the room who attended V.I. Police Academy in 1987, the same year he attended.
"If we can do it, so can you. Don't ever become cynical in this job. You can always progress," Hannah said. "Just because you are working three shifts a day, don't say you can't do it. UVI is right around the corner," he said, pointing out officers, such as Hector, who earned master's degrees while working with the force.
Friday's graduates include:
– V.I. Port Authority Police Officer Aisha Parrilla;
– Police Officer Teaclla Buckley;
– Police Officer Raquel Camacho;
– Police Officer Anthony Drew;
– Police Officer Donald Francis;
– Police Officer Michael Jules Jr.;
– Police Officer Keriscia Polidore;
– Police Officer Danisha Samuel;
– Police Officer Obadiah Toussaint;
– and Police Officer Darryl Walcott.