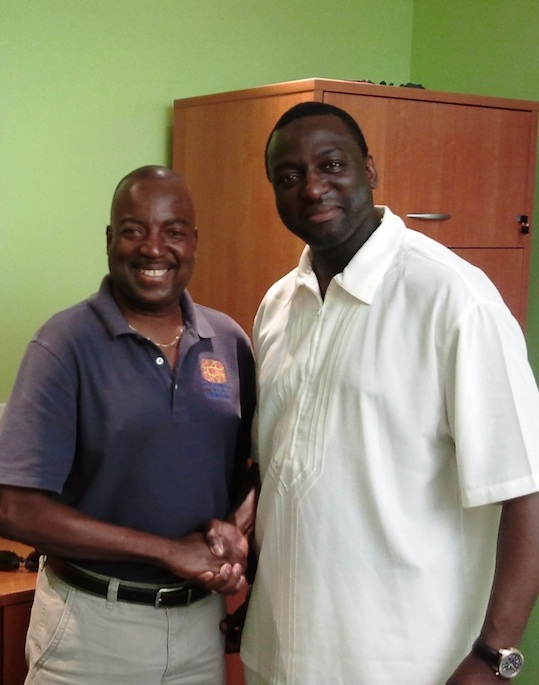 Vindication was not on Yusef Salaam's mind in prison. It was more like survival.
"I was ready to live with the fact that people thought I was a rapist," Salaam said. "I learned it's more about the color of law than the letter of the law."
Salaam brought his story of exoneration to the Virgin Islands on Friday while promoting Ken Burns' recent documentary "The Central Park Five." Salaam spoke at the WTJX studio at St. Thomas at 6 p.m. and will speak again at WTJX's St. Croix station Saturday. He also made an appearance at Radio One Friday morning. WJTX aired Ken Burns' documentary Friday at 9 p.m. The film will air again Saturday at 7 p.m.
Many people are still riveted by Salaam's ordeal of accusation, incarceration and vindication. Salaam has taken this opportunity to enlighten people about the dangers of improper police interrogations and coerced confessions and to also claim the life many thought prison would rob him of.
Salaam left prison as a convicted rapist but he stood before a crowd Friday evening as a motivational speaker, businessman and family man with eight kids poised to reap a windfall from a pending $250 million lawsuit. Many expect the city of New York City to settle for a princely sum.
His new life is not without critics, though, who still see Salaam and his co-defendants as lowlife thugs guilty, at least, of assaulting strangers and, at most, nearly murdering a young investment banker in 1989.
The Central Park Jogger case is known for its brutality and infamy. On April 20, 1989, the body of a naked woman was discovered in Central Park. She had been raped and severely beaten. Within days, Antron McCray, Kevin Richardson, Raymond Santana, Korey Wise and Yusef Salaam confessed to her rape and beating after hours of seemingly endless interrogation by NYPD detectives.
The police informed the press the five were part of a gang of teenagers who were "wilding," slang for assaulting strangers, joggers and bicyclists in Central Park. The five young men were tried as adults and convicted of rape, despite inconsistent and inaccurate confessions, DNA evidence that excludes them, and no eyewitness accounts that connect any of them to the victim, according to a PBS press release.
The five men served their complete sentences, between six and 13 years, before serial rapist Matias Reyes admitted to the crime. DNA testing supported Reyes' confession.
"This is a dialogue about injustice," Salaam said.
WTJX is the PBS station in the Virgin Islands and the Burns documentary was produced for PBS, said Yvette deLaubanque, director of development and fundraising for the station. The film was previous screened at the University of the Virgin Islands, she said.
Salaam said the teenagers began changing their stories to fit the narrative police interrogators suggested. The five youth began to turn on and implicate one another with confessions that were riddled with inaccuracies, something that's not uncommon, said Paul Cates, spokesman for Innocence Project.
"It turns out 30 percent of cases someone falsely confesses or pleads guilty to something they didn't commit. That's a staggering number," Cates said. "Most people don't believe that happens. But what we found is after hours and hours of interrogation people break down and tell cops what they want to hear, hoping the truth will set them free when it's actually the opposite."
Salaam said even his lawyer's family had doubts about his innocence. Bill Kunstler, known as a champion of radical causes, was a solid supporter of Salaam but his daughters were not so sure. Salaam said Kunstler's daughters, Emily and Sarah, did not approve of Kunstler's defending him and his co-defendants until Kunstler died and the daughters started going through his files. They quickly realized they were wrong and included the Central Park Five in their documentary of their famous dad titled "Disturbing the Universe."
The daughters brought Salaam to the Sundance Film Festival in 1999 where Michael Moore interviewed him. Eventually the reception of Kunstler's documentary and Salaam's participation in it would lead to a meeting with Sarah Burns, an author, who wanted to chronicle the story of the five defendants. Her book "The Central Park Five" led to Ken Burns' documentary of the same name. Ken Burns is Sarah's father.
Karen Long, former book editor at The Plain Dealer, reviewed Sarah Burns' book in 2011 and gave it rave reviews. Long remembers the outrage involving the Central Park Five and attributes it to the prestige of the park, the high crime rate in New York City at the time and stagnant racial attitudes.
"The police and prosecutors didn't mean to do harm but they did," said Long, who is a consultant to the Anisfield-Wolf Book Awards. "The rape of Trisha was an outrage but so was the rape of the 20 other women who were raped that week in New York City. Why doesn't compassion naturally flow to other victims of color?"
In 2002, Mark Goldblatt, an educator and political commentator, wrote in the National Review, "perhaps the likeliest scenario is that the teens accosted the jogger, cracked her skull with the pipe, stomped and kicked her, and flung stones at her as she writhed on the ground." He is not persuaded by the lack of DNA evidence tying Salaam and the other defendants to the scene, the false confessions, the deceptive police interrogations or the New York State Supreme Court vacating the convictions after the fact. He believes Salaam is freely discussing his civil suit against New York City to ensure he'll never be cross-examined.
"Before you get too caught up in the notion that the Central Park Five were railroaded for a crime they didn't commit, you might consider … the current position of the NYPD," said Goldblatt, who is also an author and journalist. "If indeed many people in the Virgin Islands view Yusef Salaam as an 'inspirational figure,' I'd encourage you to keep that fact quiet. You're only going to look foolish in the long run."
Salaam is soft-spoken and his tone does not change when faced with criticism. He points to the presentation of facts in the film to defend the validity of the vacated convictions.
"Anyone who's seen the film will walk away and say we got railroaded," Salaam said.
The Innocence Project was founded for defendants like Salaam. The Innocence Project was founded in 1992 to use DNA evidence to exonerate wrongfully convicted defendants, Cates said. The group calls for reforms in how police do line-ups, garner confessions and interrogate suspects.
The three red flags of wrongful convictions are all present in the Central Park Five case: false confessions, police and prosecutorial misconduct, and forensic evidence that hasn't been validated, Cates said.
"The real perpetrator confessed and NYPD still believe these five men are guilty. They still stand by their convictions," Cates said. "It goes to show you how powerful confessions are."
Salaam maintained his innocence throughout his ordeal, not knowing the repercussions that would follow or the opportunity it would afford him.
"They labeled us with something that was meant to kill us. Inmates have their own way of dealing with rapists," Salaam said. "So the next phase is a social death. They want you to run out of willpower. But we've opened every door that's been shut in our face."