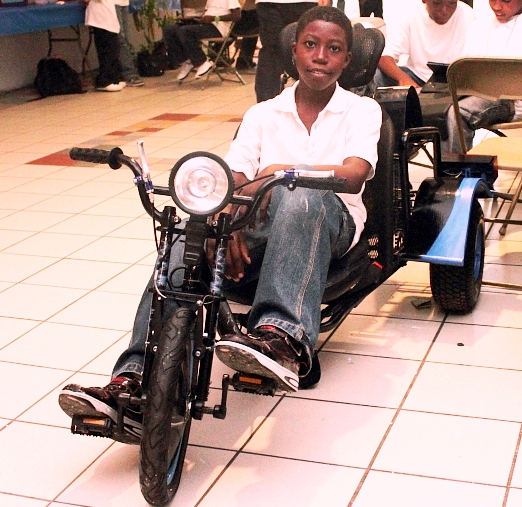 St. Croix's future scientists gave the public a peek at their research Thursday and Friday at the annual STEM fair at the Sunshine Mall.
STEM, which stands for science, technology, engineering and mathematics, is a nationwide education movement stressing the importance of science-based education in training children for the 21st century workforce.
More than 200 children crammed the lower level of the mall with their poster boards and displays. The event was open to all public schools and students from kindergarten to high school were encouraged to participate.
"The science fair projects are the end products of what the kids are learning in the classroom," said Juanita Boneque, math coordinator for the Department of Education.
Boneque stressed the interdisciplinary nature of the projects and said the Department of Education was moving towards "project-based learning" as part of their adoption of the common core state standards. She said students should utilize all their areas of learning in completing their STEM projects.
"Look at their presentations," Boneque said. "The communication skills are there; the language arts are there. You look at the math, you look at the graphing, you look at the design and the scientific method behind it. It's all there," she said.
The projects covered a wide range of interests, and many of the old science fair standards were represented. One child looked at the effects of shaking a bottle of soda. Another explored the eating habits of the Venus flytrap.
A few took on topics of particular interest to children. One student experimented with exactly how much damage he could inflict on a soccer shin guard before it broke.
The hottest topic, however, was green energy.
Proving you can never be too young to worry about your WAPA bill, first-grader Marcus Sydney from Lew Muckle Elementary School built a foam-board house with a small working solar panel on top.
Sydney proudly said the panel could charge the AA battery it was attached to in 12 hours.
Students fielded questions about the projects from a panel of volunteer judges, including employees of the Energy Office, the Department of Planning and Natural Resources, the V.I. Waste Management Authority, the Water and Power Authority and retired teachers.
Charmin Springer, environmental educator for VIWMA, said she was impressed with the base of knowledge displayed by many of the elementary school students she was tasked with judging.
Springer said she was especially blown away by a young man who built a working solar oven out of an old pizza box.
"He was able to capture our attention and it stayed in our minds," she said, adding that his hands-on demonstration was a nice touch.
"He used a slice of toast. He showed us how we could heat a slice of toast and melt butter," Springer said.
Perhaps the flashiest project was submitted by Alex Charles, a seventh-grader at John H. Woodson Middle School.
He stood proudly by his motorized trike, a three-wheeled vehicle cobbled together from the front end of a bicycle, a lawn mower, some scrap metal and a shopping cart. The vehicle could be peddled or powered by a small gasoline engine.
Charles said he had been working on the project for four months and that he enjoyed building contraptions for the STEM fair.
"Last year I built an oven and the year before that I built an electric car," he said.
Charles credited his father with encouraging him to take on the project and said he hoped the project would one day lead to a career.
"I want to become an engineer when I grow up. I would like to build things like this – cars, helicopters, all sorts of things," he said.