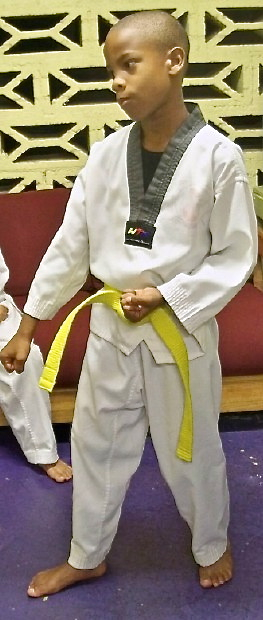 Every Tuesday and Thursday evening at the Boys and Girls Club in Christiansted, about 50 club members line up, standing still, silent and looking straight ahead. The youngsters are getting serious training in the art of tae kwon do under the direction of Grand Master Richard Mitchell, a seventh-degree black belt, and Ren Hughes, a third-degree black belt.
"Your grading for promotion begins here, standing at attention," Hughes, a volunteer instructor, tells students while helping little, white-belt students evenly line up and stand at attention.
O'Neil Canton, executive director of the Boys and Girls Club of the Virgin Islands, said the tae kwon do training is part of the healthy lifestyles program, in which young people learn a strong commitment to leading a healthier lifestyle. It is part of the program called "Triple Play: A Game Plan for Mind, Body and Soul."
"Our intent is to boost the traditional physical activities to a higher level by providing sports and fitness activities for all youth," Canton said.
Tae kwon do teaches discipline, self control and leadership, Canton said, and keeps the children in shape.
Mitchell, also a volunteer and a lieutenant colonel in the V.I. National Guard, said the students must be really serious about taking part in the program, which is offered as an accredited, standardized Olympic-type training program in the Korean Martial Arts Academy.
Mitchell, a martial artist for more than 40 years, is trained in the Japanese Nesie Gojoryu style. In the 1980s he taught tae kwon do at the club before the program was dropped. In 2009 Canton asked Mitchell to bring it back. Enrollment has been growing ever since, Mitchell said.
The students – ranging in age from five to 17 years– use handbooks to study terminology and Korean rules. They begin each session with cardio exercise. Learning blocking, striking, punching, kicking, self defense and of course learning the "kihap" – a yell that releases energy from within.
They practice the five codes of moral behavior, which are:
• Be loyal to your country
• Be obedient to your parents
• Be trustworthy to your friends
• Never retreat in battle
• Never make an unjust kill.
Mitchell said mental and physical discipline are the key to mastering tae kwon do. Some students find tae kwon do beneficial in life – helping them learn to focus.
At the end of each class the students meditate.
In March, 18 students went to San German, Pureto Rico, and competed in the Los Gallitos Olimpicos 2013 tae kwon do championship. The Crucian youngsters came home with seven first-place medals, 11 second and three third-place medals. The trip was made possible through the generosity of Mitchell's friend Rick Nielson from Florida, who donated $5,000, and the general public.
"They competed against 500 other students and were a bit nervous," Mitchell said. "The results were great."
Jomar Rosado, an eight-year-old with a white belt, brought home second place in sparring and fourth place in form. He said his heart is excited about the next tournament for which they are currently preparing. Rosado said ever since he was in kindergarten he wanted to take martial arts.
Dionara Alibocas, 13 years old and a blue belt, said she has been in martial arts since she was four-years-old. "I love it," Alibocas said. "It helps me focus and helps with everyday life. And in this class we're family."
Canton said the instructors are dedicated to the program, which is very structured. The program is very popular; so much so that some kids come to the club solely for the tae kwon do classes. There are 80 students registered and all that is required is the students pay the $25 club membership fee and buy the uniform.
More information is available and donations can be made by calling call Canton at 1-340-778-8990.