When Annette Olsen's son was little, he didn't like going grocery shopping. When she had to take him along, she made a game of it. Rather than riding in a cart, he was windsurfing. Together, they pretended to steer the craft. As she wheeled him around a corner, she'd ask him to "lean over the side" and pick up a jar of peanut butter.
Sometimes they were racing. Sometimes they were exploring. Always, they were playing.
Olsen already knew the importance of playing with her child. After 30 years working with preschoolers and earning her degree in early childhood education, she's helping other adults understand why play is essential to a child's development.
As the administrative assistant for the Family Connection, Olsen is the hands-on operator of the center at Tutu Park Mall. It's open to all, from 9 a.m. to 5 p.m. five days a week, Tuesday through Saturday, and its services are free.
The Family Connection is designed for children from birth to age 8. An initiative of the Community Foundation of the Virgin Islands, it is funded through grants and donations.
The center is not a drop-off.
It's a place for parents, grandparents and other adult guardians to be with their child in a positive, fun-filled environment- and literally to play together.
Olsen and Ellie Hirsch, director of the Family Connection, said the concept is sometimes a hard sell to adults, because many perceive play as wasting time. At first, they may even be embarrassed to engage in it with a child.
"I say to the parents, 'Do you see what she's doing? She isn't just amusing herself …she's putting colors or shapes together" as she plays with blocks. "Children who play with blocks do better in math," they develop an understanding of size and shape and of such properties as corners.
The materials the center provides tend to be simple and inexpensive. One favorite is birdseed. Hirsch recounted a recent incident when a man questioned just what a child could be learning from birdseed. He and Hirsch watched as a boy, not yet two years old, played with the seed, pouring it from one container to another, including through the neck of a bottle.
"He was learning about spaces," Hirsch said. "He was learning about sizes."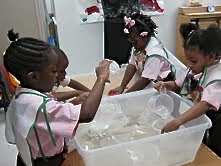 In another example, Hirsch described a child putting together long blocks all of the same size. When she ran out of long ones, she hunted in her pile and found two shorter blocks that she laid end to end to match the long ones. That's problem solving, as well as a bit of preliminary fractions.
"A lot of time children know automatically" how to sort items, because the brain is wired to find similarities, Hirsch said. But while a toddler may have put all the blue objects together, he may lack the vocabulary to tell you that is what he did. That's where the adult comes in; he or she provides the child with the language: "Oh, they are all blue, aren't they? My shirt is blue too."
The center also encourages children to develop coping skills and to solve problems, and it stresses the positive.
If a child stands on a chair to reach a book on a shelf, the first instinct for many adults is to correct the child and tell him to get off the chair. But Olsen suggests a different approach.
"Don't scold the initiative to pull up a chair to solve a problem," instead, show the child there is a better way to solve the problem, in this case, a footstool that is made for climbing, instead of a chair which is made for sitting.
"We're so good at saying 'Don't' " Hirsch added. Instead of telling a child what you don't want her to do, tell her what you do want her to do. Rather than "don't run" try "let's walk."
The center is open for individuals as well as for groups. Olsen regularly hosts children and teachers on field trips from day care centers.
It also is a resource center for teachers, childcare providers and college students studying in the field, and maintains a lending library of texts for professionals.
Of course, there are also shelves full of children's books. Kids and their parents and guardians can check out books and toys from the center. In addition, there are free books to keep.
"Every time a child comes, they get a book," Hirsch said. "We've given away over 5,000 books to children."
Some of those were purchased, and some are "gently used" volumes that have been donated. Right now, the Family Connection could really use picture books.
The center opened on St. Thomas about six years ago, originally in Vitraco Mall and later at Tutu. Plans are in the works for a center on St. Croix. Hirsch said the funds have been identified, but the location hasn't yet.
On both islands, the Family Connection reaches out to community groups and gives presentations at a variety of public forums. Recently, it ran a "Play & Learn" workshop at the St. Croix Agricultural Fair; Olsen soon will meet with families in housing communities on St. Thomas.
And watch for signs in shopping carts. The newest initiative is to bring the message into the supermarket. As Olsen put it, there's no better "face time" for a parent and child than when the two are virtually at eye level, one sitting in a grocery cart and the other pushing it. Whatever you do, don't waste the opportunity by talking on a cell phone instead of to the child, Olsen said.
And take a look at the suggestions for "games" that the Family Connection will be posting in stores.