With June 1 just weeks away, that means one very important thing in the Caribbean – hurricane season is about ready to start.
If you're on St. Croix and have driven past Henry E. Rohlsen Airport this week, there's a good chance you might have seen an U.S. Air Force WC-130J aircraft sitting out there on the tarmac. What you might not have known is that the aircraft and others like it will be responsible in the coming months for flying a crew of five right into the eyes of hurricanes and tropical storms.
As has been the case every year since 1996, that model of plane being on St. Croix in May means one thing. The Hurricane Hunters are here and they – the 403rd Wing of the Air Force Reserve's 53rd Weather Reconnaissance Squadron based out of Keesler Air Force Base near Biloxi, Miss. – are preparing for hurricane season, which runs each calendar year through November.
According to the squad's mission commander, Col. Roy Deatherage, the preparation includes bringing in spare parts, getting computer systems up and running and training for the real thing, which is the point of the Hurricane Hunters and, subsequently, their use of St. Croix as an operating base.
"We fly to protect people and property," Deatherage said. It's all part of the mission. And to do that, they're on St. Croix to get ready to serve their client and customer – the National Hurricane Center in Miami – should they be deployed during hurricane season.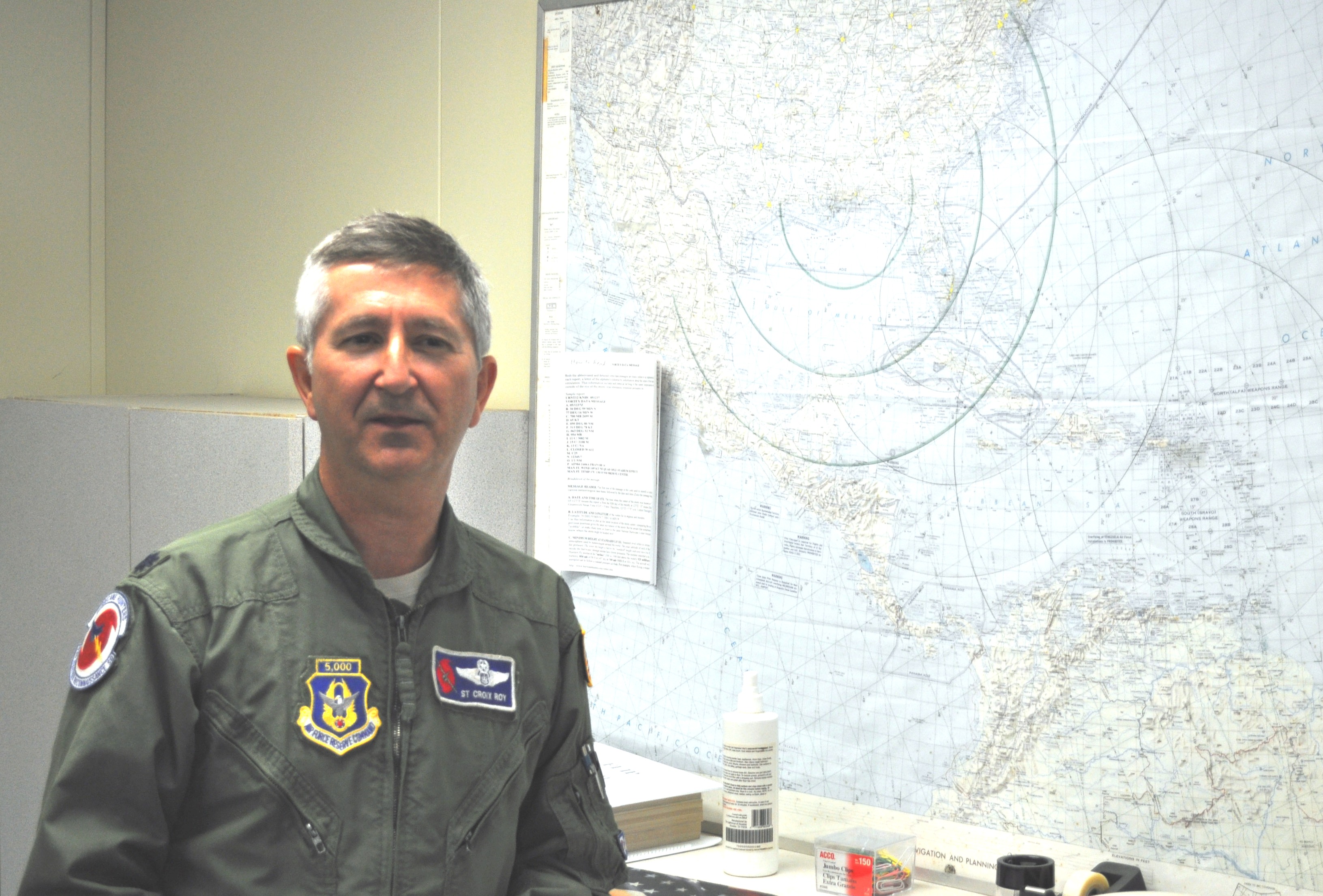 "What they ask us to do is collect weather data which helps them initialize their computer models," Deatherage said. "The whole idea is to initialize their weather models accurately so that the forecast can be better and they can more accurately figure out where the storm is going to go and how strong it's going to be."
The squadron's area of operation is all the way out into the Atlantic Ocean at the 52.5 degree West longitude mark, and from there it stretches all the way to Hawaii.
Deatherage said the reason the group uses St. Croix as a forward operating base is because of its location as one of the eastern and southernmost properties of the United States, and because it's not nearly as congested as neighboring St. Thomas or Puerto Rico.
"We fly out of Keesler Air Force Base and to get to 52.5 West, it's about a six-hour flight. Well, when they (National Hurricane Center) task us, they typically want us in the storm for about six hours. And it's just not possible to do that if you're flying from our home base. We have to be based somewhere in the Caribbean."
Before 1996, the squad used Antigua, but then, as Deatherage said, "the decree came down from on high that we have to use U.S. soil." They've been coming to St. Croix ever since.
Deatherage even wears a hook bracelet, and says he only takes it off when he's here so that he can take it to Sonya's for a polishing.
"We're kind of the big fish in the little pond here and it works out well for us and we get good support," he said of St. Croix. "It's a very logical place to be."
As for the notion of flying directly into the eye of a hurricane, which to some people might sound quite dangerous and crazy, Deatherage dismisses the idea and opts for the contrary.
"Anything that you don't do yourself sounds a little intimidating and, until you do it, it probably will," he said. "I don't think the average hurricane hunter thinks of himself as a risk-taker. And I say that because weather reconnaissance started in the 1940s and people have done it for however long that is, and how to do it smart was worked out a long time ago. There's ways to do it smart and that's how we do it."
He continued, "You can't control the weather, but you can control how you interact with it. If you do it at the right air speed, the right altitude, etcetera, etcetera, it's pretty safe," Deatherage said. "It's very safe. I'd say in a 12-hour hurricane ride, about 40 minutes are bad."
The squad hasn't lost a plane since 1972, said its spokesman Master Sgt. Brian Lamar. "And nobody really talks about it," he said.
But that doesn't mean there haven't been moments that are not easily forgotten.
In conversation, Deatherage rattles off storm names and the years they happened like he's talking about his grandchildren and their birthdays, and his recollection of them was uncanny.
He says he's personally penetrated about 260 hurricanes, and he was quick to point out that's 520 "ins and outs." But Deatherage said for a meteorologist, which he is, it's "the cool job," and it was evident in listening to him speak about past storms that he enjoyed the work. For many in the squad, he said it was their dream job.
"If you'll remember 2005 we had Katrina. About a month after that we had Wilma. And we did an investigative mission on it when it was just a tropical wave; it wasn't even a named storm. Piece of cake, hardly even a ripple on the water," he said.
"Thirty-six hours later we went out on it and it was the strongest, most intense hurricane ever recorded in the western hemisphere."
"Typically the eye on an average hurricane is 20 miles," he continued. "The eye on Wilma was two miles and nobody had ever seen that before."
Asked what goes through his head as that data streams in, Deatherage said he thought of the old weather adage, "The bigger the eye, the weaker the storm; the smaller the eye, the stronger the storm." Applying that to Wilma, he said, "It's basically going to kill anything in its path. You're just not going to survive."
Wilma eventually made several landfalls with much destruction experienced in the Yucatan Peninsula of Mexico, Cuba and the state of Florida.
According to the National Hurricane Center, 62 deaths were reported and damage was estimated at $29.1 billion, where $20.6 billion in damages occurred in the United States. Those numbers rank Wilma among the top five most costly hurricanes in U.S. history.
Asked what was the most gratifying part of the job, though, Deatherage's answer speaks wonders of the Hurricane Hunters and the missions they fly which help keep us all safe.
"What we're all about is initializing the computer models so they can evacuate people out of the way of the storms," he said. "And who knows how many people's lives weather reconnaissance has saved over the years? Certainly thousands and thousands, I'd say. You can't go wrong with that history."